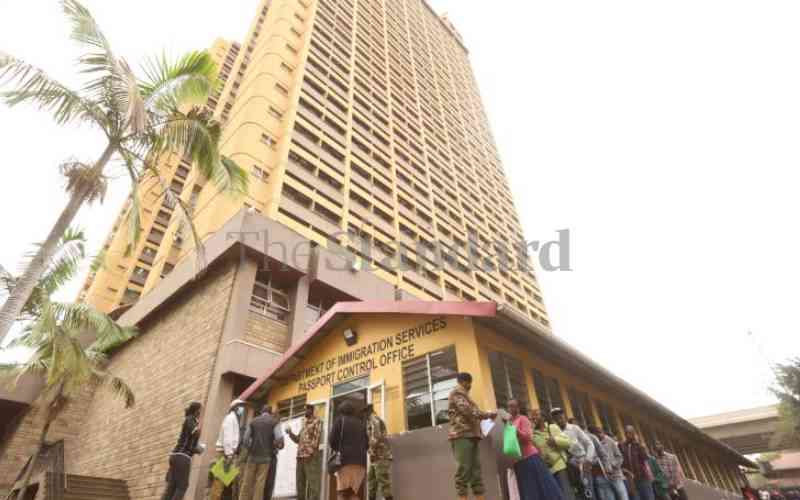 Ivy Wasonga, a 24-year-old trained coffee barista, has missed several job opportunities in Qatar since her graduation in 2020.
With her academic credentials in hand and an unwavering determination to pursue her career dreams abroad, Ivy applied for her passport in 2020, expecting a swift and seamless process to secure a job overseas.
Little did she know that the process of getting a passport would extend into 2023, leaving her frustrated, disheartened, jobless, and hopeless.
Ivy's story is echoed by thousands of Kenyans who seek travel documents and other identification tools to leave the country for medical purposes and job opportunities overseas.
Many Kenyans who spoke to The Sunday Standard said they had placed their hopes in the promise by then-Cabinet Secretary for Interior, Fred Matiangi, in 2020, after an assurance that passports and IDs would be processed within a day. Others have swarmed at Nyayo House after current Interior CS Kithure Kindiki made dawn tours to the epicentre of immigration services in the country and assured the country of faster more efficient services
Ivy was one among many Kenyans who believed that her passport would be in her hands within a matter of days.
"I was confident that my passport would come out in two or three days if there were any delays," Ivy recounted during an interview with our undercover reporters at Nyayo House in Nairobi in the week.
"And here we are in 2023, and I'm yet to receive my passport. I have missed many opportunities, but let me just get the passport and have it since I don't see any future here."
Ivy's ordeal has become a recurring nightmare. She disclosed that she has visited Nyayo House almost every month for the past two years in the relentless pursuit of an elusive passport. She says she has encountered individuals demanding exorbitant sums of money, up to 30,000 Kenyan shillings, to expedite the release of her passport - money she simply doesn't have.
"Kenya has no opportunities for anyone growing up, and I don't see my future in this country unless the government changes," Ivy lamented.
Halima, who preferred to withhold her last name, shared a similar tale; she applied for a passport early last year. She was proceeding to Canada for studies. She missed the opportunity because of delays at processing within Nyayo House.
Now, she has no choice but to enrol in a local university, which she considers less attractive due to its quality of education, fewer opportunities on the labour market and high tuition fees."I wanted to study abroad and chase opportunities there. I visited this place to push for my passport, and the person I gave my cash to help me ran away with the money," Halima recounted, expressing her frustration with the system.
She says she had placed her hopes on promises by the current CS for interior Kindiki, but the reality, she says has left her disillusioned.
Desperate service seekers
The situation at Nyayo House, where the Immigration Department is domiciled has become increasingly chaotic. A police officer stationed there and immigration officials disclosed to our crew that more than five thousand people visit the facility daily. That alone is a security nightmare.
Amid the chaos and despair, some individuals have found a way to expedite the process, albeit through illicit means. A man we speak to who identifies himself with one name, Makau, says he managed to secure his passport after a year of waiting. He revealed that he paid Sh 30,000 to a middleman who has an office at the I&M building nearby. He says within a day, he held his "hot" passport in his hands.
Another service seeker who identified himself as James, and was in tears, recounted the agonizing wait for his father's passport. He said his father requires medical treatment abroad. The delays in processing his passport have worsened his father's condition.
"I would love to tell the world how the immigration officials have frustrated us, but let me just treat my father fast," James said, his voice choking with emotion.
Eunice Kanini had come from Embu to track down her passport from Nairobi and became one of the fortunate few to be referred to her home county with news that it was ready and had been sent there. She had chased her passport for nearly two years. She expressed her determination to leave the country once she had her passport in hand."I applied to pick it up in Nairobi, but they have now sent me to Embu. Let me rush there. I hope I find it," Kanini said.
While undercover, our reporters were approached by an individual who identified himself as Otieno, alias Otii. He claimed to work closely with immigration officials. Otii confessed to facilitating the acquisition of passports for a fee. His charges range from Sh 10,000 to 30,000, depending on the speed of issuance. He explained that many officers had their own middlemen who helped expedite the process.
The Sunday Standard established that collusion between middlemen and corrupt officers within the immigration department remains a significant obstacle to efficient passport processing.
"We wonder why lines are shorter and processes seem swifter when the CS is around, but when he leaves, we are back to chaos," Said an individual who identified himself as Abdul. He has been waiting for his passport for more than a year.
The Interior CS has made impromptu visits to Nyayo House and Embu immigration offices, warning that the reforms in the immigration department were bearing fruit and that people should visit to collect passports.
Kindiki said that there were several uncollected passports in almost all the offices across the country, with the Embu office alone holding approximately six thousand uncollected passports while Nairobi was holding close to 30, 000.
The CS has banned boda boda riders and idlers around immigration offices.
"We will even publish those passport numbers and the names of the applicants, telling them they must come and collect them," he said, adding, "You cannot put us under pressure as immigration officers to give you a passport and when it is printed, you don't come for it."
Immigration and Citizen Services Principal Secretary Julius Bitok earlier revealed that the government has so far printed over 87,000 passports, which are yet to be collected by applicants.
"I want to tell the country that we have been able to turn around immigration, that right now immigration is a corruption-free zone, and that we are doing everything possible to ensure that Kenyans can get their passports within seven days," PS Bitok said.
"We have cleaned the place, and we are happy to inform the country that feel free to come for your passport and don't pay anything to get your passport," Bitok said.
Multiple sources in the PS's office intimated to The Sunday Standard that the state has procured more printers to be delivered next week to ensure the efficient 24-hour shifts at the immigration services remain effective.
"I will clean up Nyayo House once and for all. We will seal off Nyayo House and name it a scene of crime. It won't be business as usual. We must clean up Nyayo House," Kindiki has said.
Related Topics