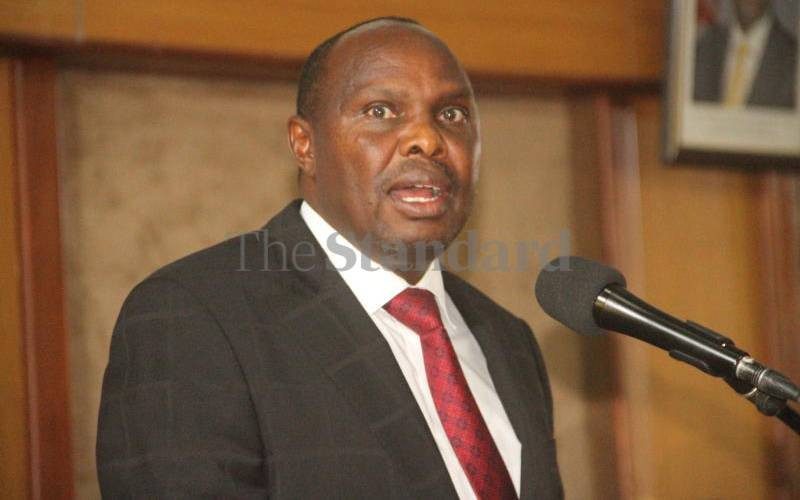 The Head of Public Service Felix Koskei has announced that the government has embarked on a "zero-fault audit" campaign in the National police service to fight corruption.
Addressing the media on September 29, Koskei said the police administrators should resolve previous audit queries.
"Going forward, we don't want to see any qualified accounts nor qualified financial statements. I ask the National Police Service Commission to give capacity to provide services when it comes to giving proportionate qualified personnel," he said.
He called on all administrators to clear all pending audit queries to attain the government target as per the government reforms agenda.
The Head of Public Service said that the police service needs qualified personnel to put in place adequate and effective internal control and risk management frameworks to secure the resources.
Koskei said that the police service should be autonomous declaring that the war on corruption will be on individuals.
"What we have decided as per the directive of the president is that whoever is causing qualification of financial statement and accounts will not be the same person who will defend at the ministry or to parliament," he cautioned.
He reiterated that they "don't want to generalize a corrupt institution but will pursue an individual" to enhance trust and loyalty in their service.
Koskei used the opportunity to highlight some reported cases of corruption in the police department citing police bribery.
He noted that police officers demand bribes when citizens ask for services for instance in police recruitment, recording statements at police stations, and being lenient on traffic offenders.
"The National Police Service has failed to manage public resources in a manner that benefits the people with massive waste, theft, mismanagement, misuse, miscarriage of justice, and unlawful actions being the order of the day," he added.
Additionally, he cautioned senior police officers who demand bribes from their journeys to deploy them to favourable work areas.
He has called on the entire police unit to join hands with the government in fighting corruption in order to restore trust in citizens.
Related Topics