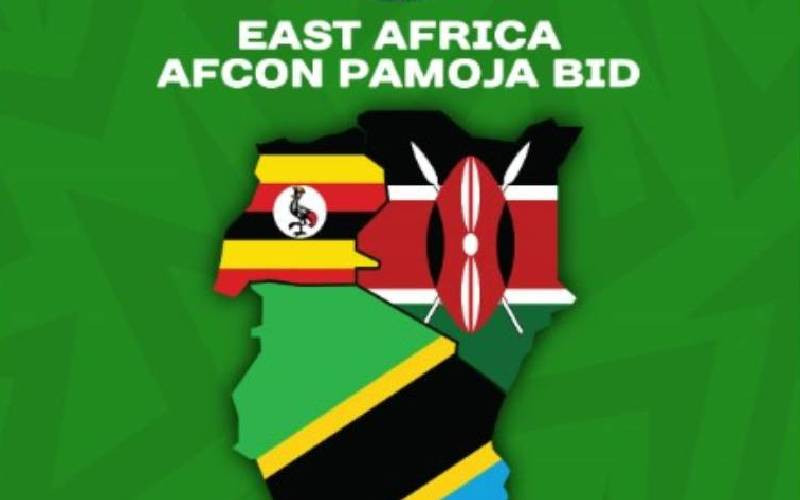 The facility is full of overgrown grass, broken bottles, empty beer cans, as well as scattered plastic cups that don't smell of soda or juice, but something more potent.
There are many waste plastic bags littered around. Dusty seats, some broken, form a huge part of the facility. Most of the time, water cisterns in the toilets are broken and locked.
And for the few that are open, the stench that permeates the stadium stands may leave an infant in a daze. That the drainage is blocked is no news.
Welcome to the state of most stadiums in Kenya, where concrete supports are mouldy and mostly, wasting away.
But that is expected to change. It must change, what with the The Confederation of African Football (Caf) having announced the East Africa 'Pamoja' Bid as the winner of the rights to host Africa Cup of Nations, the premier African football bonanza, in 2027.
The Pamoja Bid, representing Kenya, Uganda, and Tanzania was picked after the CAF Executive Committee's meeting in Cairo, Egypt yesterday.
Initially, the battle for the host rights was tough as six nations vied for the honour to host Afcon 2027. Kenya, Uganda, and Tanzania had their conglomerate and were joined by Algeria, Egypt, and Botswana.
Namibia firstly intended to partner with Botswana, but later threw in the towel. Botswana were now lone rangers.
Zambia and Burkina Faso had also voiced their intentions, but did not officially tender their proposition.
Algeria, who by all means, seemed a better placed candidate to host the tournament, also backed out of the race.
For the East African brothers, diplomatic and advocacy strategies did the trick. They can dare dream of hosting Africa's best sons in 2027.
Indeed, good things come to those who wait. The time seems right for East Africa. The Lord has made it happen.
But that is just where the good news ends. With about 1,700 days to the extravaganza, there is so much that the three countries need to do, if they are to have a memorable tournament.
Even for the Football Kenya Federation president, Nick Mwendwa, he knows that it's time to roll up the sleeves and get those hands dirty.
"The work begins now. Winning the bid is the first step, it's a simple step, it's complicated, we've fought through to win on top of the pile, but it's not to be celebrated yet. The work begins now," said Mwendwa, moments after the bid win was announced yesterday.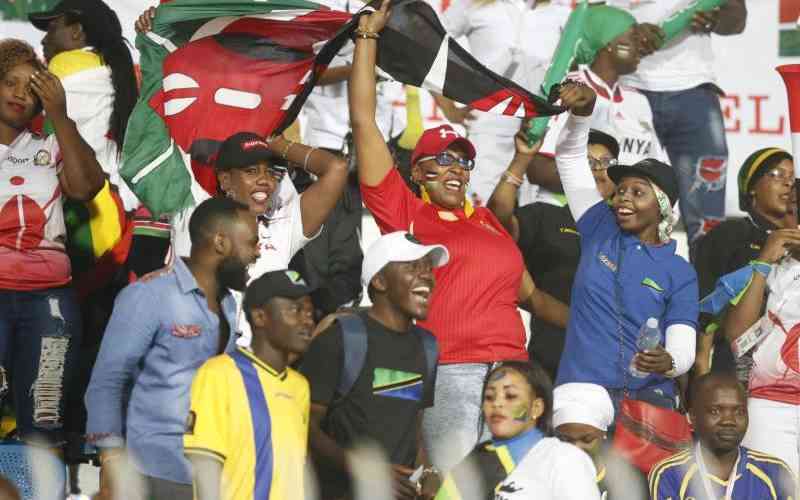 "Everybody has to pull together and get the tournament going so that we don't lose it like we have done before. Let's bring 'Pamoja' home."
That Kenya, twice, won bids to host Caf championships, but failed to deliver on both occasions, can't go unnoticed.
First, Kenya won the bid to host Afcon in 1996 and CHAN 2018, but lost the hosting rights for both tournaments to South Africa and Rwanda respectively due to poor preparations.
You see, hosting the African Cup of Nations is not your usual cup of tea. It's an arduous undertaking. Initially, the tournament involved 16 teams, but since 2019, they are now 24.
If anything, hosting Afcon calls for a lot of willingness and impressive disposition from the host(s).
Kenya's current state of sports infrastructure is wanting and by extension, a grave concern, and the words of the late Robert H Schuller, an American Christian televangelist, ring so true: "I'd rather attempt to do something great and fail than attempt to do nothing and succeed."
The fact that Kenya has walked this route before, brings a sense of déjà vu. It is the same old pattern, too familiar to forget and so obvious it hurts.
But this time round, the three countries can't afford to miss the train.
"This is good chance of the three East Africa countries to come together and deliver this tournament. There is so much that needs to be done, but within the four years left, we are able to give our fans something to feast on," said former Cecafa Secretary General Nicolas Musonye.
Indeed, there's a lot of work in the three countries in-trays. As per Caf stadium regulations, stadiums for competitions are classified into four categories.
Venues that host Afcon, Champions League semis and final, Africa Super League and Chan are classified under category 4, which is the highest when it comes standards.
For the three nations to deliver as per Caf standards, they need to have a total of six stadiums, with two that can hold 40,000 fans, another two that can hold 20,000 fans.
There is also the issue of training grounds. Assuming each country will host two groups (a group has four teams), they must have at least eight training grounds, which will cater for the eight teams and have four on stand-by.
It is also a Caf requirement that venues in hosting nation(s) must be near an airport, a level five hospital and a five-star hotel.
The stadiums must mount barriers in all gates, an operations centre, a public address system, reliable lighting system, mount giant screens in the stadium, have padded seats in the VIP and VVIP sections, which must be separate from each other.
Kenya, Tanzania and Uganda will need to have a media centre, media tribune, press conference room, a mixed zone, photographers area, an Outside Broadcast van area, and VAR operation area.
Kenya has the 60,000-seater Kasarani Stadium, 30,000-seater Nyayo Stadium, and Kipchoge Keino Stadium in Eldoret.
The training grounds are Kasarani Annex, Police Sacco Stadium, Kenya Utalii College Sport Club, Ulinzi Sports Complex, and Jamhuri Sports Complex.
Other than infrastructure costs, security, logistics and an enabling political environment will be areas of great concern for the three hosting nations.
All these don't come any cheap. For instance, Cameroon used around Sh130 billion to host the 2021 Afcon edition.
Gabon, hosts in 2017, and with a national debt of about $12.2 billion (Sh1.2 trillion then), took close to two years of preparation and a jaw-dropping $700 million (Sh72.2 billion) to stage that tournament.
Kenya, Tanzania and Uganda are required to deposit at least Sh3 billion to Caf by January 2025.
Related Topics