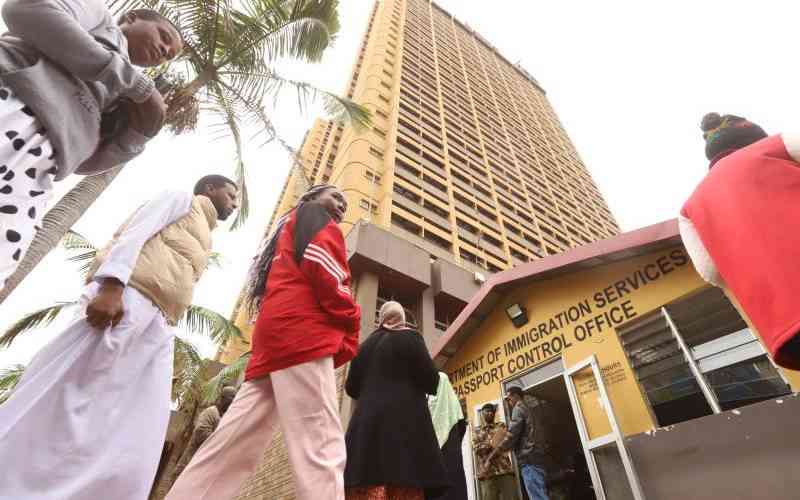 It was a few minutes to 11am when I arrived at the area just outside the eastern perimeter wall of Nyayo House, particularly the place where a sign declaring "Nyayo House Is A Corruption Free Zone" was recently erected.
It was the day I expected to collect my passport. Weeks earlier, I followed the process and booked a specific time and date. Blowing this opportunity would mean that I should book another appointment and wait until next month.
I was expecting everything to go according to plan.
I immediately joined a line that was 50 people strong and swelling from behind. We were lucky enough to pass through the security screening within minutes, after which each one of us hastily, but silently, hustled toward his or her destination.
My destination was the collection area, which distressingly turned out to be a dog's breakfast of a gigantic line that people voluntarily formed.
Nyayo House, the building that houses the immigration department, among many other public offices, has for a long time been a graveyard for order, time management, and productivity—and, recently, became a dispenser of boredom and stress. Interior Cabinet Secretary Kithure Kindiki called Nyayo a "crime scene."
It's also a place of long waits.
The immigration department has recently taken the flak for delaying citizens' passports inordinately. The delay was occasioned by the breakdown of printing machines, which in turn, resulted in a massive printing backlog and monstrous queues. Kindiki has this week said the backlog was cleared and asked citizens to come and collect their passports.
A lot has changed for the better since Kindiki's arrival—and there's hope that he will keep the momentum.
But the ills of Nyayo are so deep. Take, for example, the case of those seeking to collect their travel documents. Their experience is far from rosy and quick.
At the northern side of Nyayo where people gather before they actually pick their passports, there were no signs directing the multitudes amassed here. There was no official to offer timely help, just intuition and the appearance from time to time of a member or two from the National Youth Service who strolled around instead of assisting people.
This week, there were several soldiers—some armed, some not—in the area, but only one soldier was among the crowd, standing by a window through which people seeking to know the status of their application (here they call it tracking) transfixed their eyes on. Another soldier manned the door leading to a building outside Nyayo.
Disorderly lines
At first sight, you would be excused to assume that rules were thrown away a long time ago here. Long and disorderly lines were in every direction.
Confused, I asked a man about the line for those wanting to collect their passports.
"Over there," he said, pointing a finger to a long, snaking line that had spilled onto an area on the western side of Nyayo House.
The people, who were mainly dressed in casual clothes of every type and colour, stood in a messy manner. The place itself was not clean, with some debris and heaps of mud strewn around the area. The open-air queue had a constant irritant: The noise of the cars on the road outside.
As the line swelled, people, taking advantage of the available space, regularly occupied a new area. We kept shuffling until we came near the only toilet in the area.
Its pungent smell suddenly hit my nostrils, even though it was five metres away. The door of the toilet was open. There was no water for one to clean his hands. The two sink bowls outside the toilet had a dirty, empty plastic container sitting between them. The taps appeared dry and broken. A mother's room was right next to the toilet for—horror of horrors—breastfeeding mothers.
"They just do things for the sake of it. They don't put thoughts into them," said a man next to me when I asked him why the mother's room was there.
In the queue, the people endured the sometimes scorching sun, the lack of amenities, and the absence of customer service. Each one of them patiently waited for his or her turn.
During our almost three-and-a-half hours wait outside and inside Nyayo, there was no protestation. Instead, there was only resignation and maybe unexpressed thoughts on why someone had to waste hours just to get a service he or she—as a taxpayer—is entitled to.
Most of the people in the "collection line" had their eyes on the metal picket fence, where an NYS guy appeared from time to time to collect people's invoices and gave them a number to wait for another call. Time was the biggest casualty that day. It seemed that it was of little value to both officials and to citizens.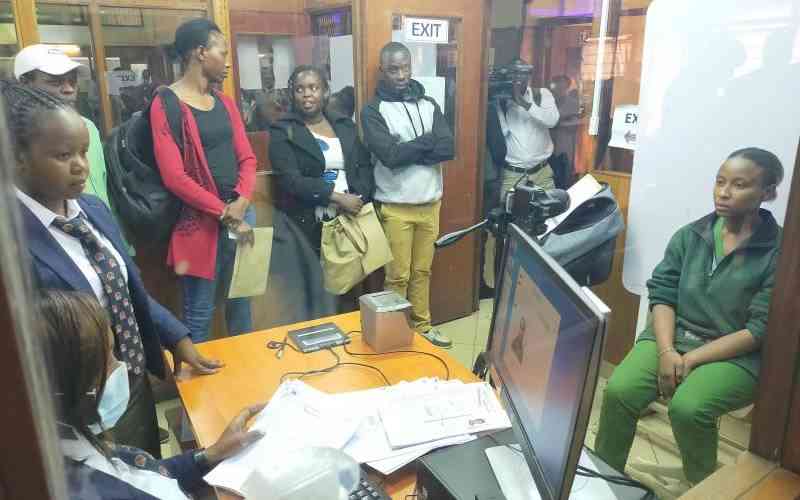 Those in the line showed a remarkable sense of patience. They largely behaved well and remained silent. Very few were even cheerful to talk to each other, but the majority remained quiet, with their eyes and legs being the most utilised parts of their bodies—though sometimes their inner thoughts—mostly frustration and anger were freely displayed on their faces.
Animated chat
Two women had an animated chat, but a man next to them was so low-spirited that he just looked at them, sometimes biting his lower lip.
Those browsing the Internet through their mobile phones were surprisingly very few, even though the ages of the people in the line were predominantly young men and women.
Too tired, some people heaved their worn-out bodies toward the nearest space to try to sit on almost anything they could put their backsides on. It could be concrete slabs projecting from the outer wall of Nyayo or some debris or the concrete floor. Those seeking a place to tumble down included young men, women, and middle-aged persons, who were either unable or unwilling to keep standing for hours on end.
Boredom was fair to all and knew no age.
From time to time, a new person would arrive at our line, thinking that since he had booked a specific time to collect his passport, things would be stress-free.
The new arrivals soon come face to face with the reality on the ground and howl in displeasure. Some reluctantly join the line, while others walk away, their murmurs of disapproval petering out as they melt into the masses of humans accumulated here.
After two-and-a-half hours, I arrived at the metal picket fence separating us from the Nyayo House staff to submit my invoice to the NYS guy who, as he always does, told me to wait because the invoice would be taken inside Nyayo for immigration officers to prepare my passport.
After that relief, the lucky ones—those of us whose invoices were collected—stepped out of the line and sat or stood around. (There were still others in the line, which continued to build up.)
Some of us, too drained, held onto the metal poles that once held a tent for support, our weary shoulders drooping. Others just slumped down on the concrete ground.
Our mood was far from elated, as thirst, hunger, and boredom already took their toll on all of us. The general atmosphere was one of resignation, powerlessness, and anticipation. If you wanted to go out to look for a bite or get a bottle of water, you would fear that you could miss out on the next call for those to be allowed inside Nyayo.
If I arrived at the line at 11 am, it was only around 2.25 pm that I was called to the real collection counter inside Nyayo House.
The diligent NYS guy, who himself appeared exhausted and thirsty, first assembled us and then herded us through the door of a building located outside the northern side of Nyayo into the first floor, where we were again told to wait.
After some 20 minutes, an immigration officer emerged and started to call the names of the people whose passports were ready. A woman was told to come back after two weeks—even after waiting for so long. When she demanded an explanation, she was told that her passport was misplaced as it was initially sent to the Postal Corporation of Kenya, which, in the recent past, was the collection venue before passports were returned to Nyayo.
More minutes went by when another immigration officer emerged holding envelopes containing our passports and he started to call our names.
At long last, my name was called. After spending a few more minutes in another small line one last time, an officer seated behind a counter handed me my passport.
The important document was finally and securely in my hand, I stepped away from the counter, opened the envelope, and made sure it was actually mine, which it was.
Relieved but feeling somewhat groggy, I dashed out of the hell that was Nyayo House, immediately hailed a taxi, and headed for home, where I arrived around 4.20 pm.
Related Topics