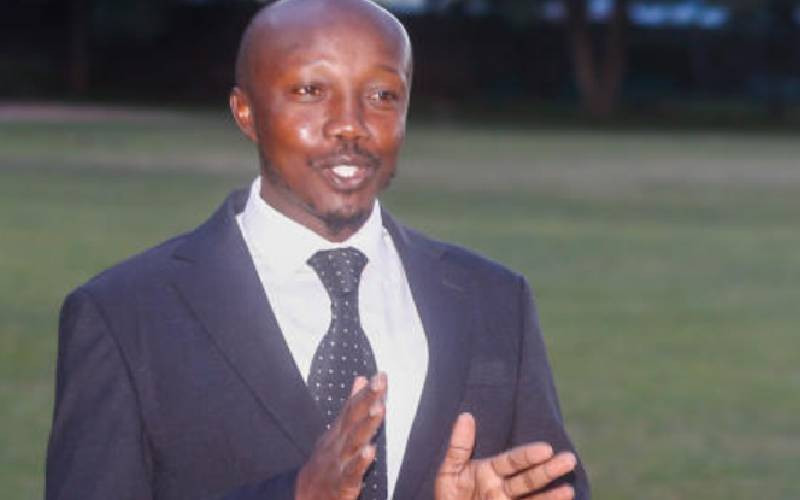 Bump into him in the busy streets of Nakuru City and he will strike you as a simple man. But once you venture into his busy world of legal suits, you will soon realise that lawyer Kipkoech Ng'etich is anything but simple.
The 41-year-old wears many hats, including being an African Inland Church of Kenya Sunday school patron, and a member of the Law Society of Kenya (LSK) Committee on Continuous Professional Development.
The self-proclaimed tea ambassador has pursued numerous cases related to human rights violations to the bitter end, earning him friends and foes in equal measure.
On Monday, and on behalf of lawyer Peter Okiro, Kipkoech filed a suit seeking to have judges exempted from paying increased taxes under the Finance Act 2023. About seven years ago, Kipkoech was arrested by police and arraigned in a Kericho court to answer to speeding charges.
However, the charges were later dismissed. The court noted that the section of the Traffic Act alleged to have been violated was not in accord with the particulars in the charge sheet, rendering it defective.
Kipkoech says he realised many Kenyans suffer in the hands of rogue government officers and saw the need to put the government in check.
"I decided moving forward, I will amplify the voice of the people, to be the voice of those who cannot speak for themselves," he says.
Following the dismissal of the case against him, Kipkoech sued the Inspector General of Police, Transport CS, National Transport and Safety Authority, and Kenya National Highways Authority (KeNHA).
He also sought Sh10 million as compensation for alleged malicious arrest and prosecution. He also wanted a court order directing that speed gun operation areas in Kenya be clearly marked, and that KeNHA should supply and gazette a list of actual signposts in Kenya.
However, Judge George Dulu on April 23, 2020, dismissed the application citing that it lacked merit. Kipkoech has since lodged an appeal at the Court of Appeal.
His arrest and arraignment in Kericho were not the first as he revealed that on December 19, 2020 near Mau Tea area on his way to Kericho from Nakuru, he was flagged down and detained by the police for two minutes for allegedly driving above the speed limit of 50km per hour established around Kedowa town.
He was also detained by the police on June 30, 2022, at Salgaa along the Nakuru-Kericho highway for driving above the speed limit of 50 kilometres per hour around Sobea.
Kipkoech, through his lawyer, said he was wrongly and maliciously detained by the police for imaginary offences that are non-existent in law.
He noted that innocent Kenyans continue to suffer at the hands of rogue officers. Kipkoech in September 2022 sued various government agencies over alleged harassment of motorists.
He said police officers have turned Kenyan roads into tax havens and corruption dens. Police officers, he stated, act unlawfully by arresting and charging road users on unprecedented speed limits.
The Inspector General of Police, the National Police Service, and the Director of Public Prosecutions have been named as respondents in the case while KeNHA, the Chief Justice, and the Law Society of Kenya were named as interested parties.
In July 2020 after a meeting with Eastern Mau evictees, Kipkoech agreed to represent them in court without a charge. It is through his representation that over 40,000 residents survived the eviction after the Environment and Lands Court issued orders suspending it.
While the matter is still pending in court, the lawyer seeks to understand why forest land keeps expanding while the settlement shrinks.
In 2013, he coordinated a Children Trust Dinner under the Rift Valley Law Society which raised over Sh1.2 million to support the Justice for Children Project.
The lawyer says he will not tire soon, and he is happy with what he is doing, noting that cases against the State are not easy to pursue.
"I am not doing this for myself but for all Kenyans. My interest is to ensure the systems in the country are working, and fighting corruption. My wish is someday we will have a country one doesn't need money to push for something," he said.
Related Topics