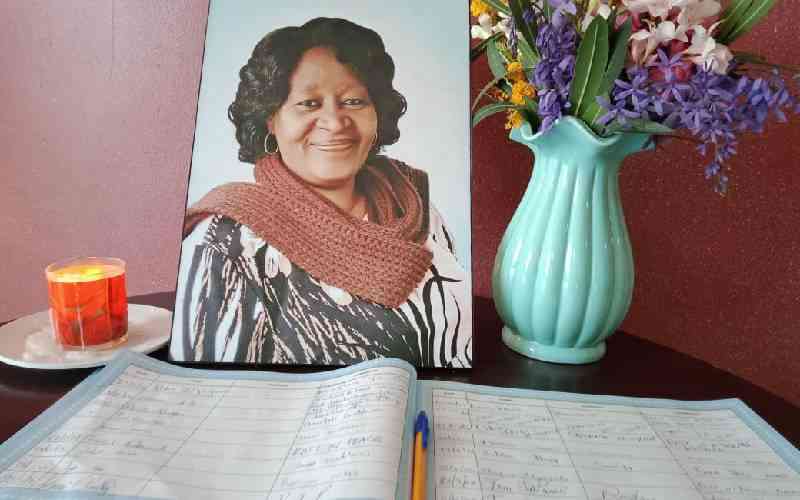 That the SG fraternity of serving staffs, retired and exited ones alongside its advertising associates has been thrown into devastatingly deep and sorrowful mourning following the untimely passing on Saturday morning of its legendry long serving and iconic advertising executive who morphed into a business executive and lately as an accounts manager.
Dorcas Tabitha Wanjiku Wanjama, who chose to call herself simply Wanjiku Wanjama but was christened Chiku by colleagues and the advertising fraternity, has left an indelible mark in the commercial department and the Standard Group at large, the place she has called home for the last three decades.
Walking into the Standard newspaper's offices in Nairobi for the formal uptake of a sales job in the early 90s, nothing had prepared the then-shy Chiku for an arduously long journey ahead. A journey of camaraderie and dalliance relationship between herself and the employer of highs and lows. As soon after settling, it was explicitly clear of that under the veil of concealment and reticent lay the pukka of demeanour, a go-getter, assiduously resolute sales executive with keen eyes and a knack for results. She signed orders and long contracts as soon she was off into the field.
Throughout her career which she elegantly took with a tinge of pride, she grew to buttress her base through the interconnectedness of reliable networking and social relations. She became the to-go for person on matters of media sales and solutions provider. In her time she has literally served all the advertisers who did business with the SG. She gave solutions and left long-lasting impacts that remarkably made it to the top of the minds of decision-makers and those in the chain of supplies. She helped grow brands and organizations.
So passionate in whatever she did - advertising was she that she was not only involved in corporates and public organizations communication and marketing strategies but she became ad herself. She featured eminently bodacious on mulika mwizi and kaa chojo electronic media adverts by the Kenya Power that ran for months at a time Kenya Power transmission infrastructures especially transformers' vandalism was at peak. So effectuate was she in media campaigns of Tusker mavuno, Tusker makes us equal, has no equal, Pilsner Mamilli all by the then Kenya Breweries and Niko fiti by Kenya Re were some of the greatest feats and hits that epitomized and defined her resolute mettle of an astute business executive.
Chiku has served four of the five governments in the line of call of duty. She easily adapted and adopted so diligently to the desideratum of superfluity with which incoming governments came with. Never disappointing but serving all to the best of humanly amplitudes.
Internally, she served under various regimes and tens of bosses. She is the person every boss wanted a piece of, or part thereof for her greatness in sales and revenue drives expositions. She is the hunter who knew which forests to venture for bountiful yields and returns, without missing the target. Her targeting was extraordinarily high, often carrying more than fifty percent of her sections weights. More than often she not only met those zealous numbers but exceedingly surpassed them, at times doubling the efforts. To her credit, Chiku has clocked to the excesses of Kshs 4.0B worth of advertising sales for the SG throughout her sales career. Chiku would gladly focus on her month outlook knowing too well who will be coming through for her, without a flinch.
A gentle and graciously affable soul she was, she related so well with all and sundry across the hierarchy of order at the workplace. She connected perfectly well with the advertisers and clients she has been serving, quite oftenly going beyond the call of duty esprit de corps. Personally, she held me by hands and walked into one of her client for a business deal on my first weeks into the SG. What was to be a single ad order turned to a six-month campaign which she gladly helped to not only sign but execute. What's more, I have walked the journey with the key personalities of that client to-date, who, through bond of interconnection and relationship has remained my greatest client and spender.
Too, she walked me into yet another client, the then City Council of Nairobi which morphed into today's Nairobi City County. A simple public notice ad turned into decades of a single largest client for the SG with the single largest spend on any season. Little did I know that she was bequethering equally troublesome clients when it comes to payments, a feat they have earned crown.
Onditi, another former colleague recalls that Chiku helped him close a deal with Kenya Maltings and Kenya Glass in his formative years in the commercial department of SG. Older colleagues tried to cajole her to reverse/revert the order in her favour or to one of them. Good old Chiku Wanjama said NO! In those days, freshmen would have it rough, looking for new/dormant clients was hell. The 'Cartels' in the Bruce House office of the SG owned the businesses! "In short, the commission I earned from the order Chiku left me, is evident in Ushago kwetu in the furniture l bought with it. RIP Jaber".
Sharon Wandii opines that "these were my last wishes to you Chiks...I didn't know that it was goodbye but it turned out to be it. When I heard of the news, I was shocked. I wondered what lion this was that brought you down. You were such a strong personality and a fighter but God knows all things. Above all else, your legacy as a giver will live on...a generous and beautiful soul you were my dear friend, colleague and deskie. Tutaonana baadaye".
"It is sad. It is well. Chiku was a generous heart, a big generous heart for that matter. Never to be left behind on any individuals contributions or personal visits in case of sickness, bereavement, weddings or any other colleagues' moments of solidarity.
We all knew her at different levels for me I knew a kind, giving human.
Chiku has flown and left us with a target, a target she could hit in a day. Let's do it for Chiku, she was a pillar, a tenured employee before, during and after us she remained the BRAVE ONE. The straight shooter.
The one who walked into bosses office on everyone's behalf. She loved the fire in the group, so let's lit the fire make necessary noise in her honour as we celebrate the golden moment that we shared with her", Sly says.
Ng'eny adds of Chiku "Chiku was a woman I admired for my own reasons. A woman who inspired me to see the beyond. Sending love and light to Wanjikus' family and friends. Safiri salama... Tutaonana badaye".
And in a mien oration to the commercial staff during the traditional new year outlook overviews, this year being held in the morning hours of the last Friday of January, she painted a picture of how craggy and bumpy it could be to get to the tops. A picture of a person who has seen it all in the arduous journey to success. But again, earning commissions had the sky as the lower limits. Sales trajectory were solely individuals and personals laborious efforts. Earning tidy sum of money had that effect of ecstatic exuberance and exhilaration. This was purely an advice to the young and newly recruited into the team who needed such assuages as they fitted into their new roles. Acknowledging that her time and space with the company was almost running out, she felt obliged to apprise the team of benchmarking with the best and seeking counsel whenever and wherever it mattered.
That the heavens have gained by depriving the earth of a beautiful, delighteous and exquisite gentle soul you were. May you be a partaker in heaven's bliss and bounty in His throne. Whenever not smelting someone else's heart with your ever sweet smiles or infectious laughter, you were humming and singing to your favorites, albeit in silence, blues and reggaes genres of music.
It pains to say kwaheri for we loved you, your company, relation and your all, but our Lord loved you more. May you, through the mercy of our God, rest in eternal peace.
~till we meet again~
By Samuel Mutahi, former colleague and friend
Related Topics