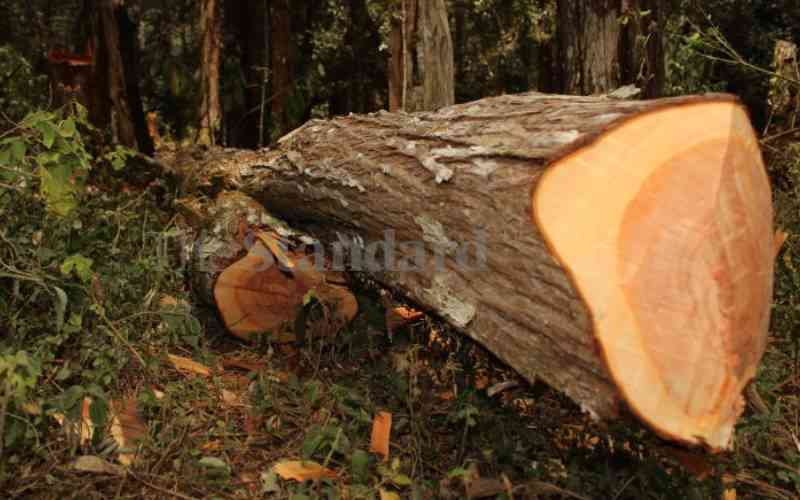 Goma region, located in the eastern part of the Democratic Republic of Congo (DRC), is home to Virunga National Park, one of the remaining biodiversity and natural resources hotspots in the world.
But the park, which is part of the 60 per cent Congo basin rainforest found in DRC and endowed with century-old indigenous trees among other biodiversity, is under attack, courtesy of illegal timber and charcoal trade.
Eastern DRC is one of the wealthiest areas in the world in terms of minerals like gold, coltan, cobalt and tropical timber. It borders Uganda and Rwanda. Congo rainforest is the second largest rainforest in the world. Its depletion has serious ecological consequences for Africa and the world.
The Standard in collaboration with Pulitzer Centre's Rainforest Investigations Network brings you the players, species of trees targeted and the routes used in the illegal timber and charcoal trade.
Investigations reveal that corruption, poor governance, collusion by security agents and militia, need for income for communities and high demand for hardwood products are responsible for the depletion of the rainforest.
Data released in December last year by DRC government and Global Initiative Against Organised Crime (GI-TOC) shows deforestation has doubled over the last decade, losing one million hectares of the forest between 2010 and 2020.
This is the third highest rate of forest depletion in the world behind China and Brazil. Deforestation has irreversible consequences on human and animal life and ecosystems as forests generate water supplies and biodiversity and mitigate against climate change.
The illicit trade in timber and charcoal is fuelling deforestation in the region. The illegal trade, estimated by GI-TOC to be 90 per cent in eastern DRC involves harvesting of trees and production of charcoal inside nature reserves. Operators use forged certificates and avoid paying taxes.
As the environment and communities in eastern DRC, particularly from North Kivu, South Kivu and Ituri, continue to suffer the effects of conflict resulting from violent competition over access to natural resources, the proceeds of the illegal exploitation continue to swell.
The illicit trade is estimated by GI-TOC to be $1.25 billion per year (Sh164 billion), with 1.3 million sacks of charcoal per year from eastern DRC.
The huge profits which have given rise to 'timber tycoons and charcoal barons' is facilitated by brokers, corrupt politicians, Armed Forces of the Democratic Republic of Congo (FARDC), UN Stabilisation Mission in the Democratic Republic of Congo (MONUSCO), park rangers and around 130 armed, violent militia including Democratic Forces for the Liberation of Rwanda (FDLR), Nyatura, March 23, Mai-Mai and Allied Democratic Forces (ADF) and traditional chiefs.
Records show FARDC soldiers are paid $75-150 per month, without proper health care, pension, paid leave and other social benefits. This forces some of them to facilitate the illegal exploitation of the natural resources.
FARDC, MONUSCO, park rangers and the armed militia extort, control routes, steal and enforce taxes on citizens and illegal traders and turn a blind eye to the plunder of the natural resources in exchange for money.
"Don't be hoodwinked that MONUSCO is for helping save people and the forest. They are major players in illegal logging and mining in the region. They are interested in money and nothing else," said a former member of the peace-keeping force who is now a taxi driver in Johannesburg, South Africa.
Prof Pyclaude Bolaluembe of the University of Kinshasa says poor governance plays a major role in the depletion of the rainforest.
"Sustainable forest management is impossible with the existing weak forest control capacity, lack of law enforcement and bribery," Bolaluembe says.
His colleague at the university, Prof Cush Ngonzo Luwesi, of the regional school of water, blames politics for the sorry state of the rainforest.
"Deforestation is going on and the equatorial forest has been allocated to private investors since the days of former and deceased President Laurent Kabila. This is despite the Forest Act that bans such allocation," says Luwesi.
Donat Ben-Bella of ACIDH, an environmental NGO in DRC is destructive to the forest. "Each day, we see foreigners demarcate our forest, fell trees and carry the logs out of our country. They use air, road and water transport, including speedboats in River Congo," Donat says.
So well organised are the militia that from Virunga National Park, there is an illegal route near Mt. Nyiragongo to allow the transportation of charcoal, called 'Makala highway'. Makala is a mix of Kiswahili and local dialects meaning charcoal.
For timber, 90 per cent of the logging in eastern DRC is small-scale, illegal or informal, done outside a few industrial concessions in the area.
The timber here is supplied to neighbouring countries like Kenya, Uganda, Tanzania, Rwanda, Burundi and South Sudan. Fifteen years ago, 90 per cent of the DRC's timber was taken to the European Union (EU). But investigations show that today, the timber is also exported to Asian countries like China, India and Vietnam.
Because of high profit margins on hardwood, the loggers target Mahogany (Libuyu in local dialect), African Teak (Iroko), and traditional Ndobo and Eucalyptus trees. Using chainsaws, timber cutters fell trees and saw them into planks which are then transported to the nearby road for further haulage.
Data shows that Mahogany forms 70 per cent of all the timber from eastern DRC, while the African Teak is the second loved species. Mahogany is listed as vulnerable on the International Union for Convention of Nature (IUCN) Red List of endangered species. Kenya takes up to 55 per cent of the timber from DRC, part of which transits to the international market through Mombasa port.
A plank of hardwood measuring 450x30x10cm can be directly bought from Mai-Mai militia group at $20. The chiefs authorise entry into the forests to log at a fee. The group is also paid some taxes to access areas they control and 10-15 per cent of the timber production. Together with ADF, Mai-Mai tax chainsaws in their areas of control $200-$300 per year and $1 per plank.
Still under Mai-Mai and FARDC controlled areas, 200 planks go for $10,000. In areas like Beni, Butembo and Goma in North Kivu timber is bought at $20 at the logging site, $30-40 at Beni transit hub and the Kenya-Uganda border at $65.
At the border, timber merchants, mainly Congolese, have links with Kenyans and Ugandans. These international players are now able to link up with local traders to determine the scale of timber production through financing or equipping artisanal loggers with fuel, cash or equipment in exchange for timber at lower prices. They facilitate pre-finance arrangements with people from Kenya, Uganda, Europe and China.
For charcoal, most of the region where it is produced is controlled by FDLR. One can buy charcoal from the militia group at $6.50 per sack. FDLR also issues tokens for access to the forest for tree felling at a fee.
The main market for charcoal is Goma where a sack of charcoal goes for $25-30. The annual trade turn-over here is estimated at $30 million while annual production of charcoal from eastern DRC is 293,000 tonnes per year, valued at $58.6-75.8 million per year.
Timber and charcoal is transported in trucks or motorcycles. A motorcycle operator carries between six to eight sacks of charcoal per trip. In 30 minutes, he can ferry an average of 250 sacks.
This story is produced by The Standard Group and Pulitzer Centre's Rainforest Investigations Network.
Related Topics