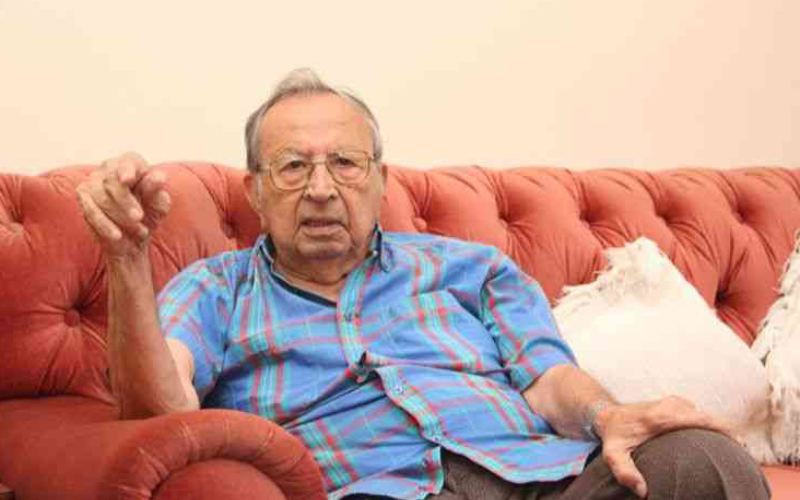 Renowned surgeon and author Yusuf Dawood died in the United Kingdom, aged 94.
That was four years after he retired and relocated to England with his wife after working and living in Kenya for 57 years.
Upon clocking 90, Dr Dawood and his wife Marie Kodwavwala moved to where their two children resided.
Days before his move, he had an exclusive interview with The Standard, capturing his life in Kenya for almost six decades.
"We love Kenya, but we need to be with our children so that they can take care of us. We are getting old," said Yusuf in a raspy voice, almost a whisper.
As he turned 90, four years ago, Dawood said he was beginning to think of his mortality more than he did in previous years.
Yusuf said having worked as a surgeon, he internalised how fickle life was and his obsession with an order made him want to put everything in place before he was gone.
"It scares me, how he talks of death. I start weeping because I am very emotional," says Marie.
When the Sunday Standard visited his home four years ago, a sense of urgency defined almost everything he did. From calling his publishers for last-minute instructions to organising little details preluding his departure.
He would occasionally stand to answer his phone, his feet shuffling as he walked across the room.
Age had crept in, robbing him of the agility he had when he was a practicing surgeon before he put down his scalpel four years ago.
He loved four things: writing, passion for his profession as a surgeon, involvement in activities of the Rotary Club, and his wife Marie.
His colleagues referred to him as the 'breast guy' for having performed so many procedures on breast cancer patients, an area he went into after noticing an upsurge of breast cancer patients in Kenya.
He also told The Standard that before retiring, he had scheduled his last operation would be on his breasts to summarise a career he had done for more than five decades.
That is how much the deceased loved order and planning.
While most of his readers saw passion, dedication, and ability to multitask in the stories he wrote, Marie saw a husband who needed a break.
He felt he missed a chunk of his children's life, especially in the days when he was an active surgeon. For him, going to England was a way of creating more memories with his children.
"There are many nights Dawood returned home from the theatre or lecture hall where he taught upcoming surgeons, so fatigued, he would slump into bed without saying a word," his wife said.
He arrived in Kenya in 1961, at the peak of the fight for independence, and exited in silence. Without sideshows.
For him to arrive in Kenya, His Highness the Aga Khan was looking for a young surgeon to work at his hospital in Nairobi. Dawood applied and got the job.
He was first hit by work-related stress when he was made administrator at Aga Khan Hospital, so he resorted to writing fiction to release stress.
In 1978, he took his manuscript to editor Henry Chakava of East African Educational Publishers. Mr. Chakava was awed.
He signed to publish his first book "No strings attached", marking his entry into authoring. He was flung further into the world of words by lucky happenstance.
Upon his arrival in Kenya, Dawood joined the Rotary Club in Nairobi, and among the requirements was for new members to talk about their jobs.
Back then, the club was a group of old whites who Dawood said loved gin and would get knocked off to sleep as soon as a speaker stepped on the podium.
Coincidentally, one of the people scheduled to speak developed a strangulated hernia and landed on Yusuf's surgical table.
Before he went under, the patient told Dawood to inform the Rotarian president, the late John Karmali, that he will not be giving the speech.
"When I told Karmali that the speaker was sick, he told me to talk about my job instead," Dawood says.
"I noticed they were listening when I started talking about my experience as a surgeon," he says.
By the time he was done, they were on their feet, giving a standing ovation. Later on, Joe Rodrigues, the then-Nation editor who was in the group, approached him.
"He told me to write everything I had said. He published it. He later called and said: you are on – you are getting a column," says Yusuf, summing up the beginning of the intimate and candid narrations of his life as a surgeon.
Dawood is best known for the Surgeon's Diary column that ran on Sunday Nation for thirty-eight years.
In the column, Dawood shared medical and personal experiences that he encountered with his patients.
Dawood's son, Jaan Yusuf Kodwavwalla, confirmed the news to the Standard on Sunday, January 29.
"My dad slipped away from us in the early hours of this morning. May his soul rest in peace and may the gods look after him," said Jaan.
This article is based on an interview done on March 1, 2018 by Mercy Adhiambo Orengo, The Standard
Related Topics