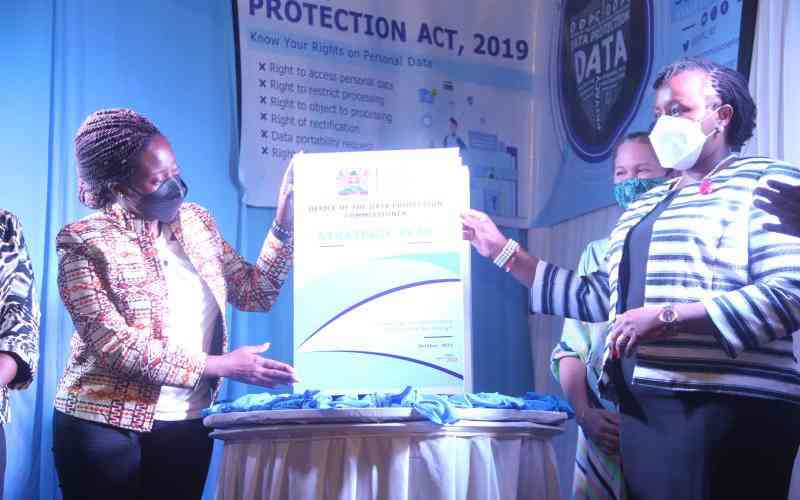 A digital rights firm has urged individuals and civil society to continue to hold to account all actors to ensure best practices are adopted, and privacy as a right is protected.
In a press statement commemorating World Data Protection and Privacy Day, Pan African Digital Rights and Inclusion organization Paradigm Initiative (PIN) said the private sector within African governments must be aware of the process of digitalisation that is being initiated at high speed on the continent and improve their privacy policies.
Since 2017, January 28 is marked globally as the day has been celebrated as World Data Protection and Privacy Day with an aim of raising awareness of the need to adopt good practices to secure data and protect privacy.
This year's theme, "Protecting Your Personal Data," focuses on the need for individuals, organizations, and governments to take measures to safeguard the confidentiality and integrity of personal data.The firm said as it embodies these values through its advocacy and capacity-building programs, is particularly keen on personal data and the privacy of communities across the African continent.PIN said proper implementation of privacy policies will ensure consumers and citizens have more control over their data collection practices and can feel confident when sharing information with third parties.
With this in mind, the firm said in collaboration with its partners, has developed various resources to keep individuals informed about the state of data protection in Africa.
The firm's Partnerships and Engagements Manager Thobekile Matimbe said as a result, a time has come for African States to prioritise affordable digital technologies and internet access, worthy investments, and commitment to education.
According to Matimbe, such priorities will bridge the digital gap by taking digital opportunities to young people where they are and ensuring their livelihoods are improved.
This she said also provides support for policy advocacy around ICT and education issues.
"We acknowledge the obligations of African States to promote the right to education. These principles prescribe for States to adopt laws, policies, and other measures to promote affordable access to the internet for children that equip them with digital literacy skills for online education and safety, protect them from online harm and safeguard their privacy and identity," said Matimbe.
PIN further said the emergence of technology has revolutionised how educators can use it to enhance the learning process for their students while freeing societies from traditional teaching methods and opening a world of new opportunities for teachers and students alike.
"In recent years, there has been a growing recognition of the role that information and communication technology (ICT) can play in education, particularly in developing countries. ICT can provide new opportunities for learning, both inside and outside traditional educational institutions," read part of the statement.
It also read, "ICT can help to close the "digital divide" by providing access to information and communications technologies for those who might not otherwise have it."
Related Topics