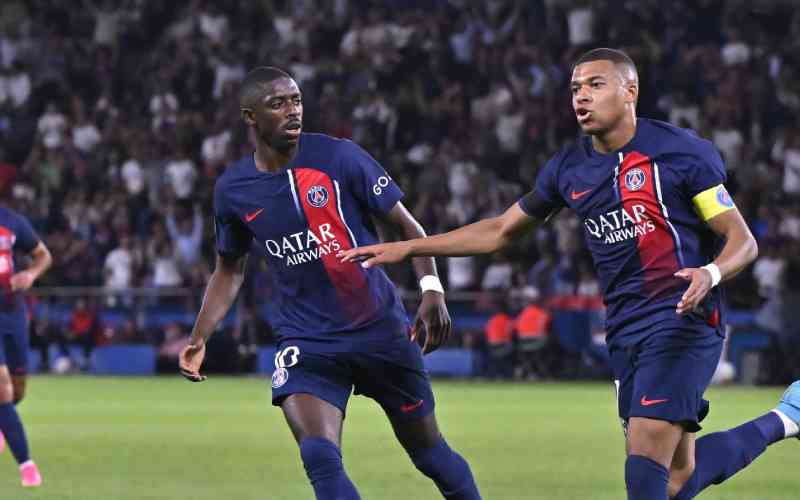 Paris Saint-Germain started its previous Champions League campaign with a team featuring Lionel Messi and Neymar and a win over Juventus.
The two soccer greats didn't score that night and PSG later was eliminated from Europe's top competition in the last 16 for the fifth time in seven years. The premature exit, once again, highlighted the blatant failure of PSG's strategy of assembling star-studded teams without a real backbone.
The owners have changed their master plan during the offseason, though, and it's a revamped PSG that takes on Borussia Dortmund on Tuesday as the group stage of the elite European tournament kicks off.
As usual, the French champions spent a lot of money on new recruits, but they no longer seem obsessed with the need for big names.
Taking part in the group stage for the 12th consecutive time, the PSG squad facing Dortmund on Tuesday is radically different from the one that was knocked out by Bayern Munich last season.
Up front, Marco Asensio joined from Real Madrid, Gonçalo Ramos arrived from Benfica and Randal Kolo Muani signed to possibly form an all-French attack alongside Kylian Mbappé and Ousmane Dembélé. PSG also transformed its midfield, hiring Kang-in Lee and Manuel Ugarte. At the back, Bayern Munich's Lucas Hernandez was added, as well as Milan Skriniar.
In addition to Messi and Neymar's departures, Sergio Ramos and Marco Verratti have also left, while PSG switched to a 4-3-3 formation under new coach Luis Enrique, who does not have to bother with accommodating Neymar, Messi and Mbappé together.
The cash-rich Qatari investors, who took over in 2011, hope their new strategy will finally help them replicate the club's domestic dominance on Europe's biggest stage. But the new players have not gelled into a solid unit yet and Enrique's possession-based system has not yielded immediate results.
In the French league, PSG has managed only eight points from five matches, its worst total since the 2010-11 season, and lost at home to Nice 3-2 over the weekend. PSG looked shaky and lacked attacking creativity as Skriniar and Dembele delivered below-par displays.
Enrique, however, said he was not troubled by the result.
"If we're talking about the three goals, two of them were deflected by our defenders," the coach said. "I'm not worried at all. I think that on Tuesday we'll play better, I'm sure we'll be better. I'm optimistic, even if it's a match against a difficult opponent."
After the feud between Mbappé and club officials over a contract dispute, the France striker has been a source of confidence for Enrique. After overcoming a small knee injury, Mbappé returned with two goals against Nice and should lead the attack against Dortmund.
Related Topics