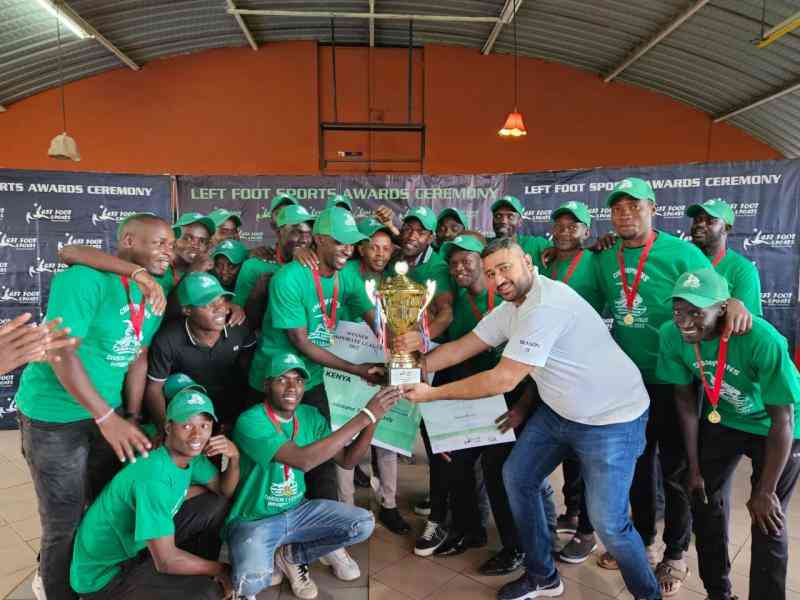 Amiran Kenya are the winners of the Left Foot-sponsored Corporate League.
During the award ceremony event attended by Left Foot organisers led by Managing Director Aman Bhasin and Operations Director Amit Bhasin, Amiran were feted with Sh200, 000 for finishing the season as the corporates' league winners, Apec Consortium Limited came second and pocketed Sh100, 000.
In the Social league, Salim Omar Advocates were crowned winners and received a cheque of Sh125,000, Abdulrahman Saad were second, taking home Sh75,000 while third-placed Disciples FC took home Sh45,000.
Lucky Asila of Apec Consortium bagged the Golden Boot for the Corporate League after notching 12 goals, while Ahmed Shariff of Abdulrahman bagged the Golden Boot for the Social League with 21 goals.
Meanwhile, the MVP award for the corporate division produced a tie between Xavier Odikor of Amiran Kenya and Festus Injendi of Tropical Heat Limited.
Speaking after the event, Operations Manager Bhasin confirmed that a total of 14 teams took part in Nairobi while in Mombasa the season commenced late and the games are yet to be completed.
Bhasin further confirmed the new season has already kicked off with 17 teams confirmed for Nairobi adding all the matches will be played at new home ground Sikh Union Club Astro Turf on Forest Road.
Related Topics