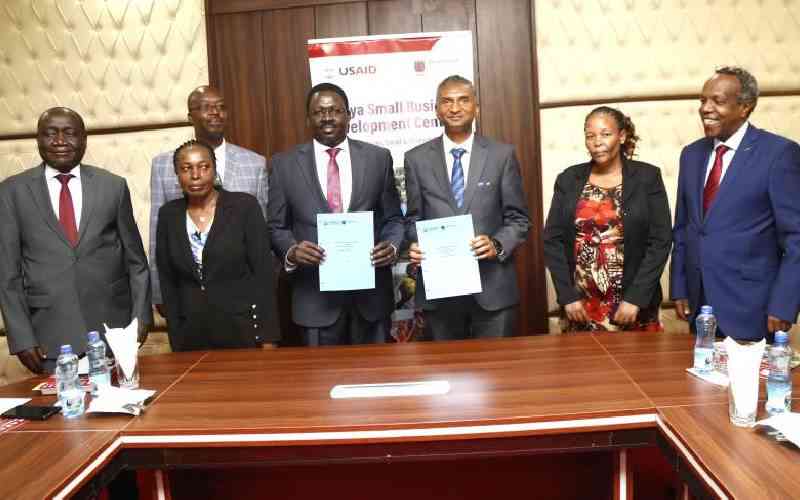 Kabarak and Strathmore universities have partnered to build the capacity of small business operators through advisory services and training.
The two institutions signed a Memorandum of Understanding at Kabarak University on October 3, 2023. The partnership targets to scale up capacities of Micro, Small, and Medium enterprises (MSME) in agribusiness, and creative sectors among others.
The partnership is part of the implementation of the Kenya Small Business Development Centres, a USAID program being implemented by Strathmore University Business School.
Under the program, Strathmore champions both public and private-sector-led development to enable SMEs to participate fully in the economy and create jobs.
Kabarak University Vice Chancellor Henry Kiplagat said the institution will support the implementation of the program and deliver on the commitments to allow businesses to scale up and tap into available opportunities.
"I am grateful that our two universities are meeting today in a joint effort to sign the MoU that has a great promise for the benefit of Kenya's huge constituency of Micro, Small, and Medium Enterprises," Professor Kiplagat said.
He added; "As such, we are well positioned to support the micro, small and medium enterprises with the best practices in business development and advisory services through the small business development centres."
Strathmore University Vice-Chancellor Vincent Ogutu said that empowering small and medium enterprises requires multi-sectorial efforts.
"Micro, small, and medium enterprises (MSMEs) are critical drivers of economic growth and contribute largely to income generation and employment. This sector is critical and no single institution can handle it on its own and that is why we are collaborating under a model created by USAID," Dr Ogutu said.
He added that through the partnership with institutions like Kabarak, the program targets to go beyond empowering the MSMES to empower smaller minority groups.
In the partnership, the United States Agency for International Development (USAID) will be the financing partner while Kabarak and Strathmore will be the knowledge partners who will be tasked to do joint research.
The Kenya Small Business Development Centers program borrows a model from the US and transfers it to a network of local business centres.
Already the program has taken root in several counties including Nakuru, Kiambu, Nairobi, Mombasa, Makueni, Kisumu and Isiolo. The program is also expected to gain entry in Kakamega and Busia Counties.
George Njenga, the Executive Dean of Strathmore University Business School, said the project takes the best practices in business development and advisory services from the U.S. counterparts and has been successful in counties where the program has been rolled.
"The local network of centres adapts and implements the model's accredited training curriculum for supporting small businesses. We are targeting all the 47 counties as part of building small businesses," Dr Njenga said.
Following the new partnership, Kabarak University will jointly conduct policy research and market intelligence focusing on consumer market insights, export market trends, and policy briefs with Strathmore University.
Under the program, MSMEs will also be able to gain access to finance, apply market analytics, and benefit from a supportive business-enabling policy environment.
It is expected that over 10,000 MSMEs will be able to benefit and tap export market opportunities available under the U.S-Kenya trade programs in Nakuru County.
Related Topics