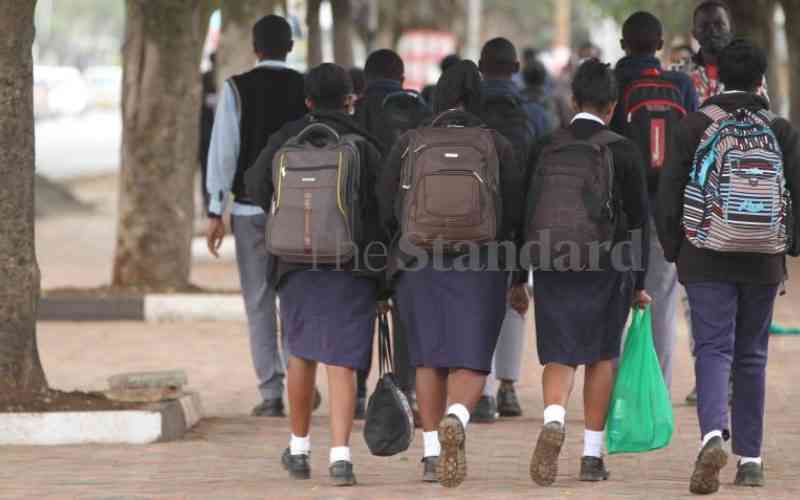 The abrupt closure of schools on August 2, 2022, plunged the education sector into turmoil as parents made frantic efforts to get their children home safely.
Some learners were left stranded as parents delayed to pick them up, while prior transport arrangements made by schools were disrupted.
Parents interviewed across the country said Monday's directive by Education Cabinet Secretary George Magoha ought to have been communicated earlier.
By noon, students in some Nairobi schools like Buru Buru Girls, Huruma Girls and St Anne's Girls Jogoo Road were still waiting to be picked by parents or to receive bus fare.
John Misigo, an administrator at Rockfields Junior School, said many schools were caught off-guard by the sudden closure.
"Some parents had requested us to keep their children until in the evening since most of them were out of town," he said.
A circular from the Ministry of Education directed all school managers to send the children home by mid-day. "Release learners in boarding schools before 12 noon as provided for in Basic Education Regulations (2015)," read the notice signed by Education Principal Secretary Julius Jwan. Schools were also required to put in place measures to confirm all learners reached home safely. But in reality, confusion marred the closing day.
Many learners were stranded at the city bus terminus. Learners who spoke to The Standard said they had not received bus fare and were using their pocket money, which in some cases wasn't enough.
"Bus fare to Rongai is Sh150 but I only have Sh50. I am still hoping that the fare will come down so that I can board," said one student.
Mary Simon, a parent at St Anne's Girls Nairobi, faulted the move by the ministry. "It came out of nowhere. We are worried about confusion among schoolteachers, households and schoolchildren. I was planning to pick my child on Thursday as earlier communicated," she said.
Kenya Secondary School Heads Association chairman Kahi Indimuli admitted that the directive had caught parents and teachers unaware.
"We have received complaints from parents, but let me just be clear: we also received the orders on Monday, and we must adhere to them," Mr Indimuli said.
He said learners who were inconvenienced could stay a little longer in their institutions. "Some schools may be forced to accommodate the students for an extra day to allow parents to arrange on how to pick them, especially boarding schools."
Back at school, Mr Misigo said many schools' plans had been thrown into disarray. "Calendared assessments, notably high-stakes projects for the Grade Six, had just begun. Strategies to postpone, skip or administer them at a distance raise serious concerns."
For William Visigwa, a parent at Ofafa Jericho High School, it was a 'top priority' for students to be home during the election period. "Those are some of the challenges we face as parents, but we have no option. I had to miss duty today to pick up my two children who go to school in different counties. Being with them at home is safer than at school," he said.
The earlier closing date had been on Friday this week, with opening slated for August 12, three days after the General Election.
Pauline Gakoya, a banker in Nakuru, expressed disappointment at the abrupt closure.
"I had spent all the money I had on paying schools fees and never expected schools to close on such short notice. I sympathise with food suppliers in institutions. They will not be able to preserve their perishable goods any further. The ministry has inconvenienced many people," said Ms Gakoya.
Wakanyi Kuria, a mother of two children who attend schools in Kisumu and Mombasa, said she had to convince teachers to take in her children. "I had done home-stocking of food ahead of the General Election. I am left with no money. When I checked with local bus company, they told me that all their buses were full."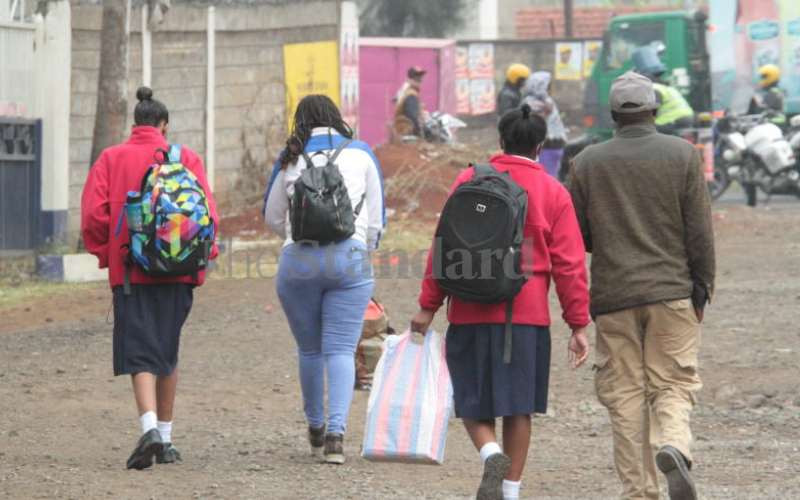 Many public service vehicle operators who usually make a killing when schools close said they were caught unawares. Learners who live far from school normally book buses before closing day. But this time things were different because they had to travel to the main bus terminus to board vehicles to their destinations.
John Mwadime, a matatu driver plying the busy Nairobi-Mombasa road, warned that scores of secondary school students were stranded.
"We stopped at Taru trading centre to pick passengers, among them students. The students claimed they did not have bus fare and were boarding lorries. This is dangerous for the young girls because they could be molested," said Mr Mwadime.
The management of ENA Coach, one of the main bus companies plying the Kisumu, Nairobi and Mombasa routes, said they were forced to make unplanned trips.
David Alaka, the company's Kisumu manager, told The Standard that they had to cancel several bookings to accommodate learners, but that was still not enough.
In Murang'a County, the matatu and bus termini were congested as students struggled to find affordable means to get home. James Kuruma, a resident said fare from Murang'a to Nyeri was Sh350 up from Sh250.
Related Topics