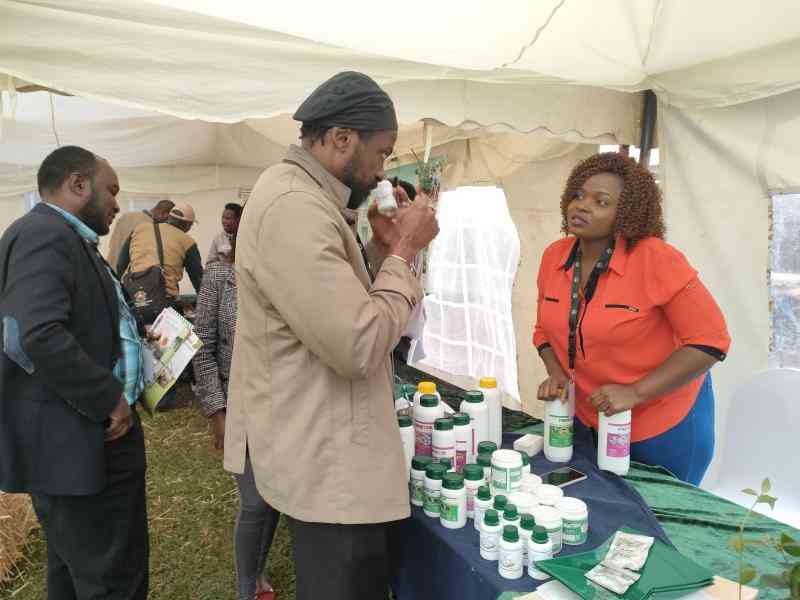 Like other health-conscious farmers, Peter Kariuki started growing organic foods five years ago, to keep lifestyle diseases at bay. Kariuki, from Gatanga in Murang'a County started by planting vegetables like sukuma wiki, carrots, onions, cabbages and fruits such as paw paws, oranges and mangoes. Though he got valuable information on how to grow and manage organic crops from various organisations, his greatest challenge was where to get organic fertilisers, pesticides and soil conditioners.
"For long, l didn't know where to get the organic inputs. But through the networks l formed during trainings, l got good leads across the country. Since then, l had never missed organic inputs whenever l need them," he says.
The Smart Harvest team caught up with Kariuki during the Organic Inputs Forum in Nairobi. The event whose theme was improving access of organic inputs, brought together organic input manufacturers, suppliers, organic farmers and other stakeholders in organic farming. Some of the organisations that were present are Effective IPM Association, KOFAR, Organic Fields Ltd, Kilimohai Organics, Andermatt, Abi Organics Agriculture, all brought together under the umbrella of Kenya Organic Agricultural Network (KOAN).
Just like Kariuki shared, it was noted that many organic farmers are facing a challenge on where to get organic inputs. One of the exhibitors at the event, Zipporah Kuria, Marketing and Innovation Officer, Effective IPM Association said they manufacture organic inputs and have been using such forums to connect to farmers.
"Through such networking events, farmers can get to know where to buy organic inputs like fertilisers and pesticides. We have noted that there are many new farmers going organic and they may be facing challenges connecting to their peers and accessing organic inputs," said Ms Kuria.
She advised new farmers joining organic movement to attend such forums so that they can know where to get organic inputs and also learn a lot about principles of organic farming to improve yields. Kuria exhibited organic inputs such as soil macro and micro nutrients, pH and moisture content, soil conditioners and organic matter. They also showcased insect traps and soil testing equipment. As the convener of the event, Samuel Ndungu, programme manager KOAN said they invited stakeholders in organic farming to have a discussion on how to enhance access to organic inputs.
E-marketing tool
He revealed that they are also launching e-marketing platform for organic inputs, where farmers can access organic inputs online, from the comfort of their farms. Ndungu explained that through e-marketing, farmers can order and purchase organic inputs through from their phones.
"We have had challenges where farmers who want to buy organic inputs are not able to because they do not know where to get them. But this is one of the forums we have lined up annually so that we can have farmers interact with input suppliers and get information about organic inputs, purchase and establishing business relationships," he said.
To prevent cons from infiltrating the system with fake inputs, Ndungu said they have put a solid quality control mechanism.
"Before anyone gets onto the platform we have to vet and ensure they are selling genuine organic inputs which are registered by the government and are good quality. In case we detect any supplier with fake inputs we remove such products."
Francescah Munyi, CEO and founder, KOFAR said they started making organic inputs in 2009 after realising the yields of various crops were going down in Kirinyaga county.
"Unfortunately at this point, as farmers stared at losses, they could not put a connection between the soil degradation and the yields. So we came up with organic input products that reverse acidity and improve the soil fertility. When the soil is healthy, the produce in the farm is healthy, farmers become healthy and eventually the consumer gets a healthy crop," she said.
Although organic inputs like fertilisers are cheap, Munyi is urging the government to put subsidies on organic inputs as it happens with commercial fertilisers, to make them more affordable. Juliet Njeru, an agronomist at Organic Fields Ltd shared a unique distribution model.
"We work from the farmers through village based agronomists who identify farmer groups and train them organic farming as they sell organic products to them," she said.
Through this Ms Njeru said, farmers are able to access organic products after getting empowered by village based agronomists. She said they identify one agronomist for each village, or to serve at most, three villages.
"Educating farmers through setting up demo plots have helped us to convince them that organic farming is the way to go and it pays. In this event, we are here to create awareness and increase our network."
Related Topics