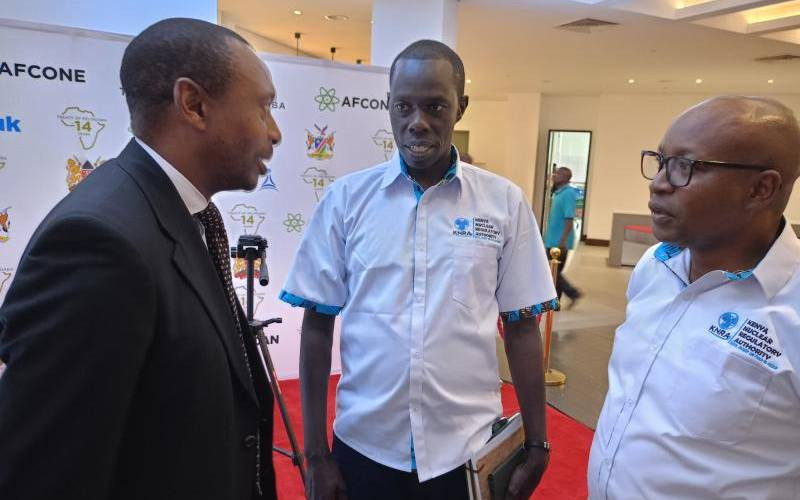 Realising a safe continent in the wake of advancing technologies is the dream of every African.
And now, 22 experts from 13 African countries will take part in a training programme aimed at improving nuclear and radiation safety in the region.
The post-graduate course for the continent's English-speaking countries will be overseen by the International Atomic Energy Agency (IAEA) and the Kenya Nuclear Regulatory Authority (KNRA) in Nairobi starting today.
The programme will be launched at Kenyatta University in an event led by Public Health PS Mary Muthoni and vice chancellors Paul Wainaina (Kenyatta University), Stephen Kiama (University of Nairobi) and Multimedia University's Festus Kaberia.
The 22 course participants, mainly from regulatory agencies in their home countries, will pitch tent in Kenya for five months attending lecturers, practical exercises, lab sessions and other engagements guided by the IAEA syllabus.
Countries whose experts will be pioneers in the Kenya programme are part of the African Regional Cooperative Agreement for Research Development and Training related to nuclear science and technology. The course is open to participants from Botswana, Egypt, Eswatini, Eritrea, Ethiopia, Ghana, Kenya, Lesotho, Liberia, Libya, Malawi, Mauritius, Namibia, Nigeria, Rwanda, Seychelles, Siera Leone, South Africa, Sudan, The Gambia, Uganda, Tanzania, Zambia and Zimbabwe.
IAEA picked Kenya to host the course after a multi-agency team of nuclear experts visited the country in August and established it has public universities with fully-fledged departments already running nuclear physics and nuclear science and technology programmes boasting equipped laboratories and lecturers with the right skills set.
KNRA board chairman Omondi Anyanga and Director General James Keter together with Nuclear Power and Energy Agency Acting CEO Justus Wabuyabo and senior ministries of Health and Education teams will witness today's launch.
Regulatory safeguards
The five-month training is meant for professionals at graduate level or equivalent and aims at building African countries' capacity to put in place robust regulatory safeguards in the field of nuclear and radiation safety.
"We look forward to a smooth start. This is an honour for Kenya, being the first time that we are hosting the course," Mr Keter told journalists in Nairobi.
IAEA, an affiliate of the United Nations, runs several other capacity building programmes, including an internet reactor lab that enable students from Kenya, Tanzania, Tunisia and South Africa to get online access to the facilities of a research reactor in Morocco for nuclear education and training.
"The journey towards the start of the programme started 12 months ago. We will work with all the stakeholders to deliver a comprehensive programme," the KNRA Director General added.
Related Topics