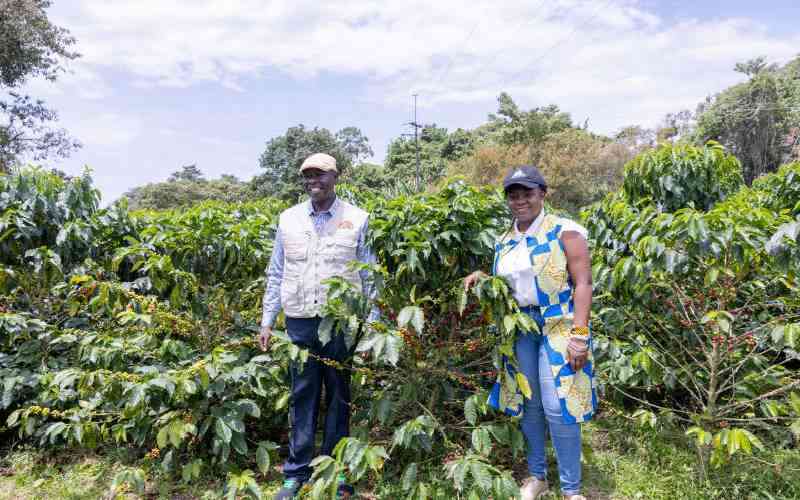 In his first days in office, President William Ruto assigned his deputy the responsibility of reviving the coffee, tea and dairy sub-sectors, and dealing with alcohol menace in Mt Kenya region.
In the first Executive Order of 2023, the Head of State mandated Rigathi Gachagua to oversee reforms spearheaded by the Coffee Sub-Sector Reforms Implementation Standing Committee.
Gachagua was also to chair key committees, including the International Development Partnerships Co-ordination, Inter-Governmental Relations Technical Committee, Inter-Government Budget and Economic Council, and National and County Governments Honours Advisory Committee.
He was also to lead the Nairobi Rivers Commission.
One year later, the DP takes pride in the fruits of reforms in the tea and dairy sub-sectors, but is still struggling to streamline coffee sector and the fight against illicit brew as distillers engage in hide and seek game with the government officials.
Tea farmers' backed Kenya Tea Development Agency (KTDA) recorded a turnover of Sh95.3 billion in 2023 compared to Sh93.02 billion last year in what Gachagua attributes to the reforms.
"This was a growth of 2.28 per cent. The total payment to farmers grew by 7.6 per cent, reaching Sh67.7 billion. The average rate for green leaf per kilo delivered to factories grew by 18 per cent to reach Sh59.1 compared to last year, which was Sh50.14 per kilo," the DP told KTDA representatives in his Karen office yesterday.
In the bonuses to be released next month, Gitugi Tea Factory in Nyeri county has registered Sh78.3 per kilo, an increment of 26 per cent, making it the top in the country.
Imenti and Michiimikuru factories earned Sh73.1 and Sh68.6 per kilo respectively.
"As part of encouraging performance, we will reward top performers. Gitugi Tea Factory will receive Sh500,000 while Imenti Tea Factory will be rewarded with Sh300,000. Michiimikuru will receive Sh200,000," he said.
In dairy farming, the DP noted that the price of milk had shot up from Sh40 to Sh50 per litre, and urged brokers to increase their price to Sh46 and sell the same at Sh50 at the government owned New KCC.
But Gachagua admitted the government had met resistance in the coffee sector. "The cartels are too entrenched, they have consumed the farmers' blood for over 30 years and just like trying to remove a tick from a cow, that is the same case with us but we shall not surrender," he said.
Mt Kenya farmers hang on hope in Gachagua's fight against cartels
Last month, a section of farmers in Murang'a uprooted their coffee plantations citing frustrations.
In the war on alcohol, Gachagua, during a meeting with the Mt Kenya leaders, said the security agencies in April announced a crackdown that is yet to bear fruit.
Although he recently said the war is 70 per cent won, statistics from the Central region commissioner's office show that in one month, they were only able to net 20,000 liters of illicit brew in five counties.
During the April meeting, it was agreed that the issue of ethanol, which was the main raw material for distilling of illicit brew, would be discussed at the national security level, but that has not been revisited.
"We shall also issue a policy to our civil servants to stop engaging themselves in the alcohol business as that has compromised our fight against illicit brew," said Gachagua.
Another deliberation of the meeting was to reduce the number of bars, a move that has led to conflict between governors and bar owners with the latter wanting the government to regulate manufacturing and not bars.
"If they want to reduce alcohol consumption, they should control manufacturers and not bar owners as that will only lead to overcrowding in the available bars and this is where they are getting it wrong," said John Muthee of Bar Owners Association.
In August, Gachagua accused some governors of collaborating with the bar owners to frustrate the war.
The fight had also been threatened by a new strategy by the illegal distillers who have shifted their bases from their factories to their own compounds, a move that Central Region Commissioner Fredrick Shishia said had opened their eyes.
"In Kiambu alone, police have nabbed four illegal distillers with illicit alcohol worth Sh4 million in one month while in Murang'a they nabbed 320 liters of ethanol and seven brand of illegal alcohol in a house in Ithanga," he said.
The macadamia sector is also facing hard times, with the nuts being hawked in open air markets at Sh20 per kilo down from Sh150 to Sh200 during former President Uhuru Kenyatta's reign.
Majority of the farmers in Mt Kenya region have threatened to uproot their trees if the government fails to come up with mitigating measures.
"I have brought up my family through macadamia farming, but we have never experienced such a situation. If no measures are put in place to save the industry, our children will be reading from history that there was once macadamia farming in Kenya," said John Maina.
Maina said farmers who are not carrying their nuts to the market are storing them hoping against hope that the market will stabilise.
Related Topics