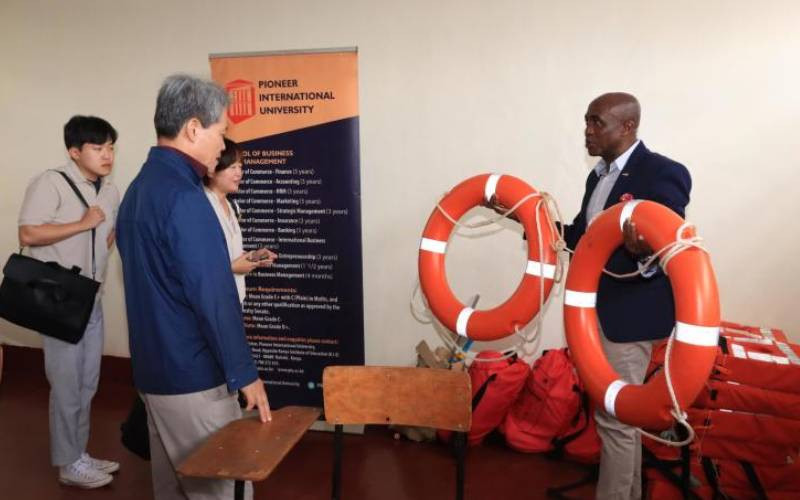 A Korean maritime institute has signed a deal to train more than 400,000 Kenyans in Korea.
The agreement between the Korea Institute of Maritime and Fisheries Technology (KIMFT) and Pioneer International University (PIU) Kenya aims to prepare trainees for employment within Korean maritime organisations, offering a monthly salary exceeding Sh100,000.
KIMFT President Park Jinsoo led a delegation of stakeholders representing maritime organisations from Korea in the signing of the agreement at PIU's Murang'a campus.
According to Professor Park, maritime organisations are currently experiencing a shortage of skilled workers. He said, "There are numerous opportunities for collaboration between Kenya and Korea, as the maritime industry presents many untapped possibilities."
Park explained that Korea, once counted among the world's poorest nations, has transformed itself into a middle-income country, and now seeks to share its experiences with the global community.
He said, "We are in need of qualified individuals to join the Korean maritime and shipping industry. Given the surplus of job openings and a shortage of workers, we have partnered with PIU to train Kenyan individuals interested in working with us."
The partnership comes as Kenyans, especially the youths, are grappling with a lack of employment.
PIU Vice-Chancellor Prof Gideon Maina said he met Korean ship owners in August and pitched the idea of the partnership.
He said the institution decided to help train Kenyans in order for them to get employed in Korea.
With 35 years of experience in maritime training, KIMFT was tasked by the Korean ship owners to lead the training.
According to Maina, some of the Kenyans who have finished their one-week marine course dubbed STCW at PIU have already secured employment in various marine companies.
Maina lauded the partnership and encouraged the youth to take advantage of training and subsequent employment opportunities.
He noted that since 70 per cent of the earth is covered with water, opportunities for employment in the blue economy are high.
"Kenya is at an advantage as it is on board and among 40 countries that have been selected by the Korean Maritime Organisation to train its youth for employment opportunities worldwide," he said.
According to Maina, 100,000 youths will be considered for job opportunities in the first year.
He regretted that although there were opportunities, qualified youths were few.
Related Topics