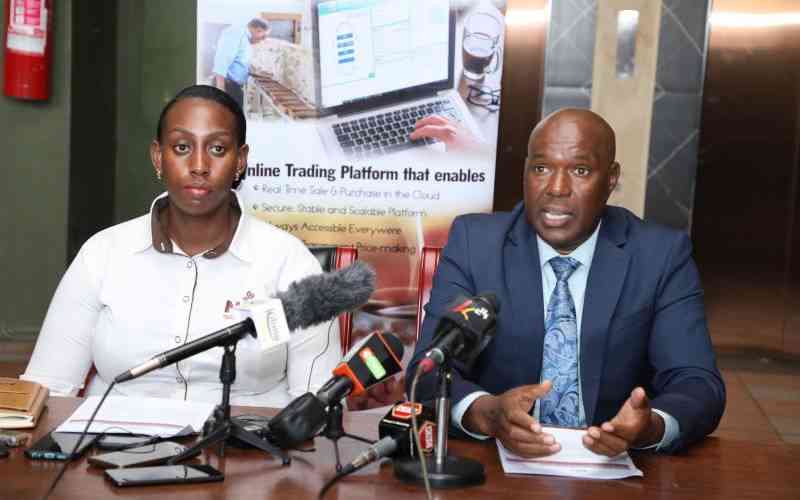 The Nairobi Coffee Exchange (NCE) plans to put up a coffee cupping laboratory to streamline the pricing of the commodity.
Cupping is the measurement of physical and organoleptic characteristics of coffee, which allows the evaluation of the attributes, qualities and defects of the grain.
It is, therefore, a tool for quality control during the product's processing.
A cupping lab provides technical analysis of samples obtained through coffee growers, understanding the behaviour of crop quality and the most relevant aspects of the grain.
Through this process, NCE will determine the value of the commodity vis-a-vis what the buyer is offering and the reserve price.
NCE Management Board Chairman Peter Gikonyo said yesterday having the buyer alone doing the cupping leads to price variations with no scientific backing.
This might disadvantage the farmer.
Mr Gikonyo, who was giving an update on the ongoing coffee reforms flanked by NCE Acting Chief Executive Lisper Ndung'u in Nairobi, also explained why auction volumes for the month of August dropped.
Shared data from the Exchange shows volumes traded in August this year were 192 metric tonnes compared to 4,380 metric tonnes in August 2022, which is a drop of 95.62 per cent.
The average price in August 2023 was $183.41 (Sh25,620) per 50kg bag compared to $266.32 (Sh37,240) in August 2022, a 31.13 per cent drop.
Mr Gikonyo said for growers to get value for their produce, NCE needs to have a cupping lab.
This is a laboratory where coffee is evaluated by professionals and buyers by analysing the taste, texture, aroma, and acidity, among other components which end up determining the value.
Having a cupping lab, he said, would ensure farmers through their respective representatives can share their data, and NCE would make the cupping notes available as well.
"That brings us closer to when the price setting is done, and the reserve prices are being fixed. It means we will be able to see what the deviation from what the buyer is offering and what is being offered or what is the reserve price," said Mr Gikonyo.
This would then determine the actual value of the coffee.
"But when you have the buyer doing the cupping and the seller is not doing so, you get a variation (of price) that cannot be supported," he noted.
"That is why we are calling upon the establishment of a cupping laboratory to ensure transparency so that business becomes more stable and we win more confidence in the industry."
Mr Gikonyo said for buyers not interested in doing the cupping and are comfortable with the cupping done at NCE, then they can go on with the trade.
"And that gives us an opportunity to open another window where we can now have trading continuously because as long as the seller is happy with the price, it means they will confirm it," he said.
Related Topics