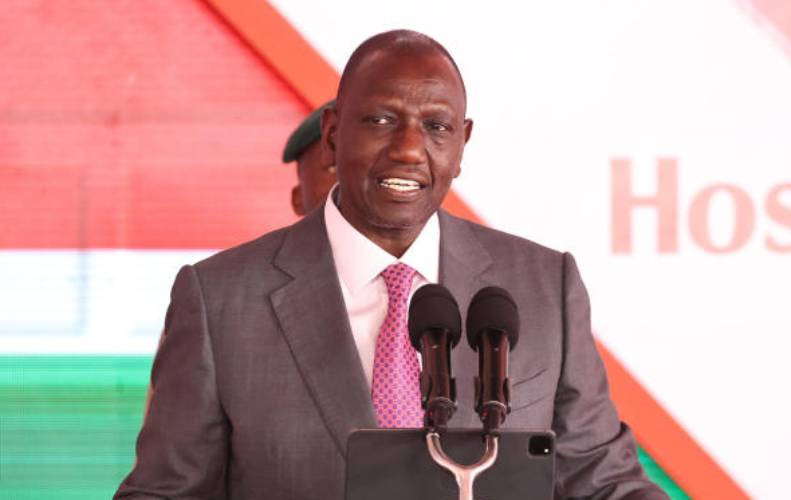 Kenya's current dollar shortage will ease in the coming weeks, President William Ruto has said.
Speaking on Wednesday, March 22, when he officiated the listing of Laptrust Reit at Nairobi Securities Exchange (NSE) in Nairobi, Ruto stated that the Government had taken measures to ensure dollar availability in the near future, breathing a sigh of relief to the country's declining forex reserve.
"I want to assure those in Kenya who were facing challenges of access to dollars that we have taken steps to ensure dollar availability in the next couple of weeks," the Head of State said.
Ruto's assurance comes amid a backlash from companies that import products for their operations, such as oil marketers and manufacturers, who are forced to buy a dollar at a premium to the Central Bank of Kenya's official average exchange rate.
This has seen the spread between the US dollar's printed rate by the CBK and the market rate for customers quoted by banks and foreign exchange bureaus widen.
"I want to assure our fuel companies that they will now be able to pay for their fuel in Kenya shillings; they will no longer have to look for dollars every month because we as a government have done what we must do to ensure that we ease the burden of people who want to realize their returns in dollars," Ruto added.
The government expects the fuel importation deal it has entered into with three international oil firms to ease the dollar shortage that has been crippling the economy for the last one year. The shortage has worsened in recent months.
Kenya has selected Saudi Arabia Oil Company (Saudi Aramco), Abu Dhabi National Oil Company (Adnoc) and the Emirates National Oil Company (Enoc) to supply petroleum products on credit for nine months (270 days), with an extended credit period of six months (180 days).
Saudi Aramco will supply two cargoes of diesel every month, Adnoc another two cargoes of diesel and one cargo of dual-purpose kerosene, while Enoc will bring in three cargoes of super petrol per month.
The firms will nominate local oil marketers that will oversee the importation and collection of money that will then be paid after the expiry of six-month credit period.
The credit period, in addition to oil marketers paying for products using the shilling as opposed to dollars as has been the case, are expected to reduce demand for the US dollar and reduce pressure on the foreign exchange reserves that are at their lowest levels in over a decade.
The local oil industry requires about $500 million (Sh64 billion) every month to buy approximately 740,000 metric tonnes. The oil marketing companies have to pay the importers in US dollars.
The cause of the dollar shortage has been attributed to various factors including declining exports, high import bills and reduced remittances.
Related Topics