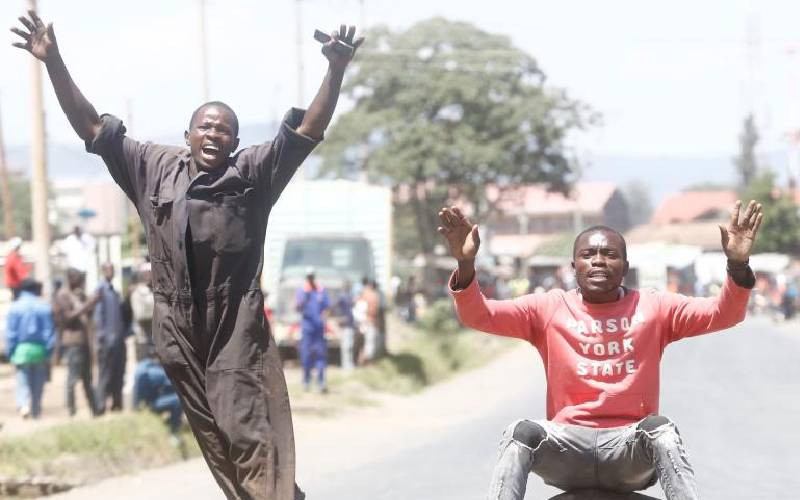 Wednesday's protests are the most violent yet. Observing the protests, the constitution's drafters must have struggled to see any evidence of constitutional Article 37.
Azimio la Umoja's subsequent call for three continuous days of demonstrations this coming week must deeply worry us. The demonstrations, destruction, and deaths have entirely blurred the roles of protest organiser, protester, bystander, looter and police-officer.
At least 9 human beings were shot dead as police used live bullets in several incidents with the most distressing scenes coming from Mlolongo-Machakos, Kitengela-Kajiado and Emali-Machakos.
At least 50 primary school children were among thousands teargassed and beaten by police officers as they struggled to contain either protesters or looters across ten counties, nearly a quarter of Kenya's 47 counties.
According to the Interior Cabinet Secretary, 317 arrests have been made. The Kenya Private Sector Alliance and Transport Ministry estimate the damage at Sh3 billion to the overall economy and over Sh700 million on the Nairobi expressway alone.
Images of armed men in the Kisumu-Kericho border town of Sondu, on Thursday, further reinforce the perception that the protests have shifted from urban centres to rural areas and are taking on an increasingly intentional violent direction.
While state officers, politicians, criminals and citizens comprehend what just happened and a few of us figure out how to prevent further violence, it is worth remembering that the permanent protest cycle is not exclusively Kenyan. There were 12,000 protests against cost of living, unemployment and inequalities across 148 countries last year according to Civicus World Alliance. The civic membership organisation was in Nairobi this week to launch their 2022 Global Assessment on Protest Rights report and the 2023 People's Power report.
The two reports reveal important trends. Economic based grievances are the new normal for billions of people. Food and fuel costs accelerated by government tax hikes, subsidy withdrawals, withering public services, corruption and economic inequalities drive this discontent.
Overshadowed by the dramatic collapse of the Sri Lankan government last year is Indonesia and Panama where economic hardships also drove thousands onto the streets. Ghanaian government's introduction of a new electronic money transfer levy in the context of 1 in 3 youth unemployment and a 37 per cent inflation rate invigorated Ghana Arise, a new citizens' movement in November. Protests were primarily peaceful across 131 countries last year. Only 17 per cent of the violence was instigated by protesters. However, government authorities introduced new laws, procedures or behaviour that violated the right to protest across 100 countries.
The tendency of states to criminalise and indiscriminately crack down on all public protests but offer little alternatives for citizens to express their discontent is a critical driver of violence.
More simply, violent policing produces violent protesting. Arbitrarily treating protest organisers as instigators of violence, holding them for more than 24 hours and denying them bail and bond will predictably deter them in future from notifying police or offering detailed march routes in future.
New protest management, mediation and de-escalation tactics are needed across Kenya's 1,800 police stations. While public safety during protests is a policing concern, it is also a matter for the Harambee House policy makers, human rights organisations and the public.
If violent policing produces violent protesting, violent protesting also produces violent policing. It is not possible now to distinguish those seeking to legally protest and change government taxation policy and those destroying public roads, looting supermarkets, and hurling stones and other lethal projectiles at police officers. This new season of the permanent protest requires protest organisers to change tactics or be swept away by thuggery and crime. The call for three days of protests must be suspended until the context for peaceful protest is created in the letter and spirit of Article 37.
The Kenya Kwanza administration must also urgently address the underlying issues. Economic policy and taxation not policing is the fuse they must address. It is time again to return from the danger of revolt to the opportunity of reason and dialogue.
Related Topics