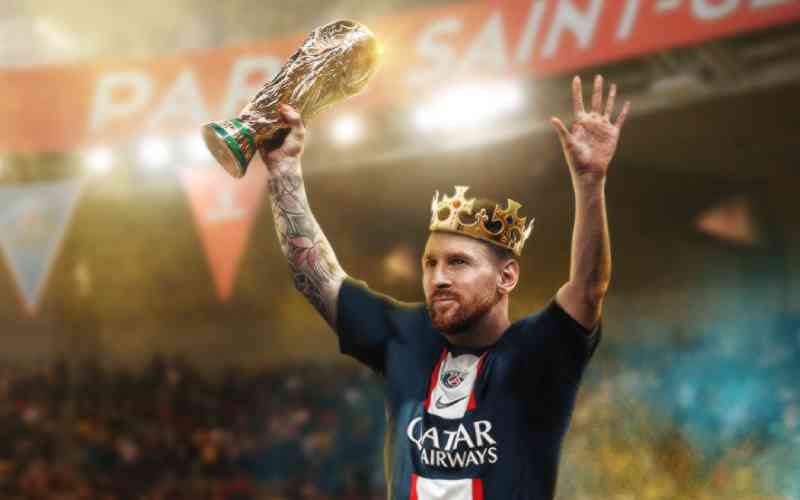 Lionel Messi arrived two years ago wearing a T-shirt emblazoned with "Ici C'est Paris" (This Is Paris) — a favorite cry among Paris Saint-Germain fans — and to chants of "Messi! Messi! Messi!"
The soccer superstar will leave the team on Saturday not quite so revered.
The cheers have been replaced by jeers and boos in recent weeks at the Parc des Princes, where the World Cup winner will play his final game for the French league champion.
Christophe Galtier confirmed on Thursday that the looming end of the season is also the end of Messi's time at PSG.
Messi will bow out in their league finale against Clermont on Saturday. His contract expires at the end of June.
"I had the privilege of coaching the best player in the history of soccer," Galtier said. "This will be his last match at the Parc des Princes, and I hope that he will receive the warmest of welcomes."
PSG recruited Messi in August 2021 with the ambition to finally win the Champions League. The team is still waiting.
Although PSG won its record-extending 11th French league title last weekend, it exited Europe's top tournament in the round of 16 for the second straight season.
Messi's adventure in France has been bittersweet. In spite of pretty good statistics, he has been embodying the team's shortcomings in the view of many PSG fans who have repeatedly whistled his name sarcastically in recent weeks.
After struggling to adapt to the French league — the seven-time Ballon d'Or winner scored only six league goals in his first 26 games — Messi improved this season as he developed an efficient understanding with forward Kylian Mbappe.
Following a good start to the current campaign, Messi however failed to replicate that form since returning from the World Cup that he won with Argentina.
Still, in 31 league matches, the 35-year-old Messi has scored 16 goals and delivered as many assists. In all competitions, Messi netted 21 times and had 20 assists for PSG.
"This year, he has been an important part of the team, always available, always committed during training sessions," Galtier said. "I don't think any of the comments or criticisms are justified."
Despite Galtier's support, PSG's appreciation of Messi has not always been so positive.
Last month, the club suspended him following an unauthorized trip to Saudi Arabia. Messi has a commercial contract with Saudi Arabia to promote tourism and has been linked with a lucrative move there at the end of the season.
There has also been talk of a return to Barcelona, where he spent the majority of his career, or to the United States to play in MLS.
Messi arrived at Barcelona at age 13 and left having won 35 titles. He helped the club win the four Champions Leagues, 10 Spanish leagues, and seven Copa del Reys.
Related Topics