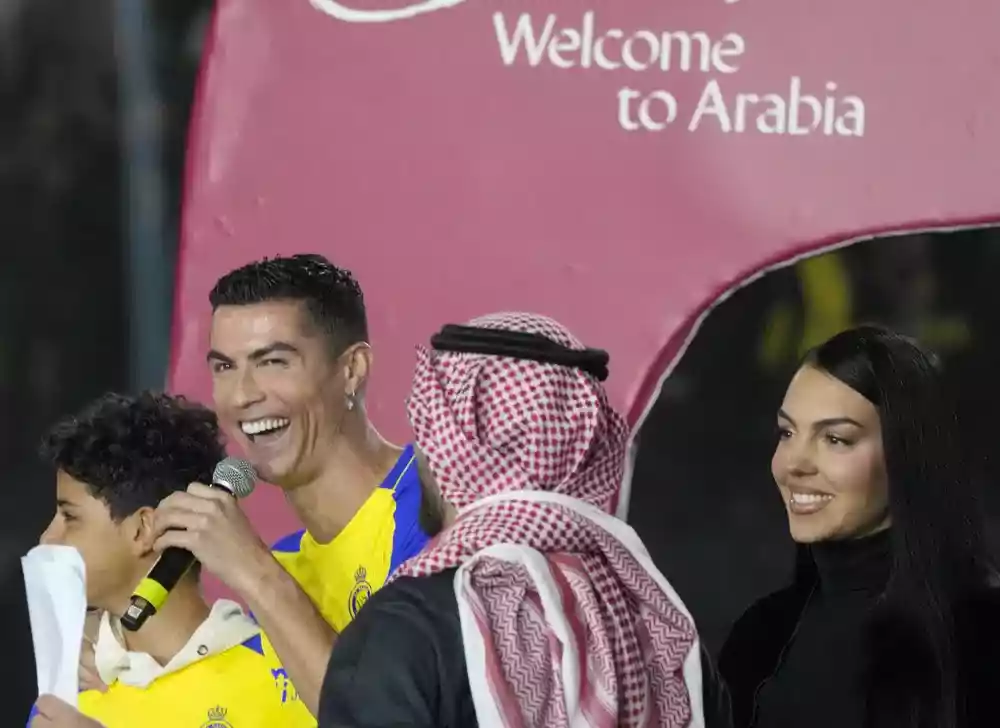 Cristiano Ronaldo's latest coach spoke of his surprise as he looked out at a room filled with reporters on Tuesday.
"Normally after the game there is three or four journalists. Today, I don't know why…" Al Nassr head coach Rudi Garcia said at a news conference to present the Saudi Arabian club's superstar signing.
He was joking and it prompted laughter from the room.
"It's a new era!" said host and newsreader Weam Al Dakheel, who posed all of the questions to Ronaldo, Garcia and Al Nassr president Musalli Almuammar, despite around 100 journalists being present.
Ronaldo's arrival on a two-and-a-half-year contract, reportedly earning him up to $200 million-a-year, is expected to heap unprecedented attention on Al Nassr and the Saudi Pro League.
However, at his first news conference, no questions were permitted from the floor - and the only prompted interaction from those present was to applaud on cue.
There were also shouts of "I love you Ronaldo" and mimics of his trademark "Siuuu" celebration.
This was a very stage-managed introduction with a team of public relations officers ensuring it went off without a glitch.
Not that they could prevent his slip of the tongue when he mistakenly declared: "For me it is not the end of my career to come to South Africa."It will be fascinating to see if Ronaldo's fame will see interest in Saudi soccer sustain beyond his first weeks in the country.
He has 528 million followers on Instagram, which is more than any other individual in the world.
And that has already had an effect on Al Nassr's account, which has risen from 1.2 million followers to 8.9 million since announcing his signing last week. That number is likely to grow even higher.
Almuammar is convinced the deal will be worthwhile.
"So many people spoke about financing and funding. Once we have this greatest star as Ronaldo in Al Nassr we don't need such finance and such funding," he said. "We have so many sponsors who will work with us closely in the upcoming years and they are sponsors of this great agreement and we will have more revenues and proceeds commercially and economically and this is important for the Saudi league and Saudi football clubs."ADVERTISEMENT
Almuammar would not confirm the value of Ronaldo's contract, but, tellingly, added that "it is normal he will be the highest in terms of cost or salary."
One of the most surprising moves in soccer history has raised questions about Ronaldo's motives as well as those of Saudi Arabia, amid accusations of so-called " sportswashing " to improve its reputation globally.
Saudi's Public Investment Fund led the takeover of Premier League club Newcastle United in 2021 and on Tuesday the club's manager Eddie Howe said there was "no truth" in reports it had an option to sign Ronaldo on loan if it qualified for the Champions League next season.
There is also speculation Saudi Arabia could bid to host the 2030 World Cup.
Now the signing of a player widely considered to be one of the greatest of all time is another significant step to increase the country's influence on soccer.
Ronaldo said he was driven by the challenge of a new league, but also changing the impression of Saudi soccer around the world.
"I know the league is very competitive. People don't know that, but I know because I saw many games," he said.
It is, however, a significant step down for a man who has won five Champions Leagues and five Ballon d'Or awards for the best player in the world.
He will hope to add to his trophy count with Al Nassr currently top of the league.
Ronaldo's 701 club goals should also be boosted greatly during his time in Saudi, even if he has struggled for form so far this season.
For the thousands that turned up at Al Nassr's Mrsool Park stadium on Tuesday, they just wanted to get a first sight of their hero.
Even on a rainy and chilly night in Riyadh the roads around the stadium were backed up with traffic. Supporters queued at gates, waiting patiently to make their way inside as if this was a match day.
Ronaldo, meanwhile, was greeted as if turning up for a movie premier, stepping out of a white Range Rover with blacked out windows while cameras flashed all around.
His image was projected on the outside of the stadium, while strobe lights added to the effect.
Wearing a grey three-piece suit and a blue tie, he strode confidently into the news conference to applause before taking his seat.
"I'm so proud to make this big decision in my life. In Europe my work is done. I won everything and played for the most important clubs in Europe. This is a new challenge," he said.
Later he changed into the yellow and blue kit of his new club and met his teammates before stepping out onto the field to chants of his name, fireworks and smoke machines.
A player who has lived in the spotlight for the majority of his career was center stage with the eyes of the world on him again.
How long that will last, remains to be seen.
Related Topics