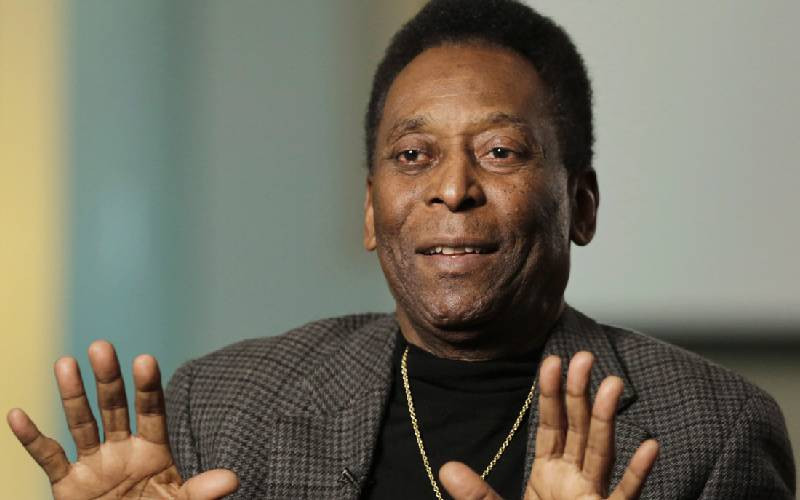 As the World and Brazil mourns Pele who passed away on Thursday at the age of 82 years, The Standard Sports remembers Pele as a source of wonder and inspiration from the poorest backgrounds to the pillars of wealth.
Pelé drew crowds worldwide and has been the focus of collective self-identification and various discourses in Brazil and abroad, from one continent to another.
By 15 this boy whose family could not afford a football was conjuring goals from nowhere for the Santos first team.
The late Pele trains at the Jamhuri park with AFC leopards in 1976. pic.twitter.com/1RlPAUkEUB
— The Standard Digital (@StandardKenya)
December 30, 2022
At 16 he was playing for Brazil and was still only 17 when he scored six goals in four matches at Sweden in '58 to become the youngest-ever World Cup winner. And Pele was only just getting started. By the time he had finished, he was enshrined as the only player to win three World Cups and the only footballer to score a thousand goals.
Brazil's Pele was a perfectly cut jewel. Sharp-edged, glittering, cold to the touch, so consequently the deadliest. He was the essence of economy, the master of football intelligence.
Two-footed, lightning off the mark, gravity-defying in the air. The touch exquisite but never over-indulged. Always to a purpose. Lethal in front of goal. Courageous but brutal when he was offended by inferior louts.
The World Cup played a key role in Pelé's career with Brazil's national team, Seleção, which won the competition in 1958, 1962 and 1970.
His achievements made him a national hero and football's first global star. At the age of seventeen, Pelé made his mark at the sixth World Cup in Sweden in 1958.
That year, only European (including the USSR) and Latin American nations competed, which changed young Pelé's status on both sides of the Atlantic.
Until then, he had been unknown in Europe, but journalists quickly dubbed him "the King of football," arousing fans' curiosity.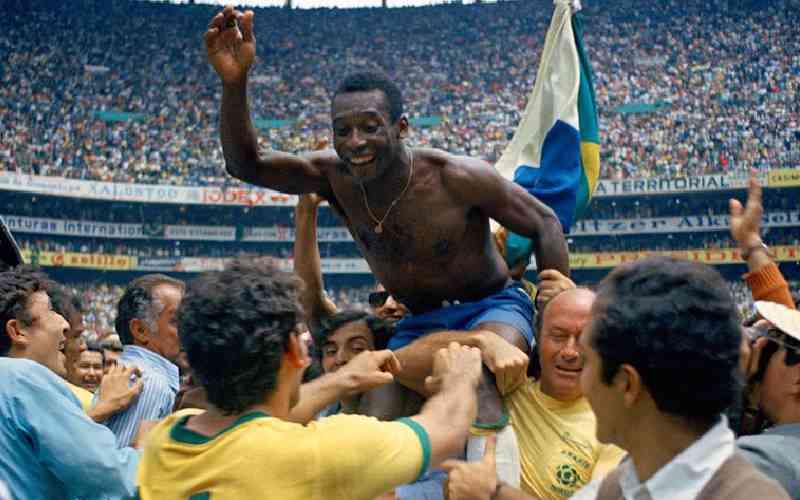 His achievements in Sweden found a wider echo in Europe, where some matches were broadcast live in several countries.
Many French fans discovered Pelé on television during the semi-final when he scored three goals.
In Brazil, Seleção's distant victory sparked celebrations in the streets and, along with praise in the European press, helped raise Pelé to the rank of national icon.
Brazil won the 1962 World Cup in Chile, but Pele, injured early in the game, only played a small part.
It was quite a different story eight years later in Mexico, when Seleção won its third World Cup. As the only player left from the generation that won the first two championships, Pelé was still the national team's figurehead.
The 1970 win in Mexico was the crowning achievement of an international career that had begun over ten years earlier. It boosted Pelé's prestige and made him the world's first global football star.
1970 final, broadcast in Mondovision, was seen by hundreds of millions of people. The event was seen by more people and on a wider scale than in 1958.
Many young football fans well beyond Brazil identified with Pele. In some cases, his career had a considerable symbolic meaning, especially in Africa.
Pelé is still and above all the embodiment of the advancement of millions of long-despised human beings. Like Malcolm X, Muhammed Ali and Miriam Makeba, Pelé is a symbol and a standard bearer."
Related Topics