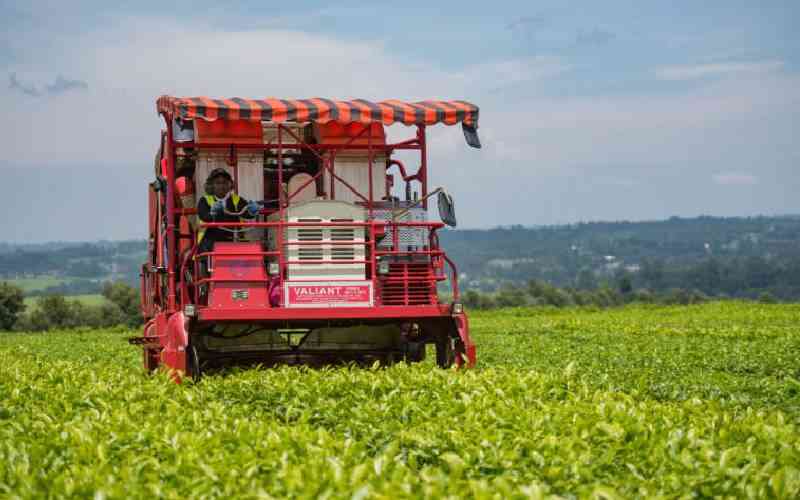 Tea companies in Kenya say they have to mechanise tea harvesting to stay afloat.
The large-scale tea firms, mostly in Rift Valley, say they face numerous challenges, some of them threatening their survival, and have had to implement a number of cost-saving measures including mechanising harvesting.
But the process has been contested. The people who work on their farms say mechanising tea harvesting is an elaborate scheme to deny them an income. In a country that faces a monumental challenge of unemployment, their sentiments are supported by politicians.
Through their unions, the tea workers say mechanisation has led to the loss of 80,000 jobs.
The tea growers maintain that "no workers have been declared redundant or lost employment on account of mechanisation of operations".
The industry, however, does not dispute that the process will lead to loss of jobs, but says mechanisation would also create next-level skilled jobs.
The disagreements have in the recent past taken an ugly turn, with protests against mechanisation turning violent. Farms have been invaded in Kericho, Bomet and Nandi regions.
Industry players claim there have been bold daytime raids of tea farms and theft of green leaf which advanced to vandalising of 10 tea harvesting machines in October 2022.
"In May 2023, the situation escalated to raids of business premises and torching of key business assets by seemingly well-organised gangs of lawless groups, incited by irresponsible pronouncements of political leaders," said Apollo Kiarii, chief executive of Kenya Tea Growers Association (KTGA), which represents large scale tea producers in Kenya.
The incidents resulted in losses running to hundreds of millions of shillings. The tea growers estimate that there was direct loss of assets when their farms and business premises were vandalised amounting to Sh50 million.
Green leaf valued at an estimated Sh120 million was lostd as at May 2023 this year by being destroyed or plucked illegally, the growers say.
"Additionally, tea producers in the affected regions have also suffered loss of revenue from the disruption of operations as well as other related impact including substantial loss of production time and increased costs of retaining additional security personnel arising from prevailing insecurity," Kiarii told the Financial Standard.
"The extent of loss of revenue is yet unquantifiable but running into hundreds of millions."
Losing revenue
KTGA says the government is also losing tax revenues as well as the attendant foreign exchange earnings.
The tea industry is critical to the country. It is one of the largest foreign exchange earners and also plays a critical role in employment creation especially in rural areas.
The sector employs about 500,000 people. Large scale tea producers employ an estimated 35,000 people directly, while offering more jobs indirectly.
"Being largely situated in rural areas, the tea sub-sector serves to stimulate rural economic activities and development through direct economic investments and flow of revenue as well as through substantial investment on corporate social responsibility initiatives. These benefits are threatened by insecurity," noted Kiarii.
The sector has over the years experienced a rising cost of doing business, which has in the recent months gone up significantly following the implementation of the government's new tax measures.
"Cost of labour has risen by 164 per cent and is projected to rise further in the short-term through the recent enhancement of NSSF contributions; introduction of a mandatory Housing Levy Fund of 1.5 per cent by employers and enhancement of NHIF contributions to 2.75 per cent of gross income," said Kiarii.
"Further, workers unions in the tea sub-sector have continued to demand unsustainable wage increases (CBA for 2022-2023 raises wages by 15 per cent) and the housing levy will be another 1.5 per cent increase to the same workers which will threaten industry sustainability and industrial peace.
This applies most to the estate sector where labour accounts for two thirds of production costs ex-factory.
"The main problem arises from the pattern of wage awards imposed on the industry. Since the 1990s, the basic wage rate has risen 10 times; in fact, since 1998 it has gone up by more than 50 per cent."
The higher operating costs are despite tea prices having remained stagnant or in some cases dipped.
This, KTGA says, spells doom for many tea producers, especially the midsized players that face a real threat of closure.
"Already, some areas of low tea (production) are seriously making losses and it is almost a matter of time before they are completely taken out of production. There is no effective policy response which lends the question whether the outcome will not be loss of tea output as well as employment," said Kiarii.
Other than the high labour costs, he said the sector faces multiple threats. These include the growing requirements for certification of Kenyan tea by key markets.
Market certification
Tea sector stakeholders' tabulations show that the imposition of new conditions that must be met by Kenyan growers reduced earnings from tea by as much as 40 per cent. Each certificate holder spends an average of Sh4 million per certification cycle.
Tea buyers are also increasingly pushing tea producers to comply with emerging environmental requirements such as the new Rain Forest Alliance 2020 Sustainability Standard.
"The buyers are funding a campaign through lobby bodies representing the interests of the lucrative Central European Markets to force the growers to comply with these demands. The demands are already creating challenges for most producers, including the tea plantations," said Kiarii.
"If this trend is anything to go by, then the future of the tea sector is bleak, going by the already 13 extra taxes and levies which the European market is already imposing on the Kenyan cut flower sector."
The industry has also had to contend with stagnant prices, with the dollar price realised for Kenyan tea being at the same level for about 10 years now.
In May this year, auction sales volumes of Kenya tea stood at 36.75 million kgs, which was lower compared to 38.85 million recorded in the corresponding month in 2022, but higher than 26.93 million recorded in April 2023.
The average monthly auction price for the same period was lower at 2.19 dollars per kilogramme against 2.40 for the same period in May 2022 and 2.39 recorded in April 2023.
At the moment, low tea prices are on account of weak demand in major markets due to the headwinds that many economies have been experiencing owing to factors such as the Ukraine-Russia crisis.
"Traditional tea markets have been severely affected by the world economic crisis, especially Pakistan, Egypt, Russia and Iran.
"The Sudan armed conflict has exacerbated an already bad situation in one of the key markets since it broke out in April 2023," said KTGA.
There have been discussions around regulating tea supply into the world market, a method tried out in the 1930s.
However, most countries including Kenya have been opposed to this approach as the policy has been around expanding production rather than restricting supply.
"Kenya faces a consistent imbalance of one to two per cent between world supply and demand of its teas, which will be impossible to absorb into its domestic production," said Kiarii.
"Dealing with demand and supply imbalances should be an agenda that the country invests to find a solution, either by stimulating domestic consumption through removal of VAT on teas or aggressively opening new markets that can absorb additional production."
"Notably, the second approach seems more favourable as new marketing agreements such as between Kenya Tea Packers Association and Tabai Tea of the USA to market tea in that country while Kenya Tea Development Agency has reached an agreement with Safari Tea of Canada to market tea in Canada."
The large tea producers have also had to fend off accusations that they are colonial relics gifted huge tracts of land on a silver platter and are constantly threatened with repossession.
KTGA says land held by large scale tea producers is held under lawful land tenure applicable nationwide.
Related Topics