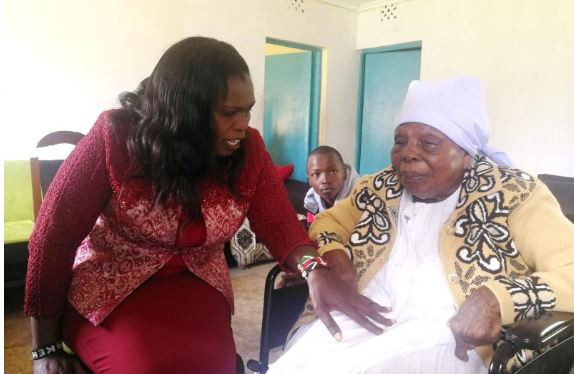 Today is Mother's Day, and the world is celebrating mothers. We spoke to three personalities with fond memories of their mothers.
Extraordinary daughter of an extraordinary mother: Wangari Maathai and Wanjira Maathai
Wanjira Maathai was one of the passengers in the car when her mother, the late Professor Wangari Maathai, received a call from the Norwegian Ambassador informing her she had just been awarded the most prestigious award in the world, the Nobel Peace Prize.
Her mother was shocked and in disbelief, but Wanjira believed it. Unlike her mother, who shed tears of joy and disbelief, Wanjira knew she deserved it.
"I was so happy for her and genuinely so, not because she is my mother, but because for so many years I had seen her work so hard, selflessly, rarely doing anything for herself, but here she was, that all of this had come to be. I felt that it could not have happened to a nicer person, a more deserving person," Wanjira said in a previous interview with The Standard.
At 64 years old, Wangari Maathai had just become the first African woman to win the award since its creation in 1901, but she was relatively used to being a 'first' in many things.
She was the first woman in East and Central Africa to earn a doctorate degree, first female chair of the Department of Veterinary Anatomy in 1976, and first female associate professor at the University of Nairobi in 1977, among others.
However, up until she won the Nobel Prize, life had not been rosy for Wangari.
"If we are going to shed blood because of our land, we will. We are used to that. Our forefathers shed blood for our land. We will do so. This is my blood." She spoke these words bitterly, while in the midst of what had been one of many peaceful protests before police broke it up using brute force, descending on the women she was leading with blows that left her bleeding.
In her struggle for democracy, social and human rights and environmental conservation, she endured insults, savage beatings, imprisonment and claims by the government of the day that she was a mad woman. This did nothing to dampen her spirit. The more they tried to silence her, the louder she became.
She almost single-handedly saved many green spaces, the biggest being Uhuru Park, the Jeevanjee Gardens and Karura Forests from being encroached upon by developers.
The same spaces she fought the government bitterly and paid a heavy price for are today protected by the 2010 Kenyan constitution.
What was it like being a daughter of Wangari Maathai at that time?
"It was difficult. It was frightening to think they could hurt our mother permanently," says Wanjira Mathai, the eldest of three siblings and Maathai's only daughter.
"Back then, people were not as courageous as she was. She was considered an enemy of the state and some of her friends did not even want to be seen with her."
Despite all this, their childhood was relatively normal and not as tumultuous as one would imagine.
"When we were younger, we always assumed that that is just what everybody's mummy does. They go to work and it must be difficult for everybody's mummy so it did not matter. We never really considered that what she was doing was extraordinary.
"We feared for her, but fortunately, she always survived and despite all these troubles she always seemed to emerge from them, so with time we got used to the fact that she always came back," she says.
While she has worked in a similar vein to that of her mother, together with her when Wangari was alive and taking over the reins when she passed, Wanjira has amassed her impressive accomplishments and was this year named as one of Time 100's Most Influential People in 2023.
She is also the Managing Director, of Africa and Global Partnerships, at the World Resources Institute, which was awarded $100 million (approximately Sh13.5 billion) by NGO TED through its Audacious Project.
With that funding, she will lead a new land restoration project in the Greater Rift Valley, Ghana's Cocoa Belt and the Lake Kivu and Rusizi River Basin along the DRC-Rwanda-Burundi border for the next four years.
She is also the Chief Africa adviser to the Bezos Earth Fund, where she continues shaping non-governmental organisations (NGOs) and philanthropic work on the continent. She directs attention, research and funding to help the most climate-vulnerable places and communities. She is also the current chair of the Wangari Maathai Foundation and the former chair of the Green Belt Movement in Kenya.
Like mother, like son: Zipporah Kittony and Kiprono Kittony
When people think of the iron women of Kenya, women whose work saw women's rights take giant strides in the right direction, Dr Zipporah Kittony is one of those who immediately come to mind.
She had an extremely successful 11-year tenure as chair of the Maendeleo ya Wanawake Organisation (MYWO), was awarded the Order of the Grand Warrior in 1998 and also the American Biographical Institute Women of the Year Award in 1999.
She was active in politics for her entire adult life, having joined when there were only three women in Parliament. She ended up serving four presidents, from Kenya's first president, Mzee Jomo Kenyatta to President Uhuru Kenyatta, and she said that her decision to join politics was to help liberate women who the society had then relegated to second-class citizens.
When she quit politics, she urged women to keep being active in it and was happy she had paved the way for them.
"I feel satisfied when I see women representation in elective seats and key government appointments… We have laid the foundation for you and as women from this country, you should battle it out. Women if given a chance can transform society to higher levels," she said.
What was it like to be the child of such a woman? For one, success will almost certainly follow you. Her son, Kiprono Kittony is currently chairman of the Nairobi Securities Exchange (NSE), the leading securities exchange in East and Central Africa.
In an interview with The Standard, he said that while as children, they experienced the doting and caring mother that she was, they also got to see the tough-as-nails side that the public knew her for.
"She is a great fighter. I remember as a young person one time when we were travelling with her. We had a puncture coming to Nairobi and I remember her changing the tyre and then we drove to Nairobi. My mother did things that other women could not even imagine.
The only character trait he says he did not get from her was her outspokenness and how easily she could speak her mind. He would have been more vocal on the things that bedevil the country, he says.
"She is very forthright. When you meet her she will tell you exactly what she thinks of you. I remember in 2007 in the height of elections when (former) President Kibaki was in our village and his party was less popular. People were bullying. It was just before the post-election violence. He wasn't getting a chance to speak. My mother went and took the microphone and ordered everyone to shut up. That was how he got a chance to speak," he says.
At 55 and with many impressive leadership and business notches on his belt, he has long come out of his mother's shadow and come into his own, but one of his goals with the NSE reveals that he is very much his mother's son.
"I believe that we need to see more women in corporate leadership in Kenya. Female corporate leaders have been a phenomenal success in other markets but if you look at the boards of listed companies in Kenya, the women are in the minority. So, I also want to start a crusade to ensure that we have more women participating at the top leadership level in companies," he says.
A fighter, like her mother: Mukami Kimathi and Wanjugu Kimathi
Freedom fighter and Mau Mau veteran Mukami Kimathi was the widow of Dedan Kimathi, who some would argue is Kenya's greatest icon in terms of fighting for independence, but was also a force to reckon with herself.
She had also been detained when Kimathi was captured, and in the last hours before his execution, he asked to see her and she was allowed to see him.
They chatted for about two hours before he was executed and while he was buried in an unmarked grave, Mukami never let his name be forgotten or their cause die, even decades later when Kenya had seemingly moved on and forgotten their struggle.
Former South African President, Nelson Mandela, even requested to meet her five months after his release from prison. Still, it only happened 15 years later during his second visit to Kenya, in 2005.
She fought for decades to have Kimathi's remains found and given a proper sendoff.
During Dedan Kimathi's 63rd anniversary celebrations, her daughter, Wanjugu Kimathi, said, "Why don't we let the widow of Dedan Kimathi, Mukami leave this world knowing that she was able to bury her husband?"
Sadly, that was never to be, as she passed on just last week on May 4, but that particular battle will not die soon it seems, as her daughter, Wanjugu is determined to see to it that they find her father's remains.
"The first government came, assured us, but nothing came out of it, the second and the third followed suit, we have high hopes that this government will assist us in finding our father's remains so that we give him a decent send-off," said Wanjugu.
Alongside her mother, Wanjugu has proven that she has the blood of two freedom fighters running through her veins. She has been fighting for Mau Mau veterans who have been landless since independence to be given land.
When rumours circulated that she had been arrested in 2020 while Thome area where she was checking on a piece of land that The Dedan Kimathi Foundation was planning to purchase for Mau Mau veterans, she showed that she was just as fearless as her parents had been.
"True to their word, I have been arrested. Now locked up at Rumuruti Police Station. Tell my mother that if by tomorrow I will not be alive, I have been killed at Rumuruti," she said.
And on the matter of her fight for the veterans, she said, "Why doesn't the government settle just a few veterans and their descendants? Am just a vessel and a pacesetter. I do not want anything else after this exercise. Instead of fighting me and telling me that I am parading fake Mau Mau and alleging that all Mau Mau are dead, why not join me or take from where I have reached? The more you fight me the more I get the zeal to finish this task and so may God help me."
Related Topics