Kitengela town in Kajiado County has recently been the talk of the town following an increase in criminal activities.
Although the town has seen major changes over the past few years with more residential and commercial properties coming up in the area, it is now the focus of security operators for all the wrong reasons
Approximately 30km from the city centre and bordering Nairobi and Machakos counties, the town's population has grown tremendously.
The presence of companies such as Export Processing Zone (EPZ), Athi River Mining, Bamburi Cement, Kenya Meat Commission, schools, shopping malls and more has transformed Kitengela into a metropolitan town.
However, the town has in the recent past hit the headlines due to killings, muggings and robberies.
The recent incidents have left residents with more questions than answers, wondering what has gone wrong with their town, earlier known as a hub of peace.
Just recently, a 22-year-old woman was stabbed to death by her lover inside an eatery in what is suspected to be a case of love gone sour. The two worked together at a pizza outlet.
Patrick Kioko is said to have confessed to killing Getrude Wayua Mutiso, on suspicion that she was seeing one of their managers.
This was not the first time Kioko had threatened Wayua and she had earlier reported the threats to her father.
Kioko told detectives that Wayua, who he claims to have been in a relationship with since their days at Kimathi University in Nyeri, dumped him five months ago for being a stammerer.
According to a statement provided by the police, he was heartbroken when he learnt that his girlfriend was seeing someone else.
Horrifying attack
Two days later on April 26 this year, a woman stabbed her daughter to death and ate her organs.
Olivia Naserian who is still in police custody was rushed to hospital in a stupor following the horrifying attack that was captured on video by neighbours.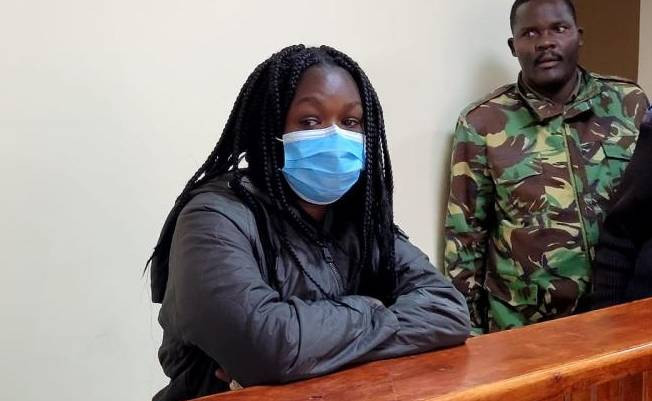 Ms Naserian had arrived at her parents' home on Saturday from Meru where she had been living with her daughter. Police found the kitchen knife Naserian used to brutally end her daughter's life.
As the killer demon continues to rule the area, a 20-year-old man was stabbed to death and dumped on a wheelchair at a hospital.
Raphael Kassim alias Kapendo was stabbed several times in the stomach at Noonkopir in what police believe was an altercation over love.
Kitengela DCIO Benson Mutie later told journalists that a suspect had been arrested.
According to the police, the incident happened at around midnight, at a nearby pub, where two men were fighting over a woman.
"After the stabbing, a motorcycle rider and a passenger carried the body to the Kitengela Sub-County Hospital, placed it on a wheelchair and drove off without a word,'' said Mutie.
The body was later moved to the Kitengela Sub-county Hospital morgue awaiting family identification and postmortem.
In the latest incident, a middle-aged woman was rescued from a mob after she was found in her neighbour's bedroom and accused of theft.
The woman identified as Shemim Odhiambo entered Harrison Chege's cereals shop and proceeded to an adjacent bedroom while the owner was answering a call of nature.
Chege said upon his return, he heard movements in the bedroom before he caught Ms Odhiambo hiding under the bed and raised the alarm.
She was arrested and later arraigned at a Kajiado court where she was released on a cash bail.
Cause for concern
The incidents have left area residents in shock with local leaders urging police to dig deeper into the cause of these incidents.
Kajiado County police commander Muthuri Mwongela told the Nairobian that police and the entire county security team were concerned following the incidents.
''We are working around the clock, to establish what might be happening with the society within our jurisdiction, some incidents are not able to be stopped because they are caused by psychological problems,'' said the police boss.
However, Ringera urged young men to learn to accept rejection in relationships to avoid such incidents.
"The youth must learn to accept and move on, if a woman or a man rejects them. Killing each other is not a solution but a sign of weakness," he said.
Kajiado East MP Kakuta Maimai said the recent killings in the area are caused by heightened levels of depression, following the ongoing hard economic times.
Speaking to the Nairobian on phone during an interview, Maimai appealed to the authorities to establish a hotline, where residents can call and report incidents or seek help with mental health problems.
"All these adversities are happening, possibly, because of the high level of stress and depression related to hard economic times, I propose that we establish a hotline where these cases can be reported directly'' said the MP.
"Many people react to such circumstances with a flood of strong emotions and a sense of uncertainty."
He also impressed upon wananchi to be on the lookout and to report cases of serious concern to the police as well as the local administration.
Related Topics