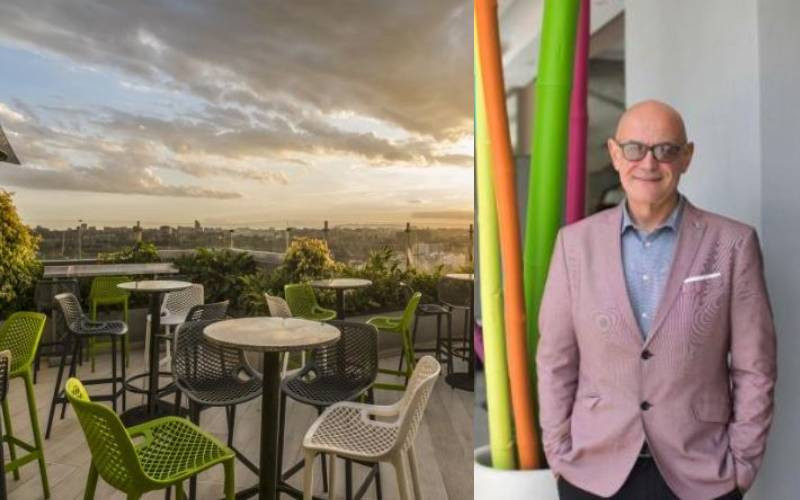 The skies above Nairobi look menacing. However, the expected storm holds off as we sip some house coffee on a rooftop bar in Nairobi's Westlands on Wednesday morning. Do you get mesmerised by the way these baristas artistically weave a flower design in a cup of coffee? I do.
But Thomas Simonnet, the general manager at ibis Styles is not surprised. "They just do what they are accustomed to do," he says with his heavy French inflection.
"These are my hotel guests too," he says, pointing to the waiter. Hotel workers as Simonnet's guests?
"You see, I have two types of guests. Some come here to pay for their stay. Then there are those I pay to serve the first group. Those too are my guests otherwise we would not be called the hospitality industry. You see, a waiter cannot serve you good coffee if he is not happy with his conditions." Point taken.
Simonnet has clocked 30 years in the hospitality sector, having risen through the ranks from a junior staff member to managing dozens of hotels worldwide mainly with the Accor Group. From Novotel to Sofitel, MGallery to Mercure, Simonnet's life has come full circle by managing the compact, 277-room Ibis Styles Hotel in Nairobi.
Currently, the Accor Group owns, manages and franchises 5,400 hotels worldwide. The number could hit the 6,000 mark anytime. Worldwide, the group has a workforce of 290,000, or three times the population of Seychelles!
In another life, Simonnet would have been a marketer, but he chose the hospitality industry due to his love of travel. Back home in France, he interacted with people from all walks of life, from diverse religions and gender. He too wanted to be a citizen of the world and when a friend suggested he takes hospitality studies at the university, this only affirmed what was in his heart.
"My father told me you make two choices in life. Either find out your career path early on or you do not know early enough and have to find out later on in life what your love will be. I made my choice later in life," he says.
Simonnet started in the textile industry, making work uniforms and branded T-shirts for a year, learning lifelong lessons as a salesman. Good lessons from a company he started at the age of 17, yes, but this was not his calling.
In 1993, he began his hospitality career as a waiter at Novotel in Lille, North of France. Nostalgic for him since it was in Lille where the foundations for Accor were laid in 1967 by Paul Dubrule and Gérard Pélisson, with the brand gaining formal recognition in 1983 through a merger. It is the sixth-largest hotel group in the world.
From a waiter in Lille, France, Simonnet has traversed the world, mostly in some volatile and remote parts of the world, managing hotels in 37 per cent of the world. To sample just a few — a room division manager in Guadeloupe, West Indies; food and beverages manager in French Guyana; country manager for three properties in the Dominican Republic­; and general manager in both Ivory Coast and Senegal — roles that give an insight into the mind of typical hotel general manager.
"There is career progression in the group. About 95 per cent of hotel managers I know started as waiters, cooks, and receptionists. By the way, I was a housekeeper at some point early on in my career too," he says.
In some of these postings, Simonnet's mettle as a team leader was tested to the limits by several natural incidences including hurricanes, earthquakes, and recently, the Covid-19 pandemic that shut thousands of hotels worldwide.
His posting in the Dominican Republic between 2010 and 2013 coincided with the devastating earthquake in neighbouring Haiti where over 250,000 people died. Simonnet was charged with post-earthquake repositioning of three hotels in the region.
"This meant coming up with and testing emergency plans and working with local authorities in risk management. The lives of all guests are paramount in the industry," he says.
In the Caribbean, he was faced with several Category Four or Five hurricanes. At another time, he experienced about seven earthquakes. Making the right call at such times saves lives.
"In a hurricane, strong wind destroys buildings and a coconut can travel at 120 kilometres an hour. It becomes a bullet blasting through windows. In the Caribbean, this meant reinforcing windows, and giving guests candles or flashlights if the power went out. What happens if the roof caves in? You direct people to hiding places. There were times we would throw tables and chairs in the swimming pool so that they are not blown away by the hurricane," he says.
In West Africa, Simonnet had to deal with the Ebola outbreaks and, similar to his experiences in the Caribbean, work out mitigation measures.
"In the Ebola outbreak, I had to understand the disease, anticipate the risks and prepare my team accordingly. You need to be resilient in the face of such challenges," he says. Similar measures are taken to anticipate terror attacks.
In Kenya, Simonnet says the law has assisted hoteliers in managing risks by requiring all guests to register during the check-in process. This, coupled with emergency drills, guarantee a measure of safety for guests.
"The general manager is not the most important person in the hotel. I am just an employee with more responsibilities. I am a music conductor, moving the baton and ensuring all others play in harmony, but I cannot play all the instruments. The maintenance fellow in the basement is as important as the front office manager. Everyone is part of the orchestra," he says
His ensemble consists of more than 100 people, a workforce he directs daily. Does it drive him crazy?
"As the (GM) you must accept to lose some competencies. You cannot do everything and that is why you delegate. But I have to develop control of the work and rely on processes," he says.
Would he consider moving up the chain to a higher managerial position within the group? "Not now. I am an ambitious person but on the right side."
Related Topics