Massage spas are the new heaven for married women and girlfriends chasing sexcapades away from their men, The Nairobian can authoritatively report.
What incidentally began as normal massage with "happy endings" for men seeking quick, discreet sex has now roped in the female gender.
Married women in complicated relationships, or those simply in search of a good time, have found refuge in massage parlours where in addition to getting what they are looking for, they are also assured of privacy unlike in hotel and bar lodgings where they run the risk of running into someone known to them, including, in the worst case scenario, their husbands.
While there are a good number of spas offering genuine self-care and wellness therapy business services, which are popular especially among the middle class locally, strictly massage sex spas are also flourishing in major cities and towns, especially in Nairobi.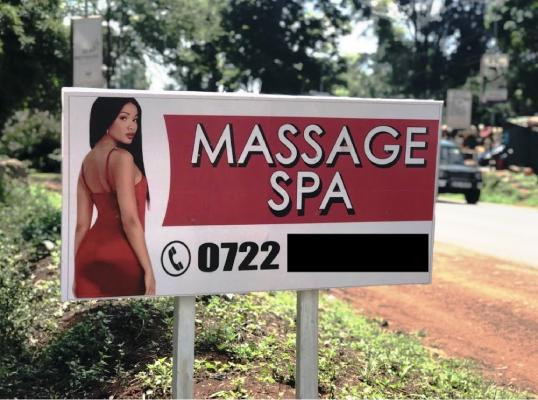 So much so that it appears women do better than men, who have for long enjoyed sex after massage and even sex escort services in some parlours.
The trouble is that there is a thin line between professional massage parlours and sex spas as both compete for clientele on social media platforms.
Some of the clips shared on social media platforms show a masseur performing erotic services to naked models for marketing his business.
The clips have elicited varying reactions from the public both positive and negative. The sessions have become a popular hit amongst females sharing his clips on different platforms, others feel there could be an ongoing compromising agenda being involved.
The business is also seeing a migration of foreign professionals taught by traditional cultures finding the Kenyan market unexplored.
However, the untold truth reveals more activities could be taking place in the thriving business.
Demand for happy endings
According to a city masseur, Vincent (not his real name), the demand for happy endings from clients at a cost is at an all-time high.
"Many people seek these sensual therapies for different reasons, ranging from the client's mindset, the therapy giver and the premises," he said, acknowledging that societal and generational changes have influenced the growth of this new trend.
"People and especially women are becoming more liberal about their bodies' wellness hence the demand for such establishments. However, not every professional is asexual hence the compromise in the demand for extra services," notes Nancie Mwikali, a city business owner.
According to research, women are seeking various services in healing therapy meant for feminine embodiment but the business has since extended to professional sex services.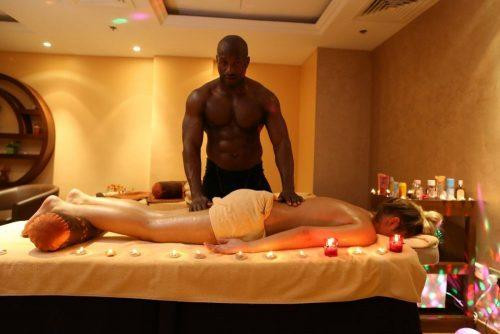 Jane, a banker, who said that she was married at a tender age and never found time to explore, told The Nairobian that it is in a massage spa where she eventually found out how to squat, sex styles, her g-spot and what good sex means.
She added that at her age— 47 years —she knows there are things she can't try with her 55-year-old husband, but at the massage parlour, she has all the time to go experiment with a younger masseur.
"My friend introduced me to her masseur in Kilimani (Nairobi), and I can say that man is endowed. He knows where to touch, he knows where to kiss, and he knows how to drill," Jane said, adding, "Since then, we have been visiting several spas to try out new things."
Taking advantage
Cyprian Machika, a registered physician, said that massage has many benefits, but it was clear that the masseurs are taking advantage of women visiting their spas.
"It is wrong, and everyone must remain professional and have boundaries," Machika said, adding, "It is wrong to release client images, and masseurs should consider themselves professionals."
He added that there are cases of masseurs leading women to "other things" and ending up having sex.
"There are different types of massages, and it depends on the intentions of the massage. We should remain professional and respect boundaries," he said, adding, "Otherwise that is something different."
However, Jane, who is enjoying every minute with her six-pack-dark masseur, said that at 47, she is having the best time of her life
"I just realised I have been denying myself many things for marriage," she said.
Lazy husbands
Others we interviewed said that the spas are filling a big gap left by their busy or lazy husbands.
Jane's views were echoed by Amina, who claims that her husband of three years no longer gives her attention, and she has found pleasure in spas.
"I find pleasure, sex, relaxation, and a good man in spas," Amina revealed, adding, "My religion does not allow me to go out, but I am human. Hide my name."
Though most spa operators told The Nairobian that they do not allow sex, a spot check and undercover calls showed that some were charging from as little as Sh500 to much as Sh5, 000 depending on the duration of the service.
James, a Nairobi masseur, said that women are the hardest to pay for sex, but some are so hot that if they asked for sex, you wouldn't say no or refuse to pay.
"It depends on the client. We all know where to touch, and she will want sex. We know where not to touch, and she will just enjoy the massage," James said.
He added that most of his clients are referrals from friends, previous customers, or doctors since some of them have medical issues.
"Most are supposed to remain in some clothes, but they insist on remaining in birth suits and are willing from the get-go. The moment a lady is naked and trusting a masseur, she is at the mercy of the masseur," James said, adding, "You decide if she will want the happy ending or not, but what would you do if you did not direct her in that direction of wanting more and yet you wake up to look for more?"
Most clients are offered different types of massage depending on the nationality of the masseuse, but a good number just walk in to experience it.
A Roysambu-based masseur, Stephen Kariuki, said that he reminds his clients that it's not a must for them to take off clothes, but most women prefer to remain naked.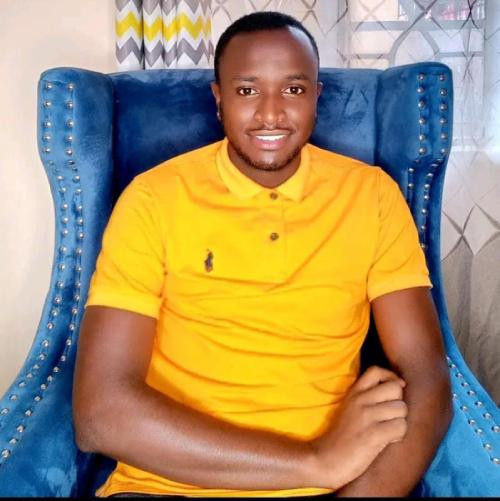 "I often ask my clients to be as comfortable as possible," he told us.
And just like James said, some of the bookings are done by men who want their women to feel good, and although a handful ask him to record the session, others opt to engage in other activities and pick their spouses later.
"This job pays all my bills. I can get five clients in a day, and I can work day and night depending on the demand," he said.
When asked if he 'eats' the stock, Steve said, "I have never been intimate with my clients... I do not mix business with pleasure. Some tell me I am cute and they can pay for more, but I do not agree to such arrangements."
Related Topics