Young and dashing, Edwin Kiptoo, popularly known as Chiloba, lived life on the fast lane.
His friends were young women from monied backgrounds with questionable sexual preferences.
The Eldoret-based LGBTQ activist was two-faced. To his family, which included evangelist foster parents, he was a 'budding pastor'. To his fans and friends, he was a cross-dresser who partied hard.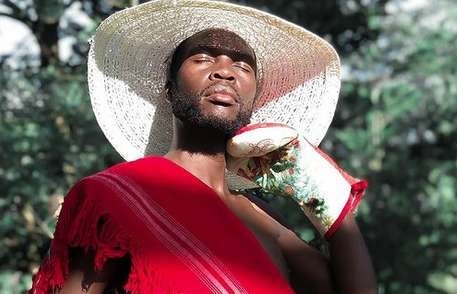 Among these friends was his shadow, a married photographer-cum-model Jacktone Odhiambo who was always glued to his side. They posed for dozens of photos in shoots that saw Kiptoo don white dresses, a silver chocker, matching bracelets and high heels.
Chiloba cross-dressed for photos that Jacktone posted on his Instagram page iam.lizer.
Occasionally he would leave Chiloba for his abode with his young family. In fact, they would both take photos with a young lady who is believed to be his wife.
Discord and jealousy
Beneath the soft life where money flowed, ugly discord and jealousy reigned. Chiloba was ultimately allegedly brutally murdered and stuffed in a metallic box.
Police earlier reports indicated that the deceased could have been strangled at his house in Chebisas village in Moiben. A postmortem conducted early this week showed that Chiloba died due to lack of oxygen after his mouth and nose were blocked with a piece of jeans cloth and three pairs of socks in the mouth.
Chief government pathologist Johansen Odour said the oxygen supply to key organs including the brain was compromised. He, however, said he did not see any injuries on the body.
"We are wondering if he was given a lot of alcohol so that he cannot resist. We have taken some samples for analysis that will be taken to the government analyst to see if there are any chemicals or drugs in the body that may have caused him not to resist smothering," he said.
Depite previous claims that Chiloba's eyes were gouged out, Oduor said his eyes were intact. Samples and swabs were taken for further analysis to see if he was sexually violated before his death.
Chiloba's death raised many questions about his relationship with the prime suspect Jacktone Odhiambo.
Chiloba's family openly dismissed allegations that their son was a member of the rainbow community, the police have said the duo had a "close relationship and were residing in the same premises where the deceased is suspected to have met his death".
Odhiambo, who had been staying with the deceased for one year in Eldoret was arrested last week as the main suspect in the murder.
Odhiambo is a Nairobi-based freelance photographer and had joined the deceased for New Year celebrations.
Social media posts and interactions between Chiloba and Odhiambo have also shown that the duo, apart from their love for fashion and photography, have been on the forefront of championing the rights of the LGBTQ society.
Intimate friends
They also never shied away from expressing their love for each other with their Instagram interactions revealing that they co-owned a dog named littymous. The pet also has an Instagram account that has about 228 followers and acknowledges the duo as its "parents".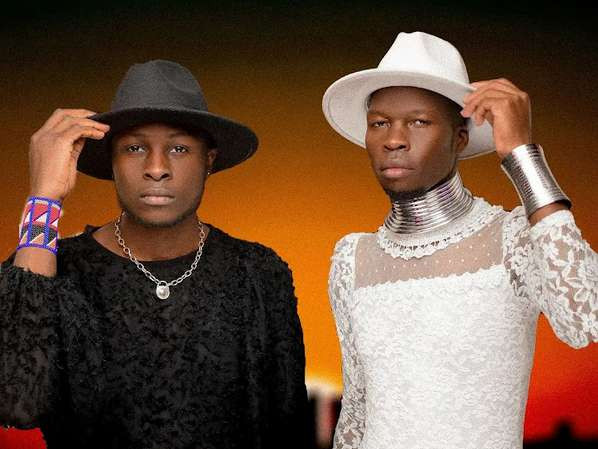 So did Odhiambo have a relationship with Chiloba while also married to a wife with whom they have a son? Further, there are reports that Odhiambo confessed to the police to killing Chiloba over infidelity.
On November 30, Odhiambo posted a photo of himself and his alleged wife and son, wishing the lady a happy anniversary. In his caption, Odhiambo reminds the lady of their anniversary and states his commitment to her.
In the comments section, Chiloba wrote back expressing love for the couple.
"This is so confusing. The guy was a roommate to Edwin but had a wife and a child. Was Odhiambo married and gay?" Questioned one netizen on Odhiambo's timeline.
The police have said that Odhiambo killed Chiloba with the help of two friends.
Chiloba's caretaker Alex Nyamweya said the suspect called him using Chiloba's phone on January 4, informing him that he was vacating the house they lived in.
He said the suspect had told curious neighbours who had smelt a bad odour from Chiloba's house that it was a dead rat.
Police said Odhiambo vacated the house and moved with some of the deceased's belongings to a house in Huruma Estate. The police told the court that some of the belongings had been recovered and would be subjected to forensic examination.
Troubled childhood
Although close friends and family have tried to shield the duo, a look into an interview with Chiloba two years ago unravelled more about his troubled childhood and his relationship with his family.
In an interview with Ebru TV, posted on November 15, 2020, Chiloba narrates about his childhood, losing both parents and eventually his family disowning him on suspicion that he was gay.
In the interview, Chiloba dwells on how people around him judged him for his love for fashion, which was translated to mean he was gay, but neither confirms nor dismisses the allegations.
"People have questioned me because of my dressing. Some say that I am gay, but I never mind them," says Chiloba during the interview.
The then 23-year-old began by narrating about how he lost his mother when he was in Standard Three and having to live with his father and 'drunkard aunt' who often mistreated him.
However, The Nairobian has since established that his mother is alive and attended the postmortem this week. He said his elder sister had gotten married and although he grew up in a Christian background, his father was not concerned about his education and did not take it as a responsibility to pay his school fees.
"My aunt was an alcoholic and she often abused me. She would shout at me, and my dad was never concerned. I had to depend on other people like my teachers who would host me. Some grew tired of me and would kick me out," recounted Chiloba.
The late fashionista said his primary school headteacher had pitied him and offered to pay his school fees until he completed his primary education.
He added that when he joined high school, his sister paid his Form One and Two school fees before his father accepted to support him.
Unfortunately, his father also passed away and he was left with his elder sister who had to cater for his university education after joining Moi University to pursue a degree in Education.
Chiloba said it was at the University that things started going south between him and his family, forcing him to cut ties with them.
"I was in my third year, and I loved modelling and fashion. The education course was stressing me out because I did not love it at all. My family then started to reject me saying that I was portraying devilish and satanic behaviours because of my dressing," he said.
"My sister even stopped paying my fees and I had to drop out. My relatives would hear none of what I had to say, and I was asked to leave home because to them, I was evil and would influence other children within my family, especially my nephews and nieces who I was asked to be nowhere near them," he said.
Chiloba explained that he had finally cut ties with his family after differing on land issues. He said that although he had a right to inherit part of his father's property his family had demanded that he get married first before they could apportion him any property.
"When I told them that I was not ready to marry and that I was following my dreams first, they (family) asked me to leave until I have a family. Now, I have no relationship with them. We are not family anymore," Chiloba had said.
Pastor
His family has, however, declined to comment on the allegations maintaining that all they know is that their son was a Christian who had even been nicknamed a pastor while in school.
"We have known that our son is a fourth-year student at the University. We do not know of other things that have been said on social media platforms. Our son was brought up as a Christian and was even called a pastor while at St Francis –Kimuron Secondary School."
"He was a Young Catholic Students (YCS) leader and we urge Kenyans to be fair to us because no one would wish that their child ends up like ours. We urge that we let him rest in peace. We do not know anything else and all we ask is justice for Edwin," Chiloba's cousin, Claudesia Tanui said.
Chiloba during the interview acknowledged his adoptive parents, Peter and Donna Pfaltzgraff who he said he had met through Facebook.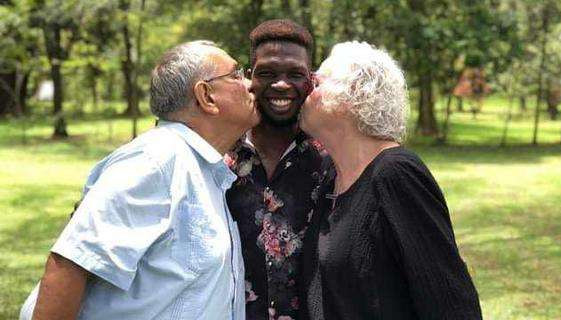 He said that Mr Pfaltzgraff had inboxed him asking if he could design him some clothes and later invited him to their home in Nairobi for Christmas.
He said that when he told them about his story, the couple pitied him and decided to adopt him as their own.
"I told them how depressed I was and that I had nowhere to go. My story touched them and they offered to support my passion and even enrolled me at the University of Eldoret (UOE) to study Fashion and Design. They support my modelling career and believe in my abilities," Chiloba had said.
After Chiloba's body was identified by the police and his family, Ms Donna said his death was a big blow as they loved him.
"Our hearts are broken. Will give more details when we can share more. Please pray for us," Donna said on her Facebook page.
Chiloba's story has raised many questions, especially among parents on the changing times and questions on the sexuality of their children.
African culture
Kapseret MP Oscar Sudi asked the youth to embrace their African culture saying parents should be more responsible in the upbringing of their children.
"We have our culture, and we live in our societies and do not condone same-sex relationships. We do not want to see such happening in the future," said Sudi.
Celebrities from various parts of the world have also voiced their opinions over the treatment of members of the LGBTQ community, condemning the murder of the deceased.
Entrepreneur Michelle Ntalami, who was a friend to the deceased, said in an Instagram post that humanity had lost a kind person who spent every waking minute spreading pure, unadulterated love.
"It is tragic to see that you have finally been recognised globally but in such a tragic way. Painful, that he who claimed to love you broke your heart over and over and eventually took your life. That was not love. But that pure heart of yours would not let go. Oh darling," wrote Ntalami.
On Monday, the law court in Eldoret directed that Odhiambo and four other suspects linked to the murder and disposing of Chiloba's body remain in police custody for 21 more days as police complete investigations.
Chiloba's decomposing body was found stashed in a metal box on the roadside along the Kipkenyo-Kaptinga road within Kapseret sub-County in Uasin Gishu County on January 3.
Neighbours who spoke to the Nairobian said they had seen Odhiambo with the metal box a day earlier.
Related Topics