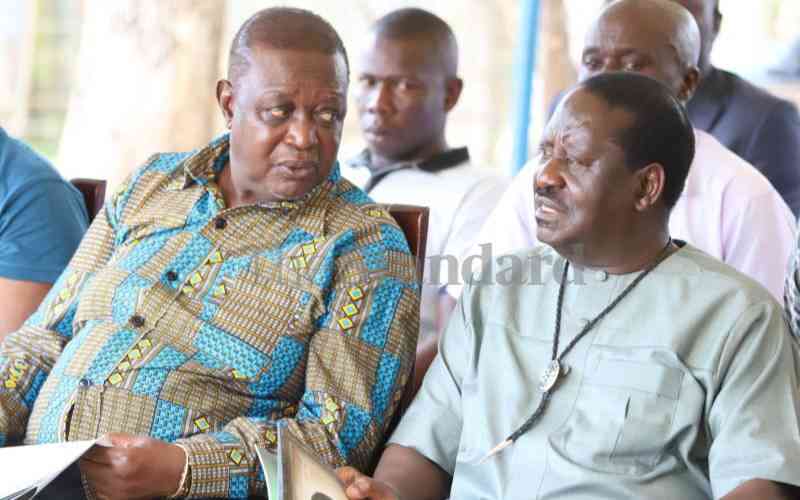 Mzee Jaramogi Odinga was crazy about his firstborn.
He's a steely man, an old stager in politics and quite an accomplished man in his own right.
When he was born in October 1943, Oburu Odinga became "a new possession" to Jaramogi Oginga Odinga. In his book "Not Yet Uhuru", Jaramogi writes how he welcomed Oburu to the world but also mistreated his mother in the process: "I gave her a timetable by which she was to suckle, wash and care for the child."
Shortly thereafter, Jaramogi had a spat with Oburu's mum and knocked her down. She fled, with Oburu in tow and stayed for six months at her father's home in Alego.
For a man through whom Jaramogi waged his first battles - in marriage and in convictions - it is a strange turn that the last pages of Oburu's political diary are being underlined with failure, rejection and prop-ups.
Dramatic baptism
It is ironic that he was baptised after a man loved by his people, Chief Ng'ong'a Molo, in a dramatic baptism process in which Jaramogi bared his fangs.
The Reverend Simon Nyende of the Church Missionary Society was conducting the ceremony in Maseno when Jaramogi stepped onto the crowded altar and announced "Ng'ong'a Molo Oburu" as his baptism name. Rev Nyende was not amused and suggested other Christian-like names. "No, Ng'ong'a Molo was a great chief in the country, loved by his people and I have not heard of anything he did which was objectionable to Christians," Jaramogi retorted, vouching for his son's name.
He was turned away with his three sons. Their dejected mother stalked out of the church and left the old man with the burden of ferrying them back to Bondo. Jaramogi pulled all plugs, including writing to the Archdeacon of the church, getting references from the Bishop in Nairobi and invoking discussion of the matter in the church council to get his three sons finally baptised as Ng'ong'a Molo Oburu, Rayila Amolo Odinga and Ngire Omuodo Agola.
Although Oburu went on to lead his brothers in his exploits -- family, education and politics -- he has passed out for a lackey of his younger brother Raila in the last 20 years.
When Raila was "eating chalk" at the University of Nairobi, Oburu was already dabbling in elective politics as a councillor in Kisumu Municipality (1974-1979). He was at the time, the top ranking active politician in the family since his father had been banished from politics after his bitter fallout with former President Jomo Kenyatta in 1969. How then Raila came from the classroom to overtake him in political success and suaveness is one of the outstanding mysteries of Kenyan politics.
Equally puzzling is how he never bounced back at the municipal council in 1979 or stepped higher into the National Assembly. It may bespeak personal failure. It may not.
Perhaps it had something to do with the overbearing image of Jaramogi or perhaps not. Perhaps the burden placed on the family through the political involvement of the father and the brother was too heavy. Or maybe it was simply a matter of choice to keep off politics. What is certain is that Oburu missed not only the 1979 moment but also the 1992 one, the latter in which the field had been flayed open.
In those elections of 1992, Raila tossed himself into the fray of city politics, then dominated by Central and Eastern communities. While his father was placing a sure bet in Bondo, Raila was doing a dare-devil act in Kibera and it paid off.
In those tumultuous days preceding the advent of multiparty, Oburu the trained economist was nowhere in political terms. And neither was his impact fully felt where he was either fiddling in numbers as an economist or scolding junior bureaucrats as an administrator. But when the sun set on the old man in the early days of 1994, Oburu thundered back on the political stage easily inheriting the Bondo parliamentary seat.
While he was being installed in Bondo, Raila -- already an MP -- was making serious moves to inherit his father's position in the political party (Ford Kenya). When he failed, he bolted and in yet another daredevil act, resigned to contest afresh on his new National Development Party (NDP).
Analysts agree this was perhaps the most decisive political move of the younger Odinga which fully eclipsed the senior Oburu but also catapulted him into a serious national figure. Through NDP and quite outside the grip of his late father, Raila began to consolidate his hold on Luo Nyanza and by extension, the ever-bubbling multi-ethnic reform movement.
Oburu was re-elected back in the 1997 General Election under his brother's party. He was re-elected in 2002 and again in 2007. In those two elections, his competitors at the nomination stage always complained he was favoured on account of his younger brother.
Biological accident
"It's not a crime to be Raila's brother. It's a biological accident. I just found myself being his brother and that is it. I have struggled on my own journey and I don't need his help. If anything, I am older than him," Oburu once said.
These claims of gaining from biological relations with Raila gained grave momentum in 2009 when he was appointed an assistant minister in the grand coalition government in which his brother presided as a Prime Minister. Come the 2013 General Election, the voters rejected him but he earned himself a nomination back to Parliament.
Oburu was to be rejected once again in 2017 and was about to hang his boots when the small window of the East Africa Legislative Assembly opened. Like all ruthless politicians, he did not flinch. He grabbed the opportunity and handed over his application. Even when he came under pressure, he pulled a fast one on everyone announcing a tactical retreat, then charging back after the repeat presidential election. In the classic scoundrel act, Oburu bounced back on the list after the election. Whether this was through his brother's influence or his own machinations, it is difficult to tell. What is important is that he went through and he has bought himself five more years in public life.
The rumour in the corridors of power was that he laid himself prostrate on his brother's feet and begged for a chance. He needed not do any of that.
All that is humdrum. What is important is that Oburu had the last laugh.
Related Topics