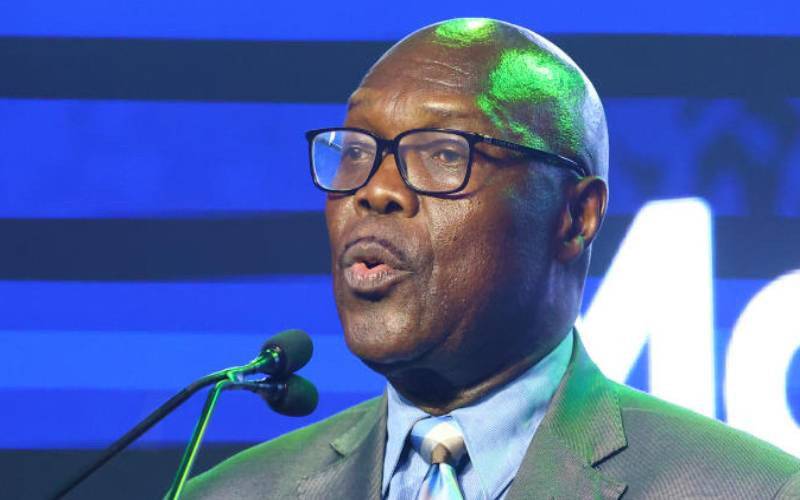 Revelations by Gor Mahia chairperson Ambrose Rachier that he is a member of Freemason has opened debate into the nature of this highly secretive society.
Rachier said in an interview on NTV on Sunday, October 2 that he's been a member of the Freemason for 28 years, since 1994.
For a while now, a lot has been said about freemasonry, both online and offline, with a bulk of the perceptions heavy with negativity.
Rachier said many people form perceptions about the society without informed knowledge on the basic values and activities of freemasons.
According to the leading football club's chairperson, "several notable public figures in Kenya belong to the group".
Rachier, a lawyer by profession, said members of different religious faiths belong to the Freemason society, and that they "don't worship the devil as widely speculated".
"We have Muslims in freemasonry, Christians, Buddhists and a few atheists. So, there is no reference, whatsoever, to issues of devil worship," Rachier said in the television interview.
Speculation that freemasonry could be linked to devil worship stems from the fact that the society is highly secretive, with little or no information known about its activities.
"Freemasonry is not meant in any way to interfere with an individual's commitment to his faith, family or occupation. Freemasonry is not and never can be a replacement for these important institutions; rather, it is a positive environment that reminds every freemason of his duty to himself, his family, community and the supreme architect (an individual's own definition of a supreme being)," says a US-based Freemasons' website.
According to the Ohio-based Freemasonry site, www.freemason.com, the society, one of the oldest fraternal organisations in the world, "unites men of good character who, though of different religious, ethnic or social backgrounds, share a belief in the fatherhood of God and the brotherhood of mankind".
"Freemasonry offers a system or blueprint for the good man to further improve his character and actions through its system of degrees, symbols, and fellowship opportunities," says the Ohio-based website.
The United Grand Lodge of England reports that worldwide membership totals more than six million freemasons, 1.1 million of whom are in North America.
The society, as per publicly available records, originated in England in 1717, with the founding of the Grand Lodge, an association of Masonic lodges.
A Masonic lodge is where local freemasons meet and work. More than the location, the lodge itself is its members and their united actions to promote Masonic values and enjoy each other's company.
Although its exact origins are lost in unrecorded history, its roots are found in guilds of stonemasons that, from the end of the 13th Century, regulated the qualifications of stonemasons.
As a stonemason grew in his craft, he was entered into the appropriate rank: apprentice, journeyman (now called Fellow Craft) and master mason.
In the East African region, as of 2013, Kenya had 34 lodges out of 48 in the region, making it the hub of freemasons in that part of the African continent.
In Kenya, there are freemason temples in Nakuru, Ruiru, Naivasha, Eldoret, Kitale, Kericho, Kisumu, Nyeri and Mombasa. Their headquarters is in Nairobi, where there is a Freemason Hall.
For one to be a freemason, he has to be: a male at least 19 years old, able to read and write English, prepared to profess a belief in deity, be of good reputation as a man of honour and integrity, be recommended by two members of the lodge that one wishes to join and be prepared to obtain a background check if requested.
Although all the freemasons in Kenya are men, they are allowed to bring their wives and mistresses during a special occasion known as the "Ladies Night" where they eat, drink and make merry.
However, of late, there has been a surge in the number of women-only freemasons, especially in England.
Initiations of joining freemasonry differ and a number of them have been controversial.
For instance, in March 2004, a bizarre initiation ritual went wrong in the basement of a Masonic lodge in the US, when a member, who had been directed to fire a handgun loaded with blanks, pulled the wrong one by mistake and fatally shot a fellow mason in the face.
Masons claim that theirs is not a society for rich and wealthy people only.
They defend themselves as a much cheaper and affordable society, where members pay an obligatory standing annual fee of less than Sh30,000 (data as of 2013).
They say the charge is much lower than what members in Nairobi social clubs pay.
Ambrose Rachier, in the Sunday television interview, said for one to join freemasonry, he must be recommended by an already-initiated member.
The interested person is thereafter invited to a freemasons' meeting for vetting and possible approval.
After being allowed in, one is invited for a subsequent interview, where he'll be briefed on a wide array of topics.
Rachier said the new member will be interrogated on what his kinsmen think about his move, and how he'll handle negative opinions if he comes in contact with them.
If one unsatisfactorily answers these questions, then he is ejected from the society with immediate effect.
Freemasonry makes use of many symbols. The most well-known of all Masonic symbols are the square and compasses, which stand for morality, honesty and fair dealings with others.
Related Topics