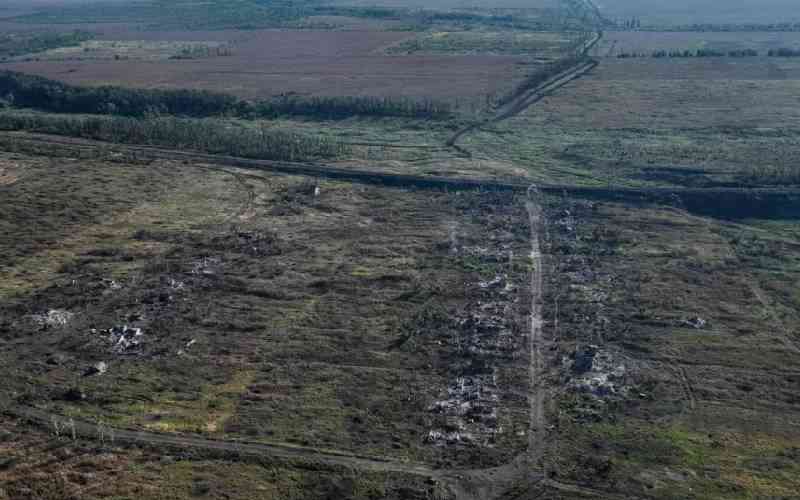 Ukraine's military said Friday it has recaptured the village of Andriivka, some 10 kilometers south of the key frontline Russian-occupied city of Bakhmut, following intense battles with Russian troops.
The latest victory in Ukraine's protracted, multipronged counteroffensive comes just days ahead of Ukrainian President Volodymyr Zelenskyy's expected visit to Washington.
Also Friday, Britain's Defense Ministry confirmed that a missile strike targeting the naval headquarters of Russia's Black Sea Fleet in Crimea earlier this week delivered a blow that may have crippled portions of the facility for weeks or possibly months to come.
The landing ship Minsk and Kilo 636.3 class submarine Rostov-on-Don were undergoing maintenance at the Sevmorzavod shipyard in the base's dry docks when the missiles hit during a pre-dawn strike on Wednesday.
Open-source evidence, the ministry said, "indicates the Minsk has almost certainly been functionally destroyed, while the Rostov has likely suffered catastrophic damage."
According to the ministry's report, any effort to get the submarine up and running would "likely" take many years and cost hundreds of millions of dollars.
In addition, the British ministry said, there is also "a realistic possibility" that the intricate task of removing the damaged vessels from the dry docks could put the docks out of commission for months and present Russia "with a significant challenge in sustaining fleet maintenance."
The Rostov was, according to the British ministry, one of four of the Black Sea Fleet's cruise-missile capable submarines that "have played a major role in striking Ukraine and projecting Russian power across the Black Sea and Eastern Mediterranean."
Zelenskyy White House visit
Friday's developments precede Zelenskyy's anticipated arrival in Washington next week as the U.S. Congress continues to debate $21 billion more in aid to Ukraine to support its fight against Russia.
U.S. lawmakers are increasingly divided over whether to provide Ukraine with more aid. President Joe Biden is seeking $13 billion in military aid and $8 billion in humanitarian aid, but some Republican lawmakers oppose sending more aid to Ukraine.
Zelenskyy is expected to meet with Biden next week at the White House after the U.N. General Assembly meeting in New York.
Although Ukraine's counteroffensive push against the Russian invasion has been slower than expected, Zelenskyy Thursday celebrated what he described as Ukraine's destruction of a Russian air defense system on the annexed Crimean Peninsula.
"A special mention should be made to the entire personnel of the Security Service of Ukraine as well as our naval forces," Zelenskyy said in his nightly video message. "The invaders' air defense system was destroyed. Very significant, well done!"
New sanctions
Earlier on Thursday, the U.S. sanctioned more than 150 businesses and individuals in Russia, Turkey, the United Arab Emirates and Georgia to crack down on evasion of trade restrictions aimed at blocking funding for Russia's war against Ukraine, now in its 19th month.
The newest sanctions package is one of the biggest imposed by the State Department and the U.S. Treasury. It targets those who are selling Western technology to Moscow to aid its war effort, particularly businesses and people in Turkey, a member of the Western military alliance that supports Ukraine.
The sanctions, which block any assets the businesses and individuals might have in the U.S., are also aimed at hobbling the development of Russia's energy sector, which provides war funding, including Arctic natural gas projects, along with mining and factories producing and repairing Russian weapons.
In addition, the U.S. sanctions target several Turkish and Russian companies that the State Department says help Moscow source U.S. and European electronic components — such as computer chips and processors — that can be used in civilian and military equipment.
The State Department also is targeting Turkish companies that have provided ship repair services to a company affiliated with Russia's Defense Ministry.
Before the war, James O'Brien of the State Department's sanctions coordination office said that Russia imported up to 90% of its electronics from countries that are part of the G7 major industrial nations, but sanctions have dropped that figure closer to 30%.
Fighting continues
On the battlefield, Ukraine's military said it shot down 17 of the 22 drones that Russia used to target multiple areas of Ukraine in overnight attacks.
The Ukrainian military said Russia launched several waves of attacks directed at the Mykolaiv, Zaporizhzhia, Sumy and Dnipropetrovsk regions.
Russia's Defense Ministry said its air defenses shot down multiple Ukrainian drones over the Bryansk region of western Russia early Thursday.
Russia also said it repelled an attack on a patrol ship in the Black Sea, with Russian forces destroying five unmanned boats.
Over Russian-controlled Crimea, the Russian Defense Ministry said on Telegram it destroyed 11 Ukrainian drones.
Related Topics