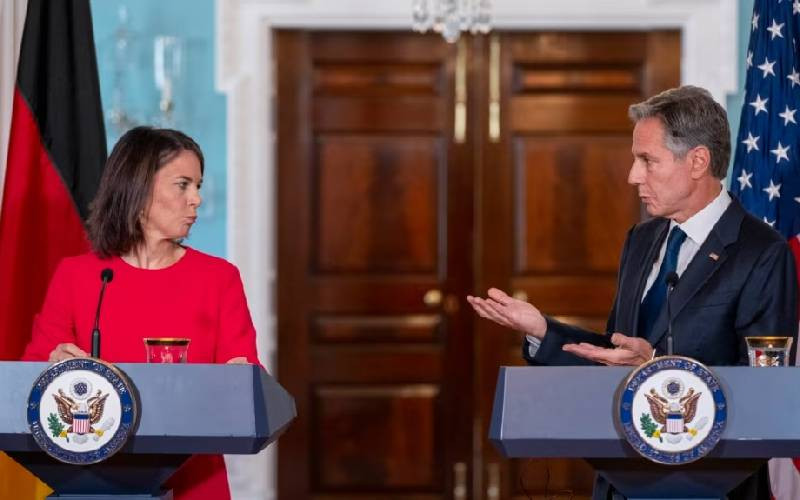 U.S Secretary of State Antony Blinken and German Foreign Minister Annalena Baerbock spoke Friday in Washington, both reiterating their long-term support for Ukraine as it defends itself against Russia.
Speaking to reporters following their talks, Blinken said Germany and the United States, along with dozens of other nations around the world, are committed to providing military, economic and humanitarian aid to Ukraine. He said they also discussed Ukraine's long-term ability not only to survive but to thrive following Russia's invasion.
Baerbock echoed Blinken's remarks, saying support for Ukraine goes beyond arms deliveries to include humanitarian issues and repairing infrastructure. She said she discussed with Blinken how the U.S. and Germany can dovetail their assistance to Ukraine more closely.
The two top diplomats were asked about Ukraine's ongoing requests for long-range missiles systems that could reach deep into Russia and the West's reluctance to provide them.
Baerbock said Germany and other NATO allies have told Ukraine from the beginning of Russia's invasion that arms supplies would be limited to Ukraine's self-defense and reclaiming territory within Ukraine.
The German foreign minister has been in the United States much of this week, traveling on Tuesday and Wednesday to Texas, where she visited an air base where German pilots are trained and meeting Thursday with U.S. lawmakers to discuss their continued support for Ukraine.
Ukraine grain shipments
Blinken said he and Baerbock also discussed the Black Sea Grain Initiative, which Russia ended in July, and alternatives to getting grain out of Ukraine and to developing nations that need it.
Following a meeting on Friday in Bucharest with Ukrainian Deputy Prime Minister Oleksandr Kubrakov, Romanian Transport Minister Sorin Grindeanu said the nation planned to double the monthly transit capacity for Ukrainian grain through its Constanta port to 4 million metric tons in the coming months.
Speaking at a joint news conference, Kubrakov said they hope to double the port's capacity by the beginning of October, which could help Ukraine solve at least half of its export issues.
Ukraine military advances
Ukraine's military said Friday it has recaptured the village of Andriivka, about 10 kilometers south of the key front-line, Russian-occupied city of Bakhmut, following intense battles with Russian troops.
The latest victory in Ukraine's protracted, multipronged counteroffensive comes just days ahead of Ukrainian President Volodymyr Zelenskyy's expected visit to Washington.
Also Friday, Britain's Defense Ministry confirmed that a missile strike targeting the naval headquarters of Russia's Black Sea Fleet in Crimea this week delivered a blow that might have crippled portions of the facility for weeks or possibly months to come.
The landing ship Minsk and the Kilo 636.3 class submarine Rostov-on-Don were undergoing maintenance at the Sevmorzavod shipyard in the base's dry docks when the missiles hit during a predawn strike Wednesday.
Open-source evidence, the ministry said, "indicates the Minsk has almost certainly been functionally destroyed, while the Rostov has likely suffered catastrophic damage."
According to the ministry's report, any effort to get the submarine up and running would likely take many years and cost hundreds of millions of dollars.
In addition, the British ministry said there is also "a realistic possibility" that the intricate task of removing the damaged vessels from the dry docks could put the docks out of commission for months and present Russia "with a significant challenge in sustaining fleet maintenance."
According to the British ministry, the Rostov was one of the four Black Sea fleet's cruise-missile capable submarines that "have played a major role in striking Ukraine and projecting Russian power across the Black Sea and Eastern Mediterranean."
Zelenskyy to visit White House
Friday's developments precede Zelenskyy's anticipated arrival in Washington next week as the U.S. Congress continues to debate $21 billion more in aid to Ukraine to support its fight against Russia.
U.S. lawmakers are increasingly divided whether to provide Ukraine with more aid. President Joe Biden is seeking $13 billion in military aid and $8 billion in humanitarian aid, but some Republican lawmakers oppose sending more funding.
Zelenskyy is expected to meet with Biden next week at the White House after the U.N. General Assembly meeting in New York.
Although Ukraine's counteroffensive push against the Russian invasion has been slower than expected, Zelenskyy celebrated Thursday what he described as Ukraine's destruction of a Russian air defense system on the annexed Crimean Peninsula.
"A special mention should be made to the entire personnel of the Security Service of Ukraine as well as our naval forces," Zelenskyy said in his nightly video message. "The invaders' air defense system was destroyed. Very significant, well done!"
Related Topics