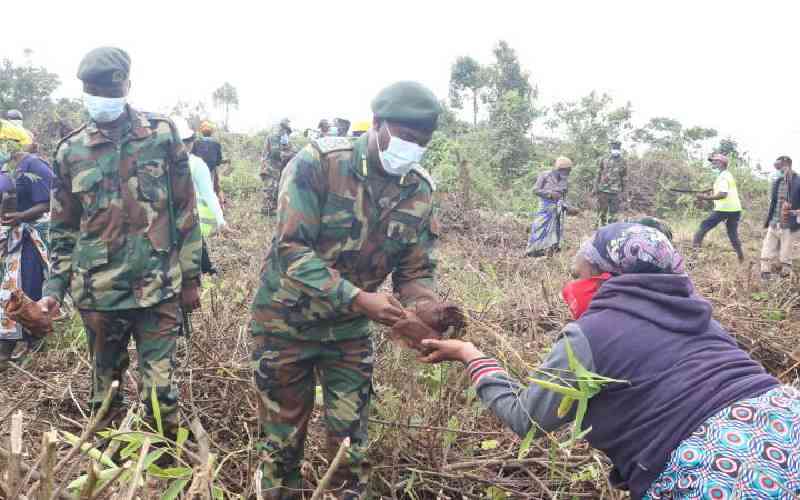 The National government has picked bamboo as a critical resource towards achieving the 30 percent tree cover strategy by 2032 and a key driver towards green growth and climate resilience.
Cabinet Secretary for Environment, Climate Change and Forestry Soipan Tuya said bamboo was classified as a scheduled cash crop to accelerate its commercialization.
In a Speech read on her behalf by the Principal Secretary of State Department for Forestry Gitonga Mugambi during World Bamboo Day at Kanyonga Wetland in Embu County, Tuya noted that bamboo forms an integral part of the forest since it provides vital ecosystem services to communities surrounding water catchment areas, wetlands, forests and agricultural landscapes.
"This event seeks to bolden our understanding of the conservation of wetland areas and bamboo use as a resource for industrial development, the forestry sector is required to effectively and efficiently provide nature-based solutions to the triple plenary crisis of climate change biodiversity loss and land degradation," she said.
On his part, Mr Mugambi warned that the government will crack down on illegal logging.
"The President is keen on achieving 30 percent forest cover and we cannot allow people to take us back," said the PS.
Embu Governor Cecily Mbarire reiterated the county's efforts to reclaim the Wetlands through Bamboo trees which she said are crucial in the mitigation against climate change.
"We should all support the planting of Bamboo forest that cleans the environment, the county government will work closely with the state department of forestry to ensure enough tree cover," Mbarire said.
Exhibitors at the celebrations opined that bamboo was the way to go as it has several benefits, with the PS, Governor, and other dignitaries enjoying a cup of porridge from Bamboo.
"Biochar is a fine grilled charcoal from bamboo that has a biomass of 8.9 alkalines and can reduce the soil acidity for farmers," said Chomba Nyaga, one of the exhibitors.
Related Topics