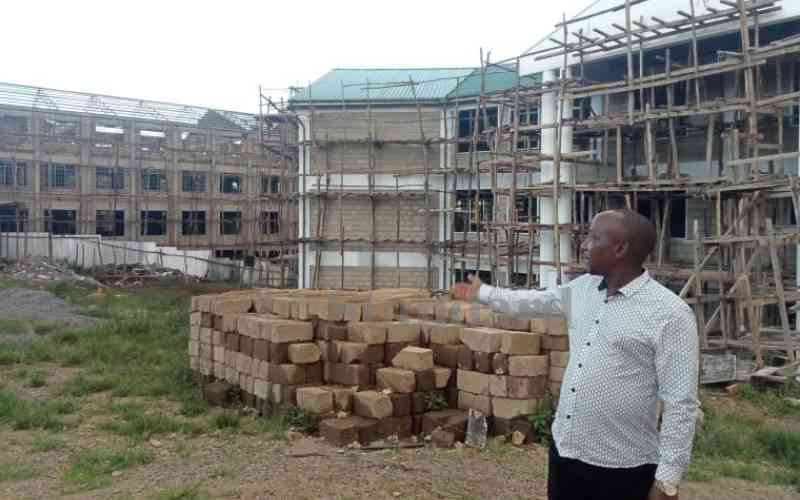 The Meru University of Science and Technology's (MUST) Mariene Research Institute has stalled.
The project valued at Sh700 million at Abothoguchi Central in Meru County is at an advanced stage of completion but the construction has since stalled, with the contractors leaving the site.
When The Standard visited the site on Monday the compound was deserted, with only caretaker Matumbi Mutonga and a guard at the facility.
The administration offices, laboratories and libraries are complete, but the partitioning, tiling, wiring and other works are yet to be done because of delayed funds.
Now local leaders led by Meru Assembly Speaker Ayub Bundi have expressed fears that the project is suffering defects because the roofing was incomplete.
"The roof is leaking and is allowing rainwater to seep into the walls and causing the metals to rust," he said.
Bundi served as Abothoguchi Central MCA for 10 years and lobbied for a university in Central Imenti with area Njuri Ncheke Council of Elders.
He appealed for funds to roof the completed buildings as only the library is roofed.
When President William Ruto visited Ruiri in Buuri last week to commission a 24km road and issued 5,000 title deeds Bundi issued only one plea when given a chance to speak.
"Mr President please help us get the funds to do the roofing at Mariene Institute, it has stalled," Bundi said.
The construction started in 2020 and so far over Sh300m has been utilised with an additional Sh329m required to complete the project.
During the Mutonga pointed out rusting metal and exposed wood and other features, warning the rains and damp weather were a threat to the stability of the buildings.
"We have been experiencing rain for some time and we fear it can be damaging to the structural strength. It would be good to have all the buildings roofed to avoid water or sunlight damage," Mutonga said.
MUST Vice Chancellor Professor Romanus Odhiambo said the research facility was established to strengthen postgraduate studies and boost research programmes in undergraduate studies.
"This informs the move of Meru University to start a postgraduate centre of excellence in Mariene. We are more concerned with how do we impact the agricultural community," he said.
He said they embarked on massive construction and the various blocks are at advanced stages of completion.
He said the facility will also have a few undergraduate and even diploma programmes in agriculture and animal science.
Odhiambo said the region was endowed with rich agricultural activities including tea, coffee farming, and dairy animals which will benefit from the centre.
"We also want them to do research that is impactful and create other avenues for the university," he said.
Related Topics