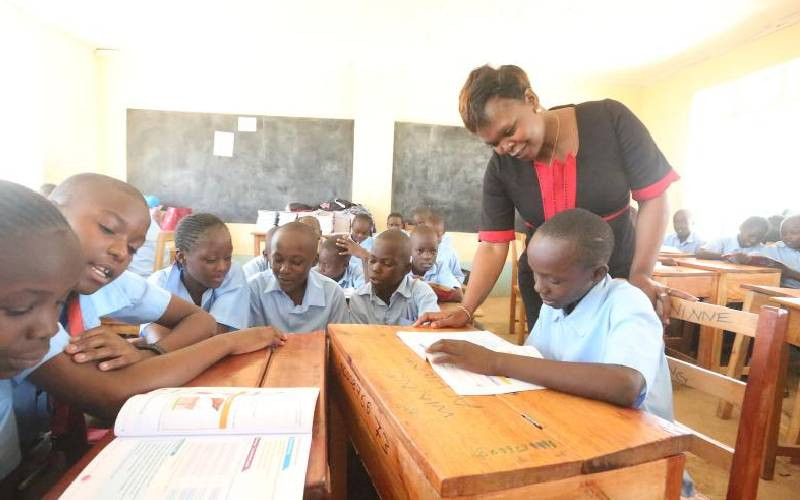 Teachers who wish to continue teaching in primary and secondary schools will have to undergo a one-year mandatory retraining to align them with the demand of the new curriculum.
This is part of the of recommendations of a draft report by the Presidential Working Party on Education Reforms (PWPER).
In the new proposals, the task force members want teacher retraining to align with the Competency Based Curriculum (CBC).
The team argues that retraining will provide teachers with know-how of handling the CBC that has been in implementation for seven years.
The task force, however, proposes that the training be conducted by the ministry of Education, a shift from the previous arrangement where the CBC trainings were conducted by the Teachers Service Commission (TSC).
Sources in the task force said in their projection, the transfer of training role from TSC to the ministry should take not more than one year from the time the proposals are adopted.
The team also proposes that the ministry of Education to develop guidelines on how all teachers who graduated before 2023 undergo a mandatory retraining for compliance with curriculum changes.
The team proposes action against a teacher who skips the mandatory retooling as they will not be allowed to teach. This in essence means that those who skip the retraining could be rendered jobless.
The draft report, however, does not mention if the government will foot the expenses of the retraining or the teachers will be forced to foot for their individual retraining.
This has been a bone of contention with teachers unions pushing for funding from government.
Sources in the task force said that they established that the implementation of the CBC faced challenges mainly emanating from inadequate teacher capacity and preparedness.
According to the members, some stakeholders termed the trainings conducted by TSC on the CBC as "superficial, hurried and conducted by unqualified trainers."
The stakeholders further faulted TSC trainers for giving conflicting approaches to interpreting curriculum designs and failing to comprehensively respond to questions.
Under the proposal to revamp teaching in Kenyan schools, the team proposed the establishment of a single teaching college known as the Kenya Teachers Training College; all other TTCs will be campuses.
The report also proposes lowering of the entry grade to teacher training colleges in marginalised areas, which is yet to be determined.
Related Topics