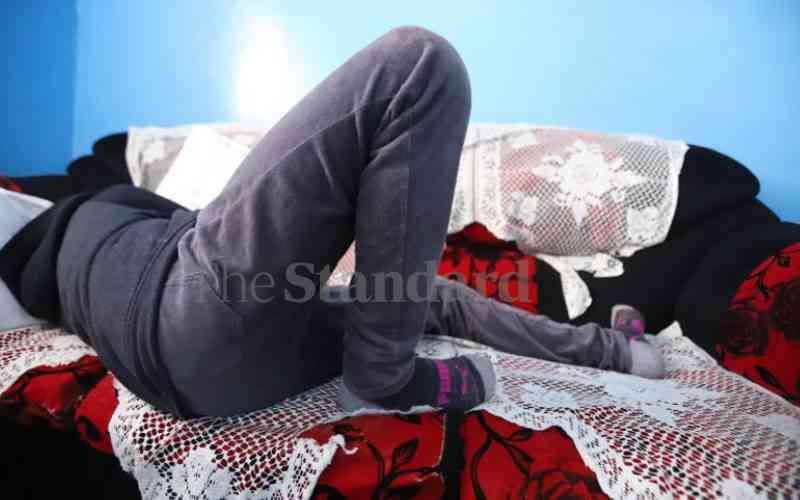 February 3 is a day J.M, a Grade Six pupil at Joypot Primary in Githunguri, will never forget.
The day started out like any other day, but before evening came the worst had happened to him.
One of his teachers tried to pull out his testicles, leaving him badly injured.
Joypot Primary is located in Kamondo, a remote village around five kilometers from Ikinu market in Kiambu County.
The school run by a man named Daniel Matheka has no signboard, even the gate is unmarked.
At JM's home in Kiambu town, the soft spoken 11-year-old boy welcomes us and then excuses himself to another room. He walks with difficulty, portraying the agony he has gone through for the past two months.
Random pain
He walks with his legs spread out. Random pain in his groin now and again punctuates his day.
This has been his ordeal from the time a teacher squeezed his testicles hard to milk information from him. The teacher was investigating the loss of a wrist watch by his desk mate.
Trips in and out of hospital have become part of his his life now. Pain has kept him out of school on many occasions and lately he has been discharging blood in his urine. Because of that he, most of the time, stays indoors.
When he is not watching TV lying on his back at their newly rented house in Kiambu town, he is busy recording in a book the time the pain strikes. He was instructed to do so by a doctor, and it will inform the next course of action. JM's family moved houses because hi mother feared for their lives.
"It was after games time that my desk mate misplaced his wrist watch," says J.M.
"He had left it on the desk as we went for games, when he came back he did not find it and I was labelled a suspect alongside three other boys and reported to the teacher.''
The four boys were called in front of the whole class by a teacher and he started frisking them. When he found none of them with the watch, he went for their trousers and held their testicles one after another.
"He squeezed the first boy's testicles and he screamed," J.M says.
"He reached out to me but I persevered as he tightly gripped mine, squeezing and looking at my face, it was painful.''
Because J.M did not scream like the first boy, the teacher loosened his hand and gripped it one more time to inflict more pain. As he held him, the left testicle slid off his hand. A medical report shows JM sustained soft tissue damages.
The watch was later found in another class in the hands of different boy.
J.M did not report his ordeal to his grandmother with whom he lived until his pain became unbearable, five days later. He could not concentrate in class. He had to go to the same teacher who had molested him to seek permission to seek treatment.
Lydia Wambui, J.M's mother, took him to Kiambu Level Five Hospital for pain management but on February 20, he was transferred to another private facility.
The records from the hospital indicate that he was discharging blood and had suffered testicular dysfunction, a condition caused by injury and trauma to the testicles.
"I have to stop going to work to make sure my son's pain is controlled, When pain strikes, he cries like a small baby, and it hurts me a lot." The mother tells The Standard.
This is not the only case against the school, on February 28, another case of abuse by a teacher at the same school was reported at Kawaida Police Post. The case involved a Grade Three pupil. The teacher fled after realising that he had been reported to the police.
When contacted for comment, the Director of the school Daniel Matheka Mwau told The Standard that he was out in Machakos and would only give his comment about the matter after he returned to the school. When we sought him out later in the week he was unavailable and could not be reached on phone.
Blood in urine
JM's mother told The Standard that the last private hospital they visited gave them a pain management ointment and some tablets. She claimed the frequency of the pain attacks and blood in the urine may lead to removal of the affected testicle.
"We have a book where we're recording the frequency of pain, as was advised by the doctor. But the shocker was that if the pain persists like it is now, the doctor said the affected testicle may be removed before it affects the other testicle because they're connected by tissues," she said.
J.M and his mother are now waiting for the verdict of the doctor on whether the injuries caused will be treated or the testicle will be removed.
However, attempts to transfer the victim to another school have also hit a snag as the school has refused to write a transfer letter and wants the boy back to the same school
J.M is afraid of even meeting the teacher who squeezed his testicles, causing him untold suffering.
Related Topics