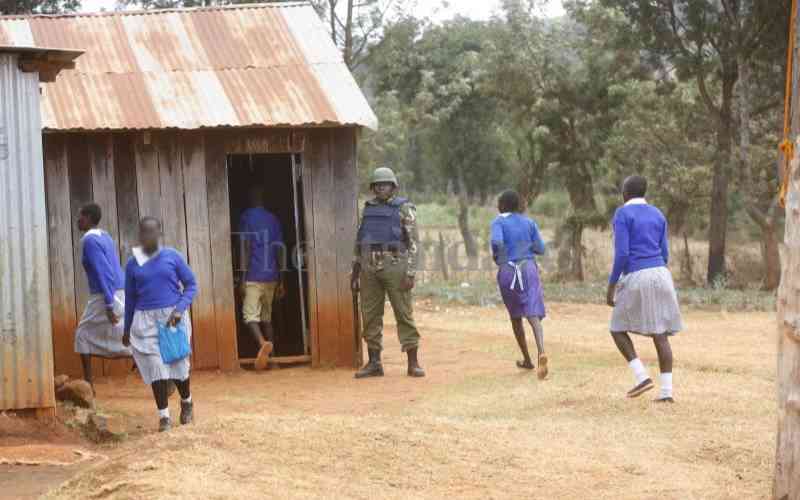 Baringo residents are calling on the government to close 16 schools in areas affected by insecurity.
MCAs Kipruto Kimosop (Mochongoi), Paul Lolgisoi (Mukutani ward), David Sitoi (Bartabwa) and Michael Chebon (Saimo Soi), in a joint statement, told parents to withdraw their children from schools.
The affected institutions are Kapindusum, Embosos, Nasukuro, Kasiela, Sinoni, Tuyotich, Chemoe, Chepkesin, Kagir, Kosile, Kalabata, Yatya, Kapturo, Chepkew, Loruk and Kinyach primary schools in Baringo North and Baringo South sub-counties.
The MCAs said learners are risking their lives as calm is yet to be restored in the area.
"We have a serious network crisis. It becomes difficult to tell children to go back to these schools. We don't want to experience a massacre and we advise parents not to take their children to school."
Restoring security
The MCAs said the government should move with speed to ensure security is restored in the affected areas.
Joseph Chebon, a resident of Chemorongion and a father of five, called on the government to transfer the learners to secure schools.
With his first child in Grade Six at a school in Baringo South, Chebon said he is reluctant to allow his children to attend school for fear of attacks.
Mary Lolwatan, a resident of Mukutani, said the joint operation by the Kenya Police and the Kenya Defence Forces was a sham since killings by bandits and attacks have increased.
Lolwatan said her children will not go to school this term and she will have them transferred.
"How can National Police Reservists (NPRs) take care of our children yet they are being outsmarted by the bandits?" she said.
Richard Chepchomei, a resident of Saimo Soi, said residents are tired of the killings and raids which have not only put the lives of learners at risk but also their teachers.
Chepchomei said it is unfortunate that parents are unable to guarantee the security and the future of their children due to the ongoing skirmishes.
Mastered tactics
"Unfortunately, a Grade Five pupil was shot while herding livestock a few days ago. The problem with the bandits is that they have mastered all the tactics used by our government, and are becoming difficult to tame," Chepchomei said.
Baringo Education director Masibo Kituyi said no school that was reopened this year has been closed.
The director said he is yet to receive complaints from the teachers reporting to the ministry. "There is no need to panic. We haven't closed any school which was reopened due to banditry," Kituyi said.
Police commander Julius Kiragu said security officers are on the ground with help from the NPRs.
"We have not received any incident of a school being attacked. Parents shouldn't be scared about taking their children to school," he said.
Related Topics