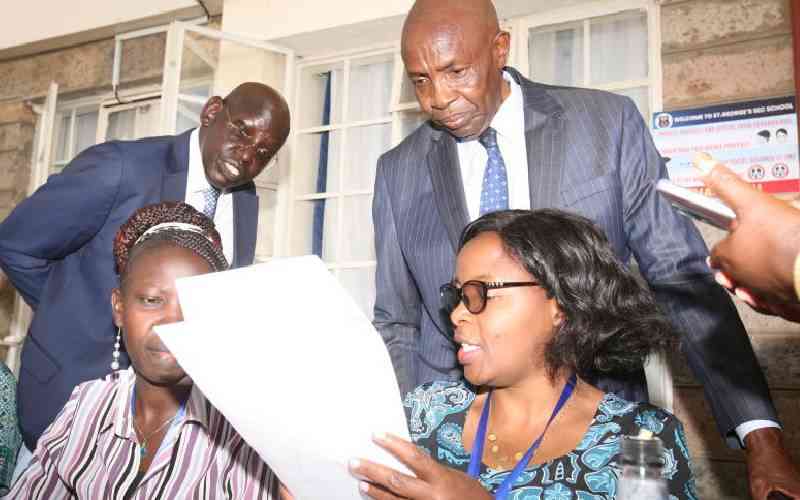 It will no longer be automatic for students who score a grade of C+ and above to be sponsored by the government to pursue courses in universities and colleges.
All students will be required to make fresh applications requesting to be considered for government funding in a new proposed plan to address financial crisis in tertiary education.
And to qualify for State funding in universities and colleges, the government will consider merit, the level of need, national priorities and affirmative action.
This means that students who score grade A in KCSE national examinations but do not fall under any of the four selection criteria will miss out on State funding and will have to finance their university education.
In addition to these, fees payable for successful students will be doubled from present Sh16,000 to Sh32,000, in a major funding proposal to stabilise universities.
However, only first year students will be affected by the fees increment. This means that continuing students will still pay the old fees of Sh16,000 until they exit university education.
These are some of the radical proposals adopted by the top universities managers and Ministry of Education officials at the close of First Biennial Universities Funding conference in Mombasa.
The meeting brought together all Vice-Chancellors of public and private universities, principals of constituent colleges, and government agencies involved in funding higher learning institutions.
Also in attendance at the meeting were head of the Universities Fund, Higher Education Loans Board, Kenya Universities and Colleges Central Placement Board, and top budgeting officials from the National Treasury and Planning.
The radical resolutions mirror thinking of President William Ruto that some parents do not need State support to educate their children.
Speaking last year, President Ruto noted that many parents who sponsored their children in academies in basic education turn to the State for university funding, edging out vulnerable students.
''We have students in academies all through from standard one to form four, but when they go to university we want to tell them we can pay for all of them,'' Ruto stated.
Ruto questioned how the government supports many students with little money instead of supporting those it can with the adequate resources.
"We need to be honest with ourselves that let those who can affords, pay and lets think on how we can assist those who cannot afford rather than pretending that we are going to support all the children even when we are not in the position to.''
In their roadmap to stabilising universities, the high-level meeting proposed writing off of debts owed to various statutory bodies presently totalling Sh61 billion.
The meeting resolved that The National Treasury and Planning should institute immediate measures to start clearing the pending Pension Bill amounting to Sh19.6 billion in targeted instalments.
The meeting also resolved that the national government to take decisive and necessary decision to write off the pending PAYE bill amounting to Sh18 billion owed to the Kenya Revenue Authority by public universities.
In addition to this, the meeting also proposed that the government remits money to pay the 2017-2021 Collective Bargaining Agreements in full including arrears amounting to Sh2.9 billion. Also, the team proposed that there should be no more CBAs until pending issues are resolved, a matter that is likely to cause tension between universities management and workers unions.
"For future CBAs, the Government should peg the salaries on the affordable scales or hold the negotiations until such time that there are funds to implement them," reads the resolutions.
It also proposes that new development projects should be funded 100 per cent to completion to avoid cases where some (projects) stall due to suspension of respective budgets allocations.
Over and above these, the meeting also proposed various ways that universities can raise money to plug their deficits. Among them is increasing fees to a maximum of Sh96,000, ensuring 100 per cent collection of student fees and enhance retention by enhancing campus experience through teaching and allowing credit transfers by students.
Other ways proposed are Leasing campus spaces/grounds/farms to raise rental income, setting up business on idle land owned by universities and renting them out to students and other entrepreneurs.
Universities have also been urged to invest in branded merchandise like t-shirts and cups that will be sold to students, staff and the public and enhancing new media presence to generate income and boost visibility of university programmes for enhanced student enrollment and income generation.
Introduction of short professional courses to generate extra income for the universities and creation of endowment fund in universities to generate additional revenue.
What will however come as shocker to parents and students is the recommendation that students must apply afresh for State funding to determine their suitability for state support.
Presently, all students who get placed by the Kenya Universities and Colleges Central Placement Service (KUCCPS) and get admitted to universities get automatic state funding regardless of the need.
Instead, only deserving cases will now get State funding to pursue degree, certificate and diploma courses in higher institutions of learning if resolutions of the conference are adopted. This means that all the 173, 345 who scored C+ and above will make fresh applications to be considered for State funding and those who will not succeed will have their parents' foot the bills.
The Standard has established that three funding scenarios were considered in arriving at this decision that will see only130,000 students selected to join universities and colleges under government sponsorship.
"We shall use means testing criteria (MTI) for Higher Education Loans Board (HELB) to identify needy students instead of having a new form for grants," Geoffrey Monari, Universities Fund Chief Executive told the meeting.
This means that the total financial requirement will be about Sh18.8 billion with government contribution proposed to be about Sh15.9 billion at 80 per cent funding through the Differentiated Unit Cost (DUC).
DUC is the annual cost of providing a particular degree programme per student, taking into account the staff costs, facility costs, and other institutional overhead costs.
Total fees contribution will amount to about Sh2.6 billion with total deficit reduced to about Sh250 million.
Related Topics