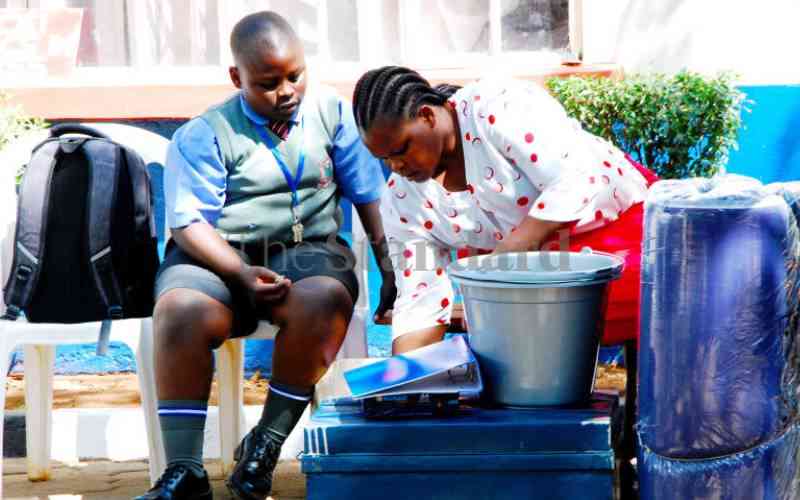 Junior secondary school learners were on Tuesday settling down in their new classes, with many schools reporting a high turnout of pupils.
In Nyeri County, most public primary institutions reported full capacity as learners began a new term.
At PCEA Nyamachaki Primary School, one of the most populated schools in the county, up to 196 Junior Secondary students reported to school. This translates to 100 per cent turnout for the class. The school has a population of about 1,800 learners.
Nyamachaki Primary School Deputy head teacher Ephraim Murithi said that the school is full to capacity.
"We cannot enrol newcomers from other schools since we don't have more classes to let them in. Currently, we can only accommodate those from this school," Muriithi said.
He said the Junior Secondary learners will have new uniforms.
"Currently, we are enrolling students and letting them to the classes as we wait for more guidelines. We will have a meeting with the parents so as to brief them on requirements," Murithi said.
Parents from other schools who were seeking admission for their children were turned away.
It was a similar case at Temple Road Primary School. A teacher told The Standard that all the Junior Secondary learners had reported back to the school.
"The turnout in Grade Seven is 100 per cent. The school cannot accommodate more since there is no space and I am forced to turn away the newcomers," the teacher said.
He noted that he is meeting parents to discuss the government's guidelines on the requirements for junior secondary school.
"Parents will be given some time to buy uniforms among other requirements. Currently, we are receiving them with their old uniforms," he said.
Mary Mumbi, a parent, said that it's costly to buy uniforms and pay school fees.
In Nyanza region, majority of students in schools visited by The Standard were in class by 7am. Majority wore their old school uniforms to the new class.
Musa Amisi, the head teacher of Muslim Primary in Migori County said 55 learners out of 78 had reported to school.
The learners were busy in their classrooms undeterred by the lack of uniforms or the unavailability of teachers.
In one of the classrooms, a female teacher was busy taking the learners through what they should expect in junior secondary.
A learner at the school said they were anxious about the things they were going to learn.
"I am excited about this. Though we were not taken to the schools we chose before doing our KPSEA examinations, we still hope the lessons we will be taught will enhance our knowledge," the student said.
At Migori Primary School, learners were accompanied by their parents who had a meeting with the school administration.
The school allowed learners to attend classes in their old uniforms. Junior Secondary School learners will have meals at the school.
Migori primary school has 370 learners at the Junior Secondary level and is expecting about 100 new admissions.
The head teacher Moses Maranda said they needed more classrooms. The school also lacks a laboratory.
In Kisumu, a number of learners were yesterday going through the textbooks that will form part of their learning materials. Pretty Achieng from Migosi primary school said she was looking forward to expanding her knowledge.
"I am really excited and I am waiting for our teachers to begin teaching us," said Achieng.
On Monday, the school received textbooks for junior secondary on agriculture, health and education and physical education.
Roseline Gwada, the head teacher, said learners were prepared for the transition.
"We have already admitted 319 learners but we are expecting the number to reach 350," said Gwada.
On Tuesday, Kenya Institute of Curriculum Development Director Charles Ongondo said teething problems that have affected the start of the junior secondary schools will be dealt with in a month.
"As for now, books are only being distributed in public schools."
[Reporting by Anne Atieno, Olivia Odhiambo and Purity Mwangi]
Related Topics