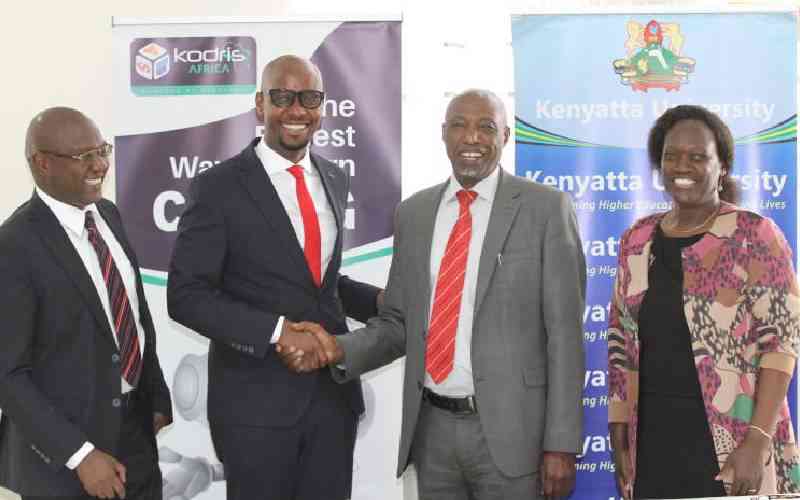 Kenyatta University (KU) will offer short courses targeting tutors in an effort to enhance the teaching of coding in primary and secondary schools.
At the same time, the university announced it will be mandatory for new students in the Faculty of Education to take up coding.
This makes KU the first university in the region to start teaching coding concepts. The coding syllabus was approved by the Kenya Institute of Curriculum Development last year.
Vice Chancellor Paul Wainaina said they will work with Kodris Africa in retooling teachers to deliver the coding curriculum.
Prof Wainaina said the short courses will also cover curriculum development, assessment and evaluation, and classroom management.
"The decision by the government to approve coding is not only important but also revolutionary. This is the way to go, and as at KU, we want to announce our commitment to supporting this agenda," he said.
He added: "The training of trainers model will see thousands of teachers in public and private schools trained in coding who will transfer this knowledge to the classroom."
Prof Wainaina spoke at the institution during the official launch of the programme yesterday where he said they will also work closely with the Teachers Service Commission in training teachers.
He was accompanied by Kodris Africa officials Mwaniki Munuhe (chairman) and CEO Mugumo Munene, Prof Elisheba Kimani, the KICD Council chairperson and Prof Caroline Thoruwa, the Acting DVC for Research, Innovation and Outreach. Prof Wainaina said the departments of Computing and Information Technology, Educational Foundations and that of Management Science will ensure teachers are adequately equipped to teach the syllabus.
"Coding teaches children how the functions that are found in a computer are built. We therefore want to make them become producers rather than merely consumers of the digital economy," said Wainaina. Prof Kimani said that Kenyan children should get equal opportunities to learn and realise their potential. "I can confirm that this programme was taken through a rigorous process before it was approved at KICD," she said.
Munuhe said coding is a weapon that can change the world. "The digital economy will be driven by people with the right ideas and skills in the technology industry. Let us play our rightful role in unlocking this potential," said Munuhe.
Munene said the partnership will help ensure teachers are well trained, adding that it also opens up opportunities for trained teachers.
Coding is the process of converting human intentions into commands that computers can comprehend.
Related Topics