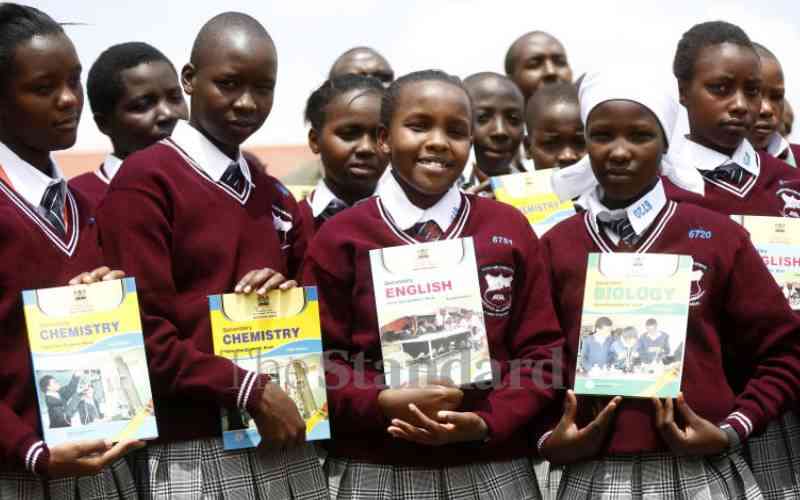 Secondary school students, teachers and principals have reported insufficient supply of textbooks by the government for core subjects.
The findings are contained in the Monitoring Learner Achievement Form 2 Midline Survey conducted by the Kenya National Examinations Council (Knec).
The study sought to establish levels of achievement in Biology, Physics, Chemistry, English, Mathematics and Kiswahili among secondary school students in 110 sub-counties in 30 selected counties covered by the six-year Secondary Education Improvement Project (Seqip).
Students, teachers and principals in all schools reported varying percentage of progress in the attempt by the government to reach a ratio of 1:1 for textbook supply in all assessed subjects.
In access for Chemistry textbooks, for instance, students reported that 72.8 per cent had their own books while teachers put the figure at 78.1 per cent and principals at 88.7 per cent.
For Kiswahili, students said 72.3 per cent had own textbooks but teachers put the access at 87.1 per cent and head teachers at 89.9 per cent.
In Mathematics, students reported 65.4 per cent access to textbooks but teachers put the figure at 83.3 per cent and principals reported 88.7 per cent. It was a similar trend for Physics at 62.7 per cent for students, 77.5 per cent for teachers and 90.2 per cent by principals.
The study said a shortfall in achieving the desired textbook-student ratio maybe attributed to increased enrolment, adding that access to textbooks had a correlation with improved performance.
The study, however, found that the government project to distribute textbooks for all essential subjects had improved across the board.
The Knec study looked at variables that affect learners' achievement, including enrollment, student age and absenteeism.
It concluded that there was general improvement in enrollment of both genders but found that the boys transitioning to Form 2 stood at 52.1 per cent and girls at 47.9 per cent.
Increased enrollment is attributed to government's 100 per cent transition policy.
The report found out that more boys in Form Two are overage at 57.6 per cent than girls at 37.8 per cent.
Msambweni Sub-county in Kwale had 100 per cent of the boys in Form 2 aged over 18 while for Merti in Isiolo and Balambala in Garissa, all the girls in the same class were over 18.
"Overage affects a student's achievement negatively," says the report, calling for enforcement of school entry age guidelines by the Ministry of Education to spur compliance by communities and parents.
Other areas with high proportion of overage Form 2 male students include Teso South at 96.3 per cent, Magarini at 94.5 per cent as well as Lungalunga, Kaloleni, Loitoktok and Laikipia North all with 90 per cent to 93.4 per cent.
For the girls, those with high overage students are Magarini and Lungalunga at 87.5 per cent and 84.8 per cent, respectively. The report also says Form 2 was recording the highest incidents of student dropout, with girls accounting for the largest numbers.
According to the report, reasons given by principals for girls dropping out included pregnancy, which accounted for 54 per cent of the dropouts, early marriage at 26.6 per cent and financial difficulties at 28.9 per cent. Another reason given for causing 13 per cent of girls to drop out was low academic achievement.
Related Topics