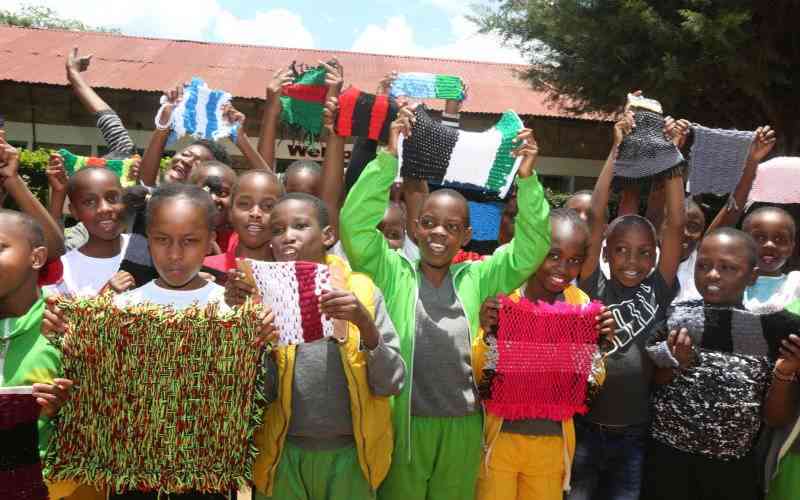 After 10 days of vigorous public participation in the implementation of Competency-Based Curriculum (CBC), stakeholders have expressed their views over issues they want either retained or rejected.
Lack of proper teacher training, inadequate classrooms, the sidelining of parents and clash of culture were some of the issues that dominated debates when the Presidential Working Party on Education Reform taskforce toured the country in search of views from stakeholders.
The introduction of junior secondary classes in primary schools, however, elicited mixed reactions.
Overall, most of those who presented their views urged the government to recruit more teachers to cope with the workload and the high number of learners.
Kenya Secondary Schools Heads Association (KSSHA) national Chairman Kahi Indimuli demanded the recruitment of more teachers.
The country is facing a shortage of 116,000 teachers.
Kahi warned that if the Teachers Service Commission (TSC) does not employ enough teachers, then implementing CBC will be an exercise in futility.
Introduce sign language
Stakeholders from counties were particularly concerned with the clash of culture and age gap between learners in junior and senior secondary schools.
In Meru County, the CBC team led by Dr James Kanya said that almost all views in the country are the same but locals raised an important point of culture.
County Assembly of Kirinyaga through the chairperson Education Committee, Charles Nyaga, called for the introduction of sign language in the new curriculum from the early stages.
Stakeholders from the county also proposed reviving school feeding programmes to retain learners in schools.
In Nyandarua, Governor Moses Badilisha said given the tender age of the Grade Six learners, they need time to mature physically.
Wundanyi Deputy County Commissioner Maina Ngunyi said young children still need close parental care, away from their seniors who might bully and introduce drugs to them.
A Grade Six pupil at Wagatuigu Primary School, said he was afraid of joining secondary school for Grade Seven because he was too young to face the secondary school teenagers.
"We are too young for secondary and we prefer remaining in primary school until we mature enough for the rite of passage," the Grade Six pupil said.
The same sentiments were shared by Kakamega County Kenya National Union of Teachers (Knut) Chairman, Patrick Chungane, saying some of the learners are still bedwetting and need to stay in the day school set-up.
In Nakuru, stakeholders said CBC falls short of its expectation and needs improving for it to be successful.
Kabarak University Vice-Chancellor Professor Henry Kiplagat said that the curriculum will be affordable if the government equip schools with infrastructure.
Avoid overcrowding
He noted that setting up classes to accommodate students and avoid overcrowding in schools, must be the government's first agenda.
Kiplagat further said that schools need resources including furniture, equipment, technology, curriculum materials and textbooks.
The VC also admitted that teachers are not well-trained or equipped to handle students and pupils under the new curriculum.
"Teachers are ill-equipped to handle students and they should be trained. The government must provide and incorporate affordable, reasonable and accessible teaching methods," he said.
He, however, advocated for primary school teachers to be allowed to handle Junior High School students and for the classrooms to be set up in primary schools.
According to him, Primary School teachers are more qualified to handle pupils aged between 11 and 13 years, compared to Secondary School teachers, who are used to handling teenagers.
The VC said the curriculum is expensive and will be inconvenient to students who come from a humble background.
Cost of learning
Stakeholders from Nyanza have cited the high cost of learning as a major challenge in achieving the objectives of the new curriculum.
Representatives of various teacher unions said schools lacked the appropriate infrastructure to continue implementing the programme, while those in special schools had been ignored in totality.
KSSHA representative for Kisii County, Joyce Orioki, and Principal Nyabururu Girls said stakeholders should be given adequate time to agree on salient issues raised.
"The Ministry of Education should be detached from boarding issues. School should be given a chance to negotiate with parents on how to manage the boarding section," said Orioki.
Grade Six pupils from Nyamage Primary school in Kisii Central said the cost of buying raw materials to enable them to undertake their assignments was high and that some of their parents could not afford it.
Kisii University Vice Chancellor Prof John Akama said the syllabus was resource-intensive.
In Homa Bay County, Kenya National Union of Teachers (KNUT) officials said teachers were harassed to deter them from telling the government the truth about when and how to implement the CBC.
KNUT Secretary Patrick Were, Homa Bay Executive Secretary Cornel Ojuok and his Rachuonyo Counterpart, Eliud Ombori, said failure to accept the truth has led to problems bedevilling implementation of the curriculum.
"CBC has numerous issues but it is unfortunate that any teacher who tried, to tell the truth, received intimidation and all manner of threats including interdiction. We are glad that President William Ruto's government has given us the opportunity, to tell the truth about this curriculum," Were said.
"Our position is that the CBC should be suspended as soon as possible until the President makes a determination on whether to scrap it or continue with it. As it is today, it is causing harm to teachers, parents and pupils," Were said.
He said the teachers have not been trained adequately for the implementation of the curriculum.
"Teachers who are implementing the curriculum in the primary schools are doing so because the employer directed them to do so but they were not adequately trained for it," he added.
The Kenya Primary School Heads Association (KEPSHA) Migori chairman Mr Meshack Okech echoed the parents' sentiments and asked the government to sponsor the learning materials.
"The teaching and learning process is so expensive and we ask parents to provide learning materials," Mr. Oketch said.
Samuel Orwa Executive secretary for the Kenya Union of Post Primary Education Teachers (KUPPET) Migori branch said they have never been trained on CBC.
"Apart from four days' orientation to the CBC, we have not had anyone reach out to secondary schools. We have no effective training of teachers," Orwa said.
Mandera locals urged the government to train more teachers from the area.
Speakers said the county has a shortage of 1,866 teachers, with 1,385 needed in public primary schools and 481 in secondary schools. "We don't have enough teachers in our schools. The few we have are not even trained to teach CBC,'' stated a teacher.
Locals further cited poor internet connectivity as a hindrance, which forced many parents to move long distances looking for someone to help them.
West Pokot Governor Simon Kachapin called for a quality but affordable education system to suit the needs and emerging trends in the education sector.
System was rushed
Bomet Governor Hilary Barchock blamed the way the system was rushed with total disregard for pertinent issues raised by stakeholders.
"CBC is a system operating like a beheaded chicken that escaped from the slaughter and is running around. The teachers do not know what they are teaching," Barchock said.
Makueni Governor Mutula Kilonzo Junior said parents and learners are yet to understand its purpose and it should be restructured.
"You can't start a journey heading the wrong direction and end up in the right direction," the governor said.
Concerns over national exams were raised regarding formative and summative assessments.
Stakeholders agreed that formative assessment has increased examination workload.
A call was made to Kenya National Examination Council (Knec) to establish clear guidelines on the assessment of learners.
Rockfields Junior Schools proprietor, David Waititu suggested the formulation of a standardised assessment to ensure that learners countrywide are assessed uniformly.
"Examinations should be structured as bringing back multiple choices is going back to the 8-4-4 system, which was full of guesswork," Waititu said.
The University of Nairobi Vice Chancellor, Prof Stephen Kiama urged the government to fund higher learning institutions fully and increase research funds in order to meet its mandate.
''Universities don't teach students. They train how to translate knowledge into skills. Universities are designed to do research and need to be funded well to seed out the desired cohorts,'' he said.
The don urged the government to cushion higher learning institutions from the current cash crunch.
Kiama suggested that the government should identify courses which have a deficit like medicine or engineering and offer learners grants while saying those that have over surplus allow learners to take loans.
University of Nairobi Students Council leader, Melvin Thogo, cautioned the government against merging Higher Education Loans Board (Helb) and Universities Fund saying the move will not be a remedy to the financial crises facing universities.
''Amalgamating the two funds will pass the managerial powers to the university administration. The institutions will prioritize their running costs rather than disburse to students which might be minimal,'' she said.
[Mike Kihaki, Lydiah Nyawira, Daniel Chege and Erick Abuga]
Related Topics