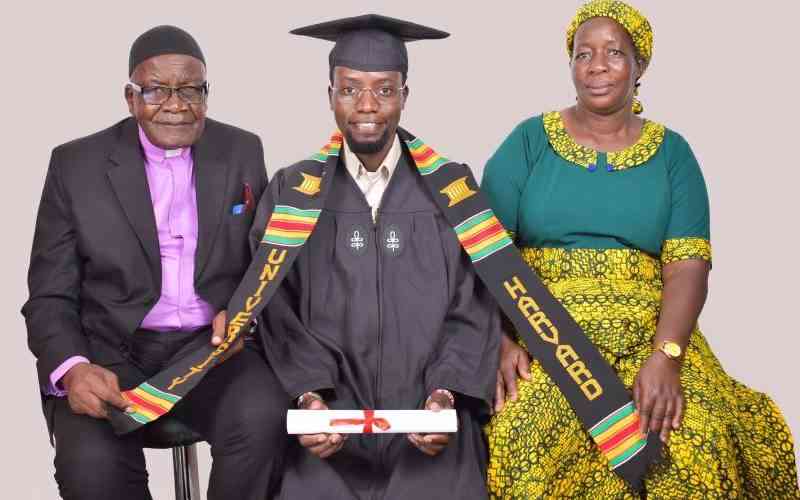 Naphtal Haya has always been an achiever. This month, he is set to join the energy storage engineering team at DNV (Det Norske Veritas), one of the world's leading certification and advisory companies.
Nevertheless, behind the 25-year-old Havard graduate's soft-spoken, yet stern and friendly nature, lies a story of unbridled resilience.
Haya was among the 141 students, who scored a straight A in the 2016 Kenya Certificate of Secondary Education (KCSE) examination.
The exam was "just another good exam" and another testament to his sheer, unrivalled diligence and determination in the face of adversity.
His admission to Alliance High School, where he consistently showed exemplary academic performance by topping his class, did not come easy.
Although he was born in Nairobi, Haya spent the better part of his infancy and early childhood in Limuru where he began his schooling.
He later joined primary school courtesy of well-wishers after displaying great academic promise.
In fact, Haya attributes his success to the immense external support he received over the years besides his academic prowess.
"Part of the reason I am where I am today is because of the various people that held my hand at different points in my journey," he said.
Haya's primary education was, however, soon cut short by the Post-Election Violence (PEV) following the highly disputed 2007 General Election.
The violence culminated in the loss of Haya's family home, where they had resided for over two decades leaving them no choice but to flee to Nairobi.
While in Nairobi, Haya and his family lived as Internally Displaced Persons (IDPs) at the Ruaraka Police Station, a stone-throw away from the Baba Dogo slums.
As a result, he and his four siblings missed 9 months of school.
Fortunately, once again, with the help of benefactors, Haya's parents were able to secure their children a place at the neighbouring M.M. Chandaria Primary School.
Towards the end of 2008, however, the IDP camp Haya's family called home was abruptly shut down forcing them to move to Mathare North, where his parents still live.
Prior to the year 2000, Haya's father had built a career in the timber industry while his mother was a housewife.
Mr Joshua Haya worked as a production manager at Timsales, a wood-based industrial complex.
The logging ban of the late 90s by the government would put him out of a job and he subsequently tried his hand at various small businesses.
Savings depleted
"We were never compensated for the loss, so I had to sustain my family through various small businesses after all my savings depleted," Mr Haya told The Standard.
Luck was, however, not on his side and his wife, Mrs Risper Haya, had to step in by taking on menial jobs to keep the family afloat.
Upon leaving the camp, Haya's mother continued with menial work while his father decided to try his luck one more time in the small business world by venturing into the sale of clothes and shoes.
According to Mrs Haya, the family's economic situation was so dire that the eldest son decided to abandon his education in a bid to support the family.
Haya's primary school life was not devoid of challenges.
"We walked about five kilometres to and from school on a daily basis. My parents could also not afford basic necessities such as uniforms and school meals for the four of us," he explained.
"Luckily, my teachers came through for me and ensured I was not sent away for school fees," he added.
Despite his situation, Haya always topped his class during his time at M.M. Chandaria School. He went ahead to top all the district exams as well.
These results ushered in his stellar performance in the Kenya Certificate of Primary Education (KCPE) where he emerged as the top student in the then Kasarani District after scoring 414 marks.
Consequently, he gained admission to Alliance High School.
Since his parents were unable to afford his secondary education, Haya's primary school principal, Mr Vitalis Opiyo, informed him about high school scholarships and the application process.
"I always knew he would make it, especially if opportunities were presented to him," says the school head.
Mr Opiyo, who had been a father figure to Haya while he was at school, would continue his role even as Haya joined high school by being part of his admission day.
"I applied to scholarship schemes under Equity, Co-operative and KCB. Of the three, the KCB Foundation Scholarship was the only successful one," said Haya.
He continued: "The opportunity came when I had almost given up. The scholarship covered fees for all four years, catered for personal effects, learning materials and offered mentorship sessions with KCB staff."
One visit to a KCB regional office, where Haya's assigned mentor was based, would be the backdrop to the start of a significant relationship in his journey.
Mentorship journey
The office was where Haya would frequent to collect his support cheques and submit his report card to his mentor at the end of every term.
On this particular visit, one of the staff members, impressed by his outstanding academic performance, decided to introduce Haya to KCB's Western Region Manager, Metric Mukhalasie.
"The then compliance manager requested me to spend five minutes with him saying that it would greatly impact him," said Mukhalasie.
The two began talking and Haya eventually opened up about the challenges he was facing with Biology and English Literature, and Mukhalasie offered to help.
"We decided to buy revision books for the two subjects and after the intervention, Haya moved to the top 10 positions after previously ranking in the 26-30 positions," said Mukhalasie.
When Mukhalasie first met Haya, he did not think that his quiet and laidback nature would carry along with it a great sense of humour.
His relationship with Mr Mukhalasie gradually blossomed into a solid friendship. The two still maintain close contact.
Mr Mukhalasie says that Haya's "deep intellectual curiosity" has been a great source of inspiration for him. The inspiration was exacerbated by a visit to Haya's home.
"When I stepped into the one-roomed house, partitioned using a curtain and a small cooking area, I was really humbled. Coming from such an environment to being a Harvard graduate is truly inspiring," Mukhalasie said.
For the regional manager, Haya is a living example of the possibilities in life and he even uses his journey as a learning curve for others. Haya says Mr Mukhalasie has been very instrumental in helping him break out of his comfort zone and daring him to dream big.
Just like Mukhalasie, Haya's high school class teacher, Eddah Hamisi, is also enamoured by his story. The Mathematics and Chemistry teacher describes her experience teaching him as delightful.
"Teaching him was very fulfilling and enjoyable. In fact, I would describe him as the best student I have had in all my 15 years of teaching," said Hamisi.
Haya's academic brilliance, Hamisi says, was not his only admirable trait. Since he was a fast learner, he would assist the rest of the students to catch up. Given Haya's accomplishments, Hamisi deems it an honour to have contributed to shaping his journey.
During university placement, Haya landed an opportunity to study medicine at the University of Nairobi.
However, he had other plans. While at Alliance, Haya had been exposed to college opportunities abroad.
Prestigious universities
Furthermore, through his high school alumni, he learnt about KenSAP (Kenya Scholar Access Program), a college access programme that assists brilliant students from vulnerable homes to gain admission into prestigious American universities.
"American colleges were ideal for me because, unlike the Kenyan system, they allow students to explore their academic interests before settling on what they want to pursue," he said.
Haya believes that this system is effective as it enables students to pursue careers out of interest instead of obligation.
Through KenSAP, he applied to Harvard University in the early decision round and got accepted. Studying at Harvard opened up a whole new world for Haya.
Diverse culture
Not only did he get to interact with diverse cultural backgrounds, but he also had the chance to meet intellectually diverse students.
In early June, this year, the academic giant graduated with honours in bioengineering- mechanical sub-track.
His parents expressed immense pride in their son and gratitude to God with his mother describing him as a beacon of hope for his siblings.
"Haya has done us proud. His brothers and sister look up to him and hope to emulate him," she said.
Besides acquiring his degree, Haya's greatest academic achievement while at Harvard was his senior capstone project, which is a requirement for all senior engineering students.
In true Haya fashion, his project emerged as the best ultimately receiving The Dean's Award for Outstanding Engineering Project, Honorable Mention.
The Harvard University School of Engineering and Applied Sciences (SEAS) gives out the award in recognition of exceptional capstone work.
The Harvard graduate intends to influence the various facets of the energy storage landscape including advisory, manufacturing and policymaking. For Haya, his excellence will not end with him.
In future, he dreams of starting a philanthropic organization to discover brilliant minds that hail from humble backgrounds.
Related Topics