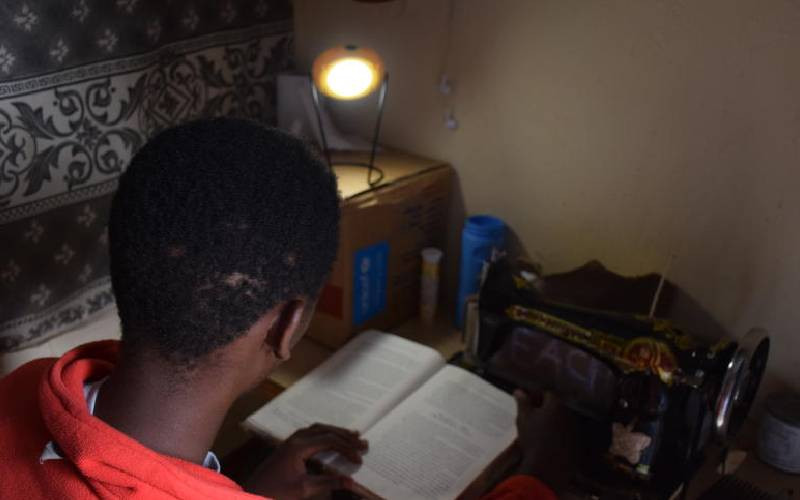 Whenever James Joseph Kioko needed to study for his final secondary school examinations, he had to make do with the dim light from a kerosene lamp.
The single lamp was the only source of light for the entire household, located deep in the rural area of Kyaithani in Mwala constituency, Machakos County, so Kioko would only get to use it long after everyone else had gone to bed.
"My mother would use it in the kitchen while my younger siblings would need it to do their homework. I would go to the kitchen and try to use the light from firewood as mother cooked but it was too dim for me," Kioko explains.
"Still, the light from the lamp was very dim and had a lot of soot that would make our eyes sting. We call it 'ngwatie nalanyie' or 'nishikie nitandike' which is loosely translated to 'hold it for me so I can spread my bed," says Kioko of the lamp, which is also known as 'koroboi.'
Even though he is waiting to join university, which he qualified for, he admits his grades were not as good as he expected.
He believes the lack of proper lighting affected his grades and diminished his chances, compared to other students who had proper light to study in the evening. His mother would spend close to Sh600 a month to purchase kerosene for the tiny lamp, something she says was quite expensive considering her meagre earnings from menial jobs.
"Kerosene is quite expensive. I also feared for the security of my children whenever I left them alone. I was always afraid that one of them would knock down the lamp and it would cause a fire in the house," says Christine, Kioko's mother.
Families that used the kerosene lamps realised they had eyesight and respiratory problems owing to the soot produced by the lamps.
This was the same case with Raymond Mutuku, a young boy in the same locality who has now joined a national school, saying he would study by the fire at night and it was very difficult.
"I know one may think we are living in the stone age for using fire to study, but my parents could not afford electricity and we could only use kerosene lamps which would strain my eyes a lot," Mutuku says.
These problems went on for years until they learned of the Rent-to-Own solar lamp that was being offered by Kenya Connect, a local non-governmental organisation in the area that helped them acquire a lamp at a subsidised price.
According to James Musyoka, the Executive Director and co-founder of Kenya Connect, they partnered with 52 primary schools and 11 secondary schools in the area and after conducting a survey, they realised many students had eyesight problems, which prompted them to investigate the cause. They realised it was due to the soot emitted from the kerosene lamps.
They sought partnership with the Rotary Club of Machakos to provide the families with clean solar energy, through the Rent-to-Own solar lamp project. Each lamp costs Sh800.
"A parent would initially pay Sh200 to acquire the lamp and continue to pay a monthly installment of Sh200 to offset the balance then own the lamp, and you would find that within four months, they had managed to purchase the lamps," says Musyoka.
"Since parents started buying solar lamps, we have seen our grades go up, something we can attest to from the yearly KCSE performance," says Adrian Kilunda, the Dean of Studies at AIC Kyaithani School.
The schools have also benefitted from solar panels which can be used during power outages.
The school received solar panels in 2018. They power the computer laboratory where the students converge and study in the evenings.
"In partnership with our Canadian friends from the Rotary Clubs of Sunshine Coast - Sechelt and British Columbia, and our project partner Kenya Connect, bringing light into the students' homesteads brought them a world of possibilities," said Noel Kitonga, the Machakos Rotary Club president.
"They no longer spend the Sh600 - 1,000 per month and are no longer vulnerable to upper respiratory infections and issues with eyesight," he added.
Related Topics