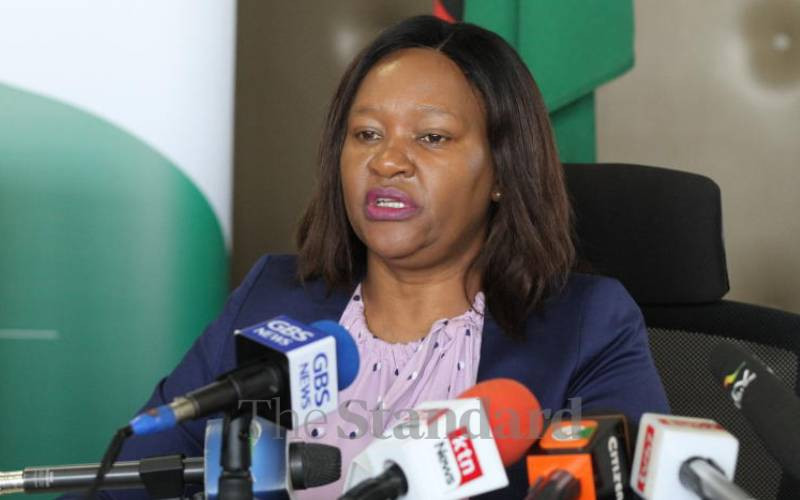 Several families affected by hunger caused by the severe drought are set to receive relief food in Kitui County.
The 400 bags of maize each weighing 90kg was donated by the Kenya Prisons Service and will be distributed to families in Mutha ward of Kitui South sub-county.
Rebecca Miano, Cabinet Secretary for Ministry of East African Community, Asals and Regional Development says the impact of drought is severe in the area, with household food security deteriorating following extensive crop failure.
The CS said many families, especially those who live in Asal counties, have lost the means to support their livelihoods and are now relying almost entirely on relief assistance.
"In Kitui, only a fraction received normal rainfall during the short rains season that was poorly distributed. Consequently, more than 350,000 people in Kitui County are likely to continue experiencing acute food insecurity," she said yesterday while flagging off relief food at the Kenya Prisons headquarters in Nairobi.
Kitui is among nine counties currently designated under ALARM drought phase with most affected areas being Kitui South, Kitui East, Mwingi Central and Mwingi North sub-counties. Miano said the scanty rainfall experienced in October-December 2022 short rains season and the below-average rainfall received thereafter, had cast 22 out of the 23 arid and Semi-Arid (ASAL) counties in drought stress.
A situation the CS regretted saying: "This state of affairs coming after five successive seasons of poor rainfall has continued to burden government with the task of ensuring the vagaries of drought and consequent threat of starvation do not take any further toll on the lives and daily routines of affected Kenyans or on livestock mortality."
"To the 400 bags of maize we have received today, my ministry will add 150 bags of beans to ensure that the recipients of this food aid enjoy a balanced meal," the CS said.
The CS, at the same time, regretted that human-wildlife conflict and the after-effects of resource-based conflicts have worsened the already bleak situation in various parts of the country.
Speaking at the same event, Commissioner-General of Prisons Brigadier (Rtd) John Warioba said the gesture was in appreciation of the good harvest they recorded last year.
"The Prisons Service realized a bumper harvest of maize in various penal institutions among them Rift Valley and Western Regions namely Kitale Main Prison, Shikusha Main Prison and Eldoret Main Prison," said Warioba.
Related Topics