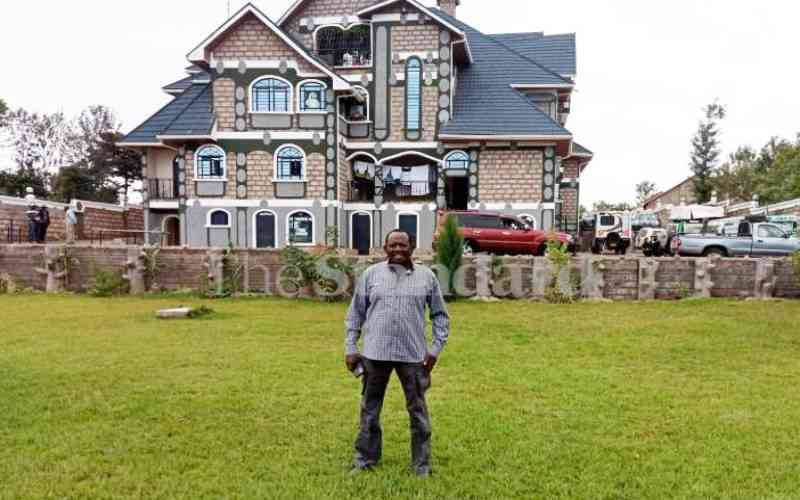 Sitting on 20 acres of land in Mikinduri, Tigania East in Meru County, this huge home catches the eye effortlessly.
The home caught journalists' attention on Saturday, June 18, 2022, when it played host to Azimio la Umoja-One Kenya presidential candidate Raila Odinga, his running mate Martha Karua, COTU Secretary-General Francis Atwoli, Agriculture Cabinet Secretary Peter Munya, Nyeri Deputy Governor Caroline Karugu, among other senior leaders.
The Azimio team had scheduled a series of political rallies in the county, with a major event being held at the Kinoru Stadium.
The leaders met at the grand homestead before leaving for the campaign trail.
The home belongs to East African Legislative Assembly (EALA) Member of Parliament Mpuru Aburi.
Aburi, 60, served as Tigania East MP between 2013 and 2017, taking over from Peter Munya who represented the constituency at the National Assembly between 2002 and 2013. Munya successfully ran for Meru governorship in the March 4, 2013, General Election.
Aburi won the 2013 Tigania East parliamentary seat on ODM ticket, getting 16,000 votes against his closest challenger Jacob Mati's 12,000 votes.
In 2017, he sought re-election but lost to Party of National Unity (PNU) candidate Josphat Gichunge.
Aburi, who was nominated to EALA by Jubilee Party after losing the Tigania East seat in the 2017 polls, is a gifted crowd mobilizer.
He and six others were endorsed for EALA MP seats by Kenyan lawmakers in both the National Assembly and Senate on December 15, 2017.
On August 9 this year, he will seek to reclaim the Tigania East MP seat on his own political party, National Ordinary People Empowerment Union.
Besides politics, Aburi is a large-scale farmer. He grows miraa on 11 acres of land and rears poultry on his 20-acre parcel of land. He also grows other commercial cash crops.
Recently, pictures of his Mikinduri home sparked admiration online, especially after Raila Odinga and Martha Karua made a stopover while on the campaign trail in Meru.
The Standard understands that the home, which took three years to build, was completed recently, and that the MP moved in not long ago. His other home is located not far from the huge residence.
The new residence has nine bedrooms, a heated swimming pool, gym area, sauna, steam bath, and other state-of-the-art luxury features.
"It cost me Sh350 million to build the home," Aburi told The Standard.
"There are three dining rooms in the house – on the ground floor, the first and second floors," he said.
Aburi said the house also has an entire room dedicated to prayer and worship.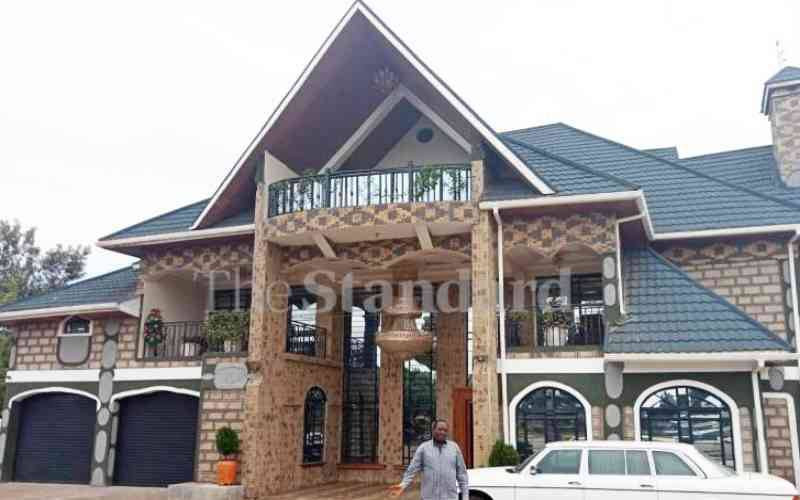 "I belong to the Catholic denomination. In the house, there's a chapel that can accommodate six people. My family members and I usually pray in it every morning and evening," he said.
"I also built a presidential suite in the house that allows me to host VVIPs," he said.
Construction of the house lasted three years, Mpuru Aburi said. [Phares Mutembei, Standard]
A swimming pool is located in the interior of the structure, and not outside as is the case in many high-end homesteads.
Asked to explain what motivated him to set aside nine bedrooms in the house, he said: "I have adopted four children who live with me. My wife also lives with me. All my children, who are adults, have their own homes, but they visit me occasionally."
Aburi said he has dedicated a large part of the second floor to himself.
"I have a private table room, an office, and a luxury area on the second floor. The floor has a stable internet connection," he said.
Aburi said each floor has several bedrooms and a dining area.
"A Serbian architect is the one who built the home. He installed a tunnel that serves as an emergency exit. I can also access the neighbouring areas through the tunnel."
The compound can accommodate seven helicopters, with the front helipad allowing two helicopters while the backyard allows five choppers.
The compound can accommodate up to seven helicopters. [Phares Mutembei, Standard]
Aburi says he owns one helicopter that he acquired at Sh350 million. The Standard couldn't independently verify these allegations.
His parking bay can accommodate up to 19 vehicles.
Aburi said he and the Odingas enjoy a cordial relationship that has lasted several years.
"In the 1960s, [Raila's father] Jaramogi Oginga Odinga built his party offices at Mikinduri. My mother, Regina Mwari Aburi, was his chief campaigner in Meru," he said.
Mpuru Aburi hosted Raila Odinga and other Azimio la Umoja leaders on June 18, 2022. [Phares Mutembei, Standard]
Aburi said he raised the construction funds from his vast businesses, including miraa trade, media investments, and timber trade.
He is the owner of Meru TV and Thiiri FM, which broadcast in Meru language.
Related Topics