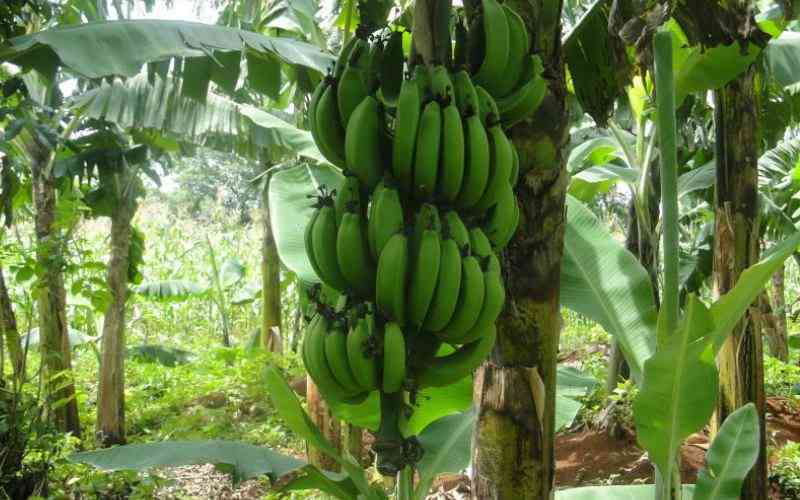 For many years, farmers in parts of Siaya County have been growing indigenous banana varieties as cash crops or as a staple food.
But climatic changes, increasing incidences of pests and diseases and decreasing soil fertility have seen a sharp deep in banana productivity in the county in recent years.
With the indigenous banana varieties bearing the brunt of the decline, John Onyango, a farmer in Ulafu, Alego-Usonga sub-county decided to try hybrid banana varieties.
"While many farmers still grow hybrid varieties alongside indigenous ones, I abandoned the indigenous varieties after discovering that the hybrid variety was more productive and resistant to main diseases like banana bacterial wilt," he explains.
Onyango, a former storekeeper at Kenya Wildlife Services (KWS) says farmers who grow the FHIA are assured of high yields even with the harsh climatic conditions. The variety is found at the KALRO Horticulture Research Institute which some farmers are now replicating in their farmers.
"The advantage of this variety is that it grows in areas with little rainfall like in most parts of the county," he tells Smart Harvest, adding that banana has proved to be his major cash crop.
Since he established his banana farm in 2013, Onyango has seen a sharp growth in his income, especially from sales of his bananas.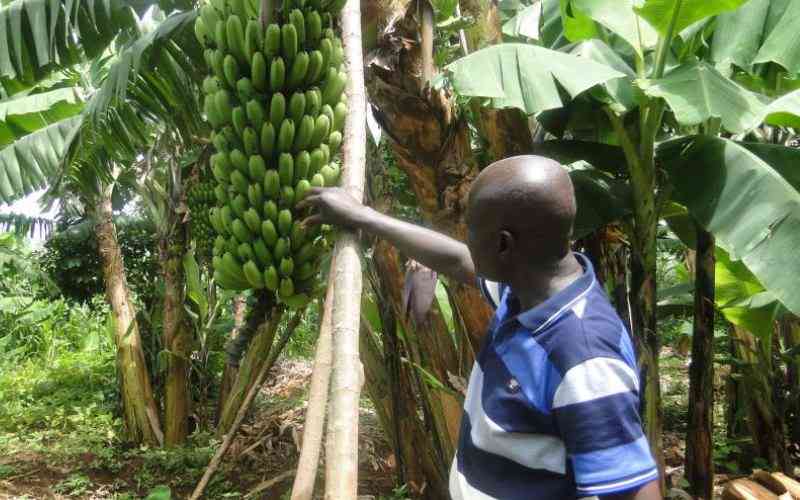 At the farm christened 'Onyango Family Farm', farmers from other regions visit for tips on banana farming.
"With quality seeds, good soil and manure, one can harvest healthy bananas every season," he explains.
He says that the hybrid varieties have big bunches compared to the indigenous banana varieties and therefore fetch a lot of money.
The father of four, who runs the farm alongside other family members, says the hybrid banana variety will solve the problem of food insecurity and poverty in many households in the county.
According to his wife Emilly, who is in charge of finance and marketing at the farm, they earn an average of Sh1, 500 from a single stool per harvesting season, which translates to Sh3.4 million for 2, 300 stools on his farm.
"My work is basically to do market research in order to know whether we're making profits or not," she says, adding that they have been injecting the proceeds into other projects like sheep farming.
She adds that they started off with Sh500,000, which included land preparation, fertilizer, seeds and labour.
Jared Okoth, a technician at the farm explains that apart from the bananas, they are also making extra income from the sale of seeds (suckers) to other farmers.
"We sell the suckers at between Sh200 and Sh300 each. We also do planting for farmers who buy the seeds from us at Sh20 per tree," says Okoth, adding banana flowers nine months after planting, and is ready for harvest in 13 months after planting.
She advises farmers not to apply fertilizer when the plant is about to flower because fertilizer will be left in the soil and in the plant.
Though he says he has no regrets about having been employed, he says there is nothing to compare between the two, and would not quit farming for any job, citing constraints that come with employment.
He has managed to purchase more than six acres of land from the proceeds of the farming which he is using to diversify to other projects.
"Other than pests and banana diseases, the only challenge in this type of farming is the need for financial stability to address any emergency in the farm," says Onyango.
Related Topics