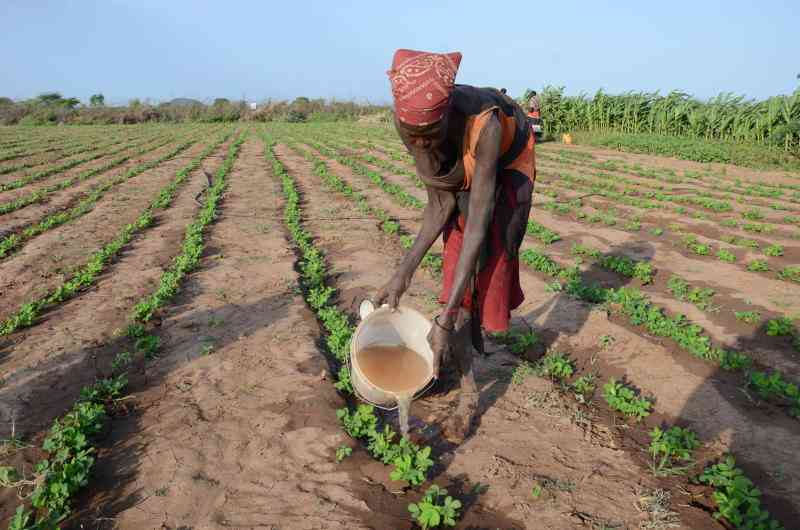 After biting drought cost him hundreds of his cattle and suspected bandits stole the remaining few, Joseph Ekiru, a farmer at the Katilu Irrigation Scheme, turned to groundnut farming to earn a living. Ekiru is among the many farmers, who are finding solace in groundnuts farming after disappointments from nomadic pastoralism. Ekiru says with groundnuts farming, he can now pay school fees for his children. To start off, he got technical support from Egerton University researchers, who found that the crop would thrive in drought-prone Turkana because of the heat and virgin soils. Ekiru says he harvested a solid tonne of groundnuts from his initial two acres and made good money. He has now embarked on doubling production.
"I got the first seed from Egerton University, which was doing research here. Before harvesting, a buyer sought to buy my groundnuts and we signed a contract. The price of unshelled groundnut went for Sh72 per kilo at the farm and shelled produce fetches anything from Sh90 to Sh100," Ekiru explains.
He is keen on post-harvest handling to avoid contamination.
"I make sure that I dry the groundnut harvest before storage to prevent aflatoxin contamination. Luckily, the weather in Katilu is hot most of the year and aflatoxin is rare," he adds. His farm is now a model farm.
Just like Ekiru, at neighbouring farms in Katilu, farmers are reducing acreages of traditional crops such as maize to pave the way for groundnut production.
Milton Loito, another farmer who increased acreage from half an acre to three acres, says the first group of farmers reaped from Kenya Seed, after a partnership between the state company and producers in Turkana.
Kenya Seed supplied seeds to Loito, Ekiru and other farmers after assessing how they undertake their farming operations.
Pest and disease issues
Loito says groundnut was a new crop at the scheme, and he had to work extra hard to overcome several crop management challenges, including pest and disease issues.
"I have been assured that the seeds I produce are of high quality and some will be exported to countries such as Australia."
Another reason the farmers have embraced groundnut production is because the cost of production is low because it is resistant to drought, diseases and pests.
"Groundnuts are high-value and very few farmers would resist it," says Loito.
The idea to rollout groundnut farming in Turkana was mooted in 2021, as a university research project that was embraced by partners like Egerton University and Food and Agriculture Organisation of the United Nations.
After several feasibility studies, the groundnut project was rolled out in various irrigation schemes.
In Katilu alone, 167 farmers out of 3,700 registered farmers recently harvested groundnut seed which will be supplied to Egerton University and Kenya Seed among other ready buyers.
Lilian Jeptanui from Egerton University says the institution gave farmers seeds and signed contracts to buy the produce. She says a technical team from the university and partners was assembled to train farmers on crop production and value chains. Jeptanui says Ndovu (large white seed) and Mwangaza (red seed) were found to be suitable for Turkana's climate.
She says Ndovu yields 1.3 tonnes per acre, while Mwangaza produces ten to 11 bags from an acre.
"Most farmers in Turkana prefer the Ndovu variety. We encourage them to grow the two varieties because the market demand is high for both varieties," she says.
FAO field support agronomist based in Kakuma, Joseph Okumu says they are working with 18 irrigation schemes. Out of the 18, four were selected for commercial production. They are Katilu, Nawoiyapeto, Simailale and Kolioro irrigation schemes. The other schemes are for seed multiplication.
Related Topics