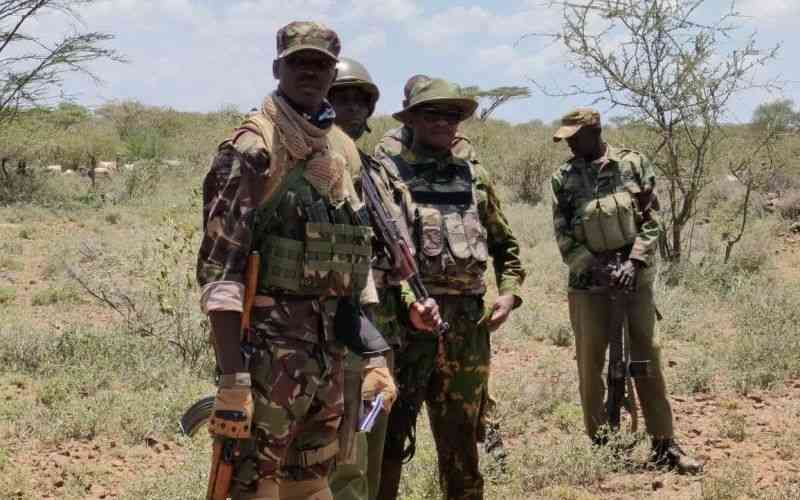 Armed bandits have killed two people and driven away with 30 cattle at Pura village in Samburu County.
According to County Police commander David Wambua, the incident took place on Monday at 2,00pm as the two herders aged 17 and 22 were grazing a herd of cattles.
"We have deployed a contingent of armed security personnel to pursue the attackers," said the police chief who urged residents not to stage retaliatory attacks.
A resident, Tom Leaduma, said the attack was abrupt and that the herders were caught unawares.
"It was a well-staged attack that caught everyone by surprise. The area has been peaceful for some time now until the attack," he said.
Meanwhile, Samburu Governor Lati Lelelit has hailed the deployment of the Special Forces team in the troubled Baragoi area, saying the decision has seen a decrease in banditry attacks.
"We are happy with what is going on in Baragoi now. The security team that was deployed there is doing a tremendous job in restoring security in the area. Business has resumed and children are going to school," he said.
The Special Forces team was deployed in the area two weeks ago following a directive by the Interior Cabinet Secretary Kindiki Kithure.
The team has so far arrested 12 people for allegedly being behind the attacks by supplying illegal guns and ammunition to the bandits.
According to government sources, also in police custody are traditional 'spiritual' leaders who allegedly perform rituals on warriors prior and after the attacks.
Samburu North Deputy County Commissioner Jackson Oloo said all schools that had been shut down in the area due to insecurity have been re-opened and students have reported for the first term.
"Baragoi Boys, Baragoi Girls and Barogoi mixed Secondary schools have all been opened for the new term. All the trading centers like Sikira, Mbuko and Charda are now operational," Mr Oloo said.
Baragoi had been abandoned due to a spate of armed banditry attacks that had forced schools and businesses to shut down and people to flee the area.
[email protected]
Related Topics